UK's favourite wildlife species at risk of extinction 'without revolution in disastrous modern food farming'
Exclusive: Skylarks, nightingales and birds of prey all at risk, but officials 'blame climate change instead of tackling vested interests destroying nature'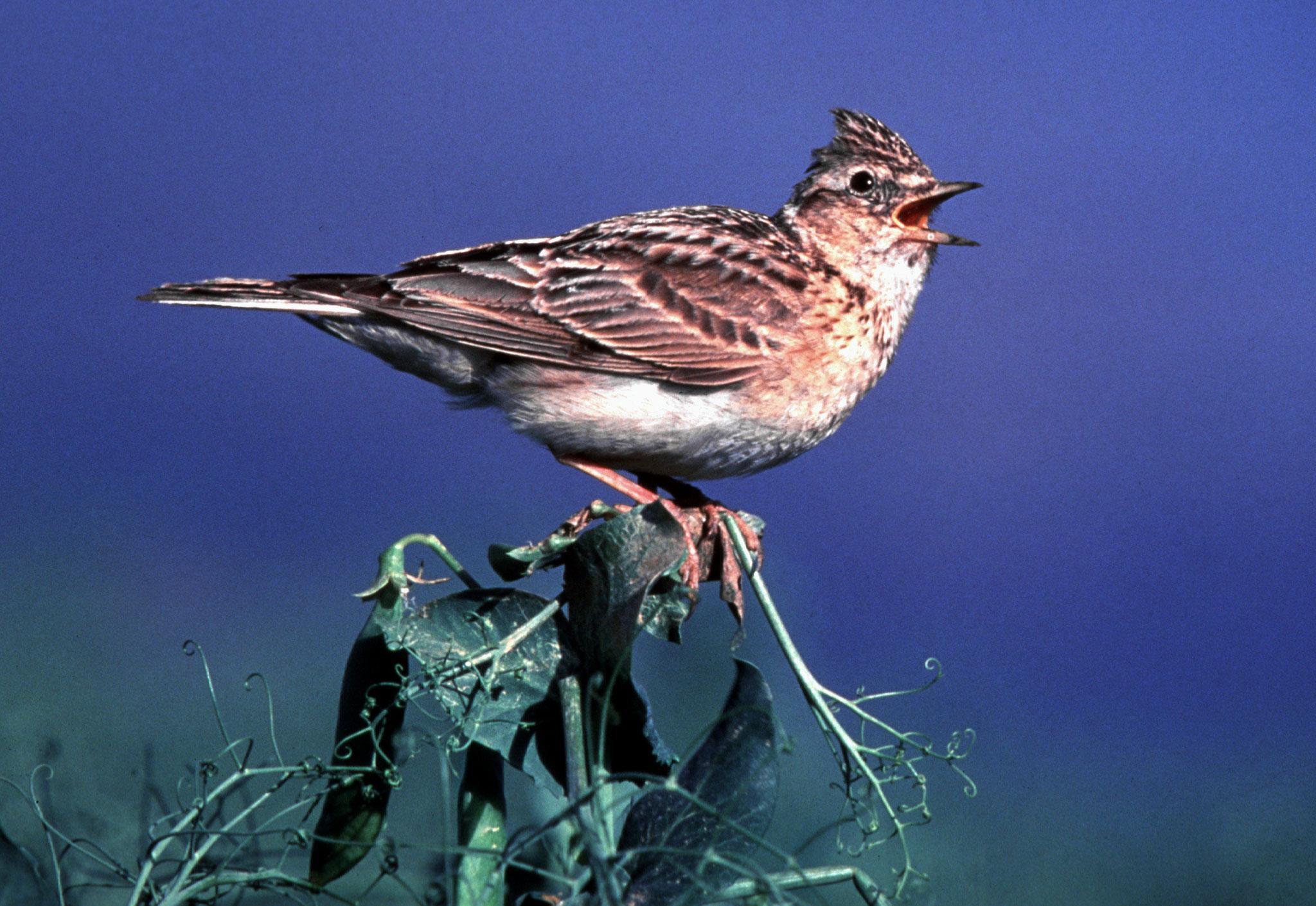 Some of Britain's favourite wildlife is at risk of becoming extinct unless there is a new, 21st-century agricultural revolution, experts are warning.
Species from hedgehogs to skylarks and birds of prey are being wiped out – in part by companies with vested interests in "destructive" factory farming, it was claimed on World Wildlife Day, which takes place today.
The "alarming" declines in wildlife will threaten not just the richness of the planet but also our ability to grow food, according to the RSPB.
After scientists warned last year that the world is facing a sixth mass extinction, turtle doves are on the brink of being wiped out, the latest survey figures show. Numbers of grey partridges, corn buntings and tree sparrows have dropped by at least 90 per cent in 40 years, leaving them all at risk of vanishing from Britain.
Earlier this month, a new report revealed that the number of hedgehogs in the countryside had more than halved since 2000. Nearly two-thirds of Britain's skylarks and lapwings have disappeared, the European bird census showed, while Birdlife International says 95 per cent of turtle doves have vanished in 20 years.
Just days after Environment Secretary Michael Gove unveiled plans to reward farmers who care for the environment, ornithologist Philip Lymbery warned of a culture among government policymakers and scientists of blaming biodiversity declines on climate change – instead of tackling those with "vested interests" in "disastrous" modern farming practices – because it was easier to avoid blaming anyone.
Mr Lymbery, head of charity Compassion in World Farming (CiWF), said changes in farming in the past half-century to drastically and artificially push up quantities of food produced were destroying species from nightingales to butterflies and peregrines.
"I'm worried that policymakers and some scientists duck the issue by blaming all the things damaging nature on climate change," he told The Independent.
"There's a reticence to tackle damaging farming practices head on. If we don't change our course away from industrial agriculture, then wildlife, our food and future generations will suffer. So as a society we've got to have these difficult conversations."
In a book setting out the effects of agriculture on wildlife worldwide, he said practices introduced after the Second World War have proved a perfect storm for wiping out birds and bees, as well as the plants and insects they feed on. Such practices include sowing large swathes of identical crops and the end of crop rotation, both of which reduce the natural variety of habitats.
The devastating effects have been accelerated since by chemical fertilisers and insecticides, according to the book, Dead Zone.
"I think there are undoubtedly vested interests at play here," Mr Lymbery said.
"The agricultural feed companies, the chemical companies, the pharmaceutical companies that provide the antibiotics fed en masse to factory-farmed animals, the equipment manufacturers that sell cages and tractors – they all benefit.
"It's not the average farmer who benefits from industrial agriculture. And it needs to change."
Birdlife International has also blamed population declines on the intensification of agriculture and the resulting loss of habitats.
David Ramsden, head of conservation at the Barn Owl Trust, said the industrialisation of farming had been a "disaster" for British wildlife, and also called for urgent action to tackle the causes of the devastation.
"There's absolutely no doubt intensive farming is causing huge declines in farmland species," he said. "The impact is huge, and most species are affected. Things that live in lowlands have been affected the worst – lapwings and curlews, for instance, have gone from ordinary farmland."
The barn owl – voted the UK's favourite farmland bird – has suffered a drop of two-thirds in its population since the 1930s because modern agricultural practices have wiped out huge numbers of their prey – mice and voles. By the 1990s, numbers were down to an estimated 4,000 from about 12,000 pairs in the 1930s.
Mr Ramsden called for moves to organic farming and a return to traditional farming where crops are mixed and rotated to stem the decline in habitats.
And curbing rapid human population growth was also vital, he said. "The rate of population growth is still increasing and it's likely that temperate regions such as Britain will become even more important for global food production.
"It's a dire picture and only going to get worse unless we do as David Attenborough suggests and curb our population."
Although numbers fluctuate from year to year, Mr Ramsden predicted the drop in good conditions for barn owls' prey – small mammals – meant populations would stay low.
The rise of mega-farms has radically changed the countryside since 2010. Last year it was estimated there were at least 1,675 factory farms in Britain, – an increases of more than 25 per cent in just six years – and the number has risen since then. At least 789 of the factory farms were "mega-farms" as big as those in North America. They each house more than a million chickens, 20,000 pigs or 2,000 dairy cows – which are housed indoors all year round, with no access to green fields.
CiWF has just launched a five-year strategic plan to press for a groundbreaking international agreement on ending factory farming.
Through the United Nations, such a deal would set targets for national governments on developing "more humane and sustainable" food systems, building on the UN's Sustainable Development Goals.
Mr Lymbery welcomed Mr Gove's proposals and a Defra consultation launched on Tuesday, to encourage more eco-friendly farming systems. The idea involves switching up to £150m in taxpayer-funded payments from the richest farmers to environmental schemes after Brexit. Subsidies would be based on sustainable food production rather than amount of land owned, as now.
"I'm very encouraged to hear Mr Gove talking about redirecting subsidies away from large-scale farming," he said. "We are looking at the result of decades of adverse policy and practice in the countryside. We won't turn around the oil tanker of disaster overnight, but having a government that appreciates the scale of the problem is encouraging.
"In the 1950s through to the 70s, advisers and agricultural colleges all had an industrial approach that left wildlife with nowhere to find food or shelter. Now we need a new joined-up effort that is wildlife-friendly, animal-welfare-friendly and food-friendly."
Statistics released in November by the Department of the Environment, Food and Rural Affairs, based on RSPB surveys, showed that in 2016 numbers of farmland birds had dropped by more than half compared with 1970.
Mr Lymbery said: "In my lifetime, Britain has lost 44 million birds, at a rate of a pair every minute. Once upon a time barn owls were a common sight over fields and farm buildings. Most farms had a pair."
Mr Ramsden says that now, just one farm in 75 has a nesting pair of barn owls.
Other changes that have left birds and small mammals struggling include the switch to larger farms, with the removal of hedgerows, and a popular change to sowing crops in autumn, not spring. Before, fields of stubble left over winter provided abundant food and habitats for small creatures such as mice and voles – the diet of birds of prey.
Numbers of breeding curlews in the UK halved in Wales and Scotland between 1994 and 2005, according to the RSPB.
"Losing species doesn't just diminish the richness of our world. It has a profound effect on the environment we live in and the essential resources we need to survive. For example, as numbers of insects decrease so will our ability to grow the many different types of fruit and vegetables that need pollination. The more we endanger the planet's natural balance, the greater the impact on our own lives," said conservationist Jamie Wyver of the RSPB.
In Scotland, more than half of all upland birds have suffered a "significant long-term decline", according to statistics earlier this month. Scottish Natural Heritage revealed that 10 of the 17 upland species fell in numbers between 1994 and 2016. Curlew numbers were down 62 per cent and lapwing down 63 per cent.
Nightingale numbers are also shrinking, the bird confined to south-east England, again blamed on loss of habitat.
The British Trust for Ornithology, widely seen as the most authoritative source on bird population changes, says the turtle dove may soon disappear altogether from Britain.
Birdlife International says: "It is widely accepted that these declines have been driven by agricultural intensification and the resulting deterioration of farmland habitats, and it is likely that the trends observed are mirrored by other farmland taxa [species]."
Some farmers are working to reverse the trend. The Nature Friendly Farming Network, launched last month, supports farmers taking steps such as replanting hedgerows and creating habitats for bees.
'Dead Zone' is out in paperback on Thursday.
Join our commenting forum
Join thought-provoking conversations, follow other Independent readers and see their replies