Winter Storm Izzy – latest: Ice and snow warnings as 'Saskatchewan Screamer' moves north
Follow the latest updates
Alex Woodward
Monday 17 January 2022 02:59 Comments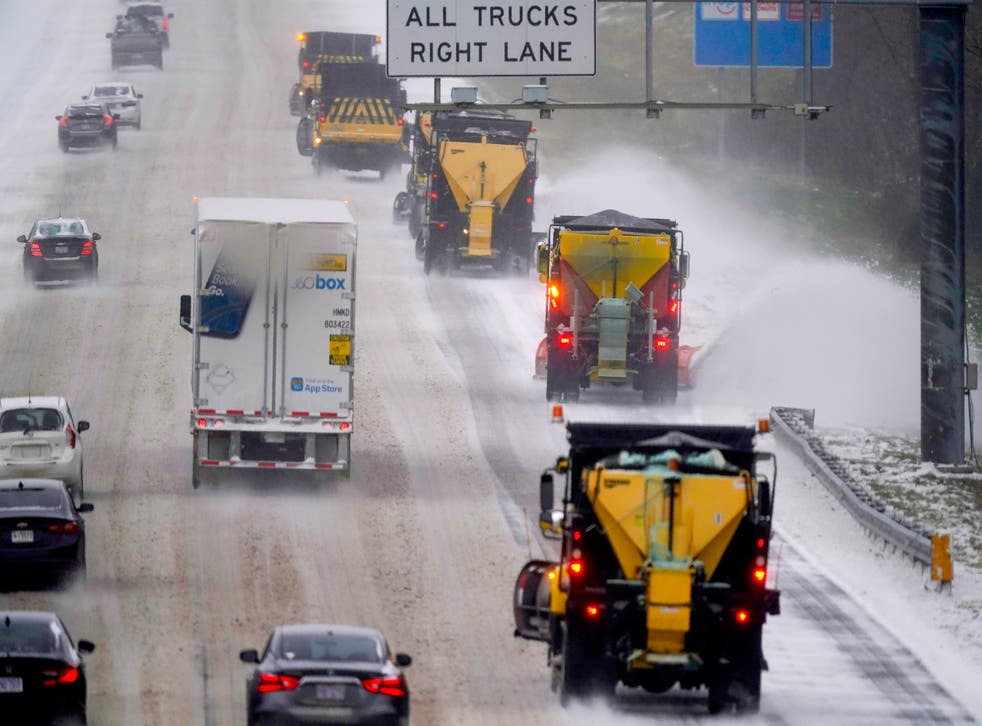 A major winter storm barreling across the US knocked out power for thousands of homes in the southeast and forced the cancellations of hundreds of flights over the Martin Luther King Jr holiday weekend.
Dubbed winter storm Izzy by The Weather Channel, the so-called "Saskatchewan Screamer "system – named after the Canadian province – prompted winter advisories in more than half of all US states over the last week.
The National Weather Service anticipates heavy snow, flooding, downed trees and hazardous conditions on roads as storm moves north.
The system brought record-breaking snowfall from Canada into the central US and Midwest as it made its way Southeast before turning north, impacting millions of Americans over the last several days.
Nearly 99,000 homes and businesses were without power in South Carolina on Sunday, according to PowerOutages.us, and 70,000 outages were reported in Georgia. Roughly 275,000 outages were reported across the southeast.
Follow live updates
1642384842
Hundreds more flights canceled for Monday as storm Izzy moves north
Dozens of flights out of airports in the path of a major winter storm are canceled on Monday, after hundreds of flights out of North Carolina, Georgia and Virginia were canceled on Sunday, according to FlightAware.com.
Nearly 95 per cent of the flights out of Charlotte Douglas International Airport in North Carolina are canceled. The carrier canceled 1,100 flights on Sunday across.
"This weekend's winter storm is expected to have a significant impact on our operation, especially at Charlotte International Airport ," American Airlines said in a statement.
Alex Woodward
17 January 2022 02:00
1642381242
New York bracing for 'rain event' in NYC and snowfall upstate
Snowfall in New York is expected to reach up to three inches per hour in some parts of the state as a mix of ice and rain begin to move into the state on Sunday night into Monday afternoon.
"New York is poised to experience one of the largest storms so far this winter and our crews are out in full force preparing our roadways and staging critical assets," Governor Kathy Hochul said in a statement on Sunday. "With freezing temperatures persisting and heavy snowfall forecasted, I'm urging all New Yorkers to pay close attention to their local forecasts and avoid unnecessary travel throughout the duration of the storm."
Heavier snow is expected in the western, northern and Finger Lakes regions of the state.
Commissioner of the New York State Division of Homeland Security and Emergency Services Jackie Bray said New York City and Long Island are likely to see less than an inch of snow but a "rain event" with minor flooding is expected in areas prone to flooding.
Alex Woodward
17 January 2022 01:00
1642377642
Virginia State Police respond to more than 650 traffic accidents
Virginia State Police reported more than 650 traffic accidents, including 369 crashes and 282 disabled vehicles from Saturday after midnight into Sunday afternoon.
The state is expected to endure "heavy mixed precipitation" with icy rain and snowfall of two to four inches as the storm moves north, according to the National Weather Service.
Alex Woodward
17 January 2022 00:00
1642374042
Storm impacts 'will be felt across 20 or more states'
The latest forecast from the National Weather Service predicts heavy snowfall of up to one inch an hour across several states as the winter storm moves north.
Alex Woodward
16 January 2022 23:00
1642372253
South Carolina National Guard deployed to assist with storm response
The South Carolina National Guard has activated 120 service members to support state agencies responding to the winter storm, according to US Army Maj Gen.Van McCarty.
Services members have been helping stuck vehicles on Sunday in the aftermath of high winds and dangerous conditions. Parts of the state remains under winter storm and ice warnings with "significant icing," according to the National Weather Service.
Alex Woodward
16 January 2022 22:30
1642371241
Storm snarls traffic and forces road closures across eastern US
Officials in several states advised drivers to stay off the road as accidents were reported across the southeast in the storm's wake.
North Carolina Governor Roy Cooper said it best: "For today, the best way to avoid a car accident or getting stranded is to stay put."
It appeared that several drivers abandoned cars in South Carolina on Sunday morning:
An accident involved several semi-trailers impacted traffic in Virginia in the afternoon:
Alex Woodward
16 January 2022 22:14
1642370073
Sunday morning tornado in Florida destroys homes in Fort Myers
At least two tornadoes touched down in Florida amid a winter storm that swept the southeast this weekend.
Residents and emergency responders surveyed the damage to several communities near Fort Myers after the storm hit early this morning.
Alex Woodward
16 January 2022 21:54
1642368499
More than 1,000 flights canceled out of airports in storm's path
Of those cancellations, more than 1,000 were out of Atlanta, Virginia and North Carolina.
Several domestic airlines issued travel advisories and waived change fees at those airports and dozens of others in the path of the winter storm.
Alex Woodward
16 January 2022 21:28
1642367587
Thousands remain without power as Izzy moves north
Thousands of homes and businesses remain without power as a major winter storm system moves north, bringing heavy winds, snow and ice to the southeast.
As of 4pm EST on Sunday, nearly 220,000 outages are reported in North and South Carolina, Florida, Georgia and Tennessee, according to PowerOutage.us.
Here's how the storm impacted power lines in one area in North Carolina on Sunday:
Alex Woodward
16 January 2022 21:13
1642366899
Florida sees at least two tornadoes as storm destroys several homes
Multiple tornado warnings were issued across Florida during the storm on Sunday morning.
A large tornado touched down near Naples, Florida and overturned a semi-trailer truck on Interstate 75. The National Weather Service also confirmed a tornado in Iona in Fort Myers.
Florida's Lee County also reported at least 27 buildings were destroyed in the storm, including 24 with major damage and 14 with minor damage.
Alex Woodward
16 January 2022 21:01
Register for free to continue reading
Registration is a free and easy way to support our truly independent journalism
By registering, you will also enjoy limited access to Premium articles, exclusive newsletters, commenting, and virtual events with our leading journalists
Already have an account? sign in
Join our new commenting forum
Join thought-provoking conversations, follow other Independent readers and see their replies