Woman arrested for 'riding' sea turtle after Snapchat image goes viral
Suspect recognised from photo faces up to five years in jail and £6,500 fine if convicted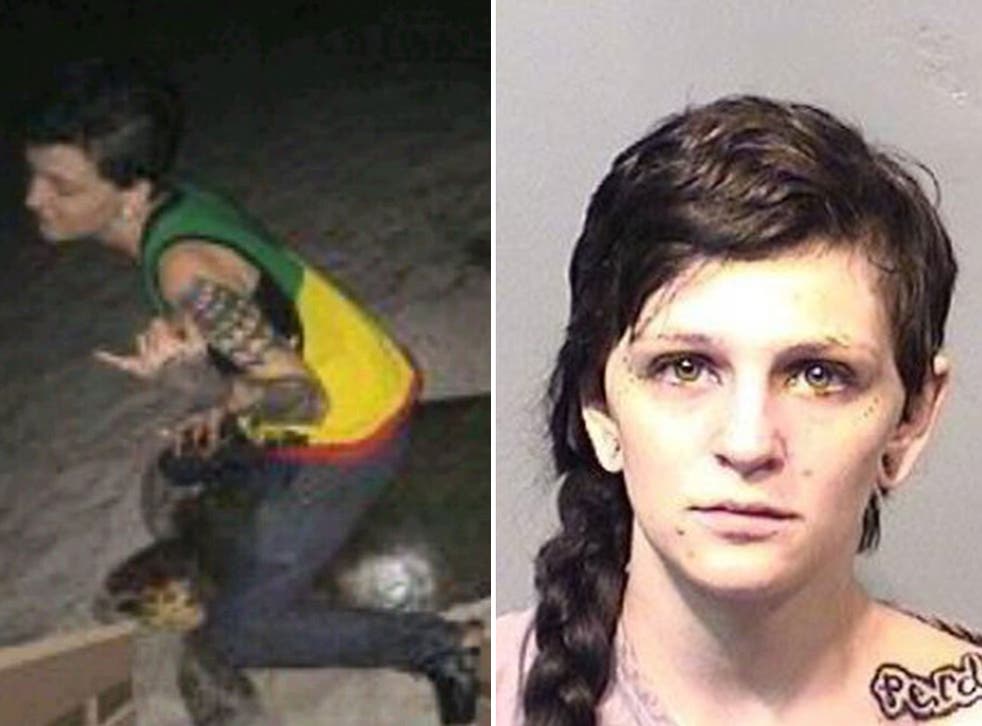 A woman has been arrested for molesting a sea turtle after photographs of her apparently sitting on the protected creature went viral.
Police recognised Stephanie Marie Moore, 20, from the images, first sent on Snapchat then widely circulated on Facebook and Twitter, while responding to a disturbance in Melbourne, Florida.
Another young woman shown sitting astride the turtle in the photographs, whose face was covered by her hair, is still at large.
David Hochberg, chairman of the Sea Turtle Preservation Society, welcomed the arrest.
He told USA Today: "I was hoping that some justice would be served because if they didn't do anything at all that sends out that very wrong message to a lot of people.
"I was outraged and disgusted and infuriated when this first came out."
Sea turtles are endangered in Florida because illegal harvesting and pollution have left numbers dwindling.
The marine animals come ashore to lay eggs during the summer and experts have suggested sitting on one could stop or impede them.
Molesting a marine turtle is a felony – a more serious crime – in Florida and, if guilty, Moore faces up to five years in prison and £6,500 in fines.
In a statement posted on Facebook, Melbourne Police Department said: "In early July 2015, two females were seen in photographs where they appeared to be sitting or riding on sea turtles.
"These pictures flooded social media networks and eventually multiple complaints were forwarded to the Florida Fish and Wildlife Conservation Commission, who handled the criminal investigation.
"Today, officers from the Melbourne Police Department responded to a disturbance in progress in the 600 Block of Espanola Way.
"During the course of this investigation, officers encountered a subject with an active felony warrant.
"The felony warrant was in reference to a county court capias request reference possess, sell, molest marine turtle or eggs nest.
"The subject was one of the females seen taking photographs on the sea turtles and identified as Stephanie Marie Moore."
Join our new commenting forum
Join thought-provoking conversations, follow other Independent readers and see their replies