Climate crisis: UK's woodlands under threat and reaching 'crisis point', report warns
Just seven per cent of country's forests in good ecological shape, says Woodland Trust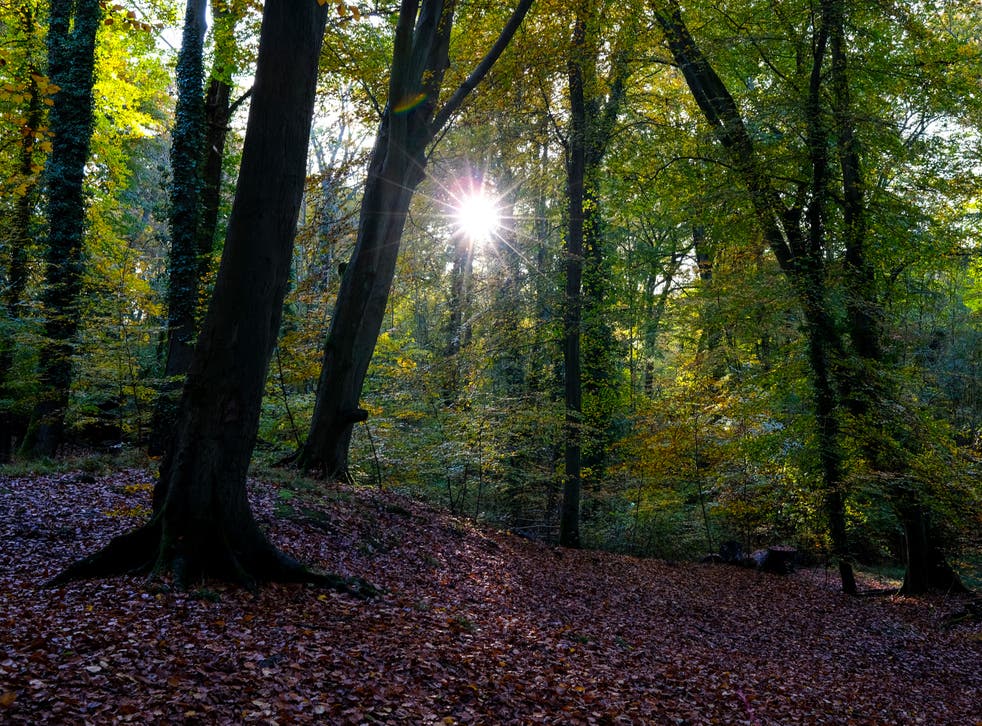 Britain's native woodlands are approaching "crisis point" and are under siege from a variety of threats, from climate change and nitrogen pollution to habitat damage, imported diseases, invasive plant species like rhododendrons and new housing developments, a new report has warned.
The State of the UK's Woods and Trees 2021, a new study from the Woodland Trust, says that just seven per cent of the country's forests are in good ecological shape.
Woodland accounts for 13 per cent of Britain's surface area, up from 12 per cent in 1998, about half of which consists of oak, beech and ash and half of non-native trees like conifers grown for timber.
The UK government's Department for Environment, Food and Rural Affairs (Defra) has pledged to plant 30,000 hectares of trees a year by 2025 to address the climate crisis.
But despite that positive development, the country's woodland-dwelling wildlife is suffering, with butterfly numbers falling by 41 per cent since 1990, birds down 29 per cent since 1970 and plant numbers declining by a huge 18 per cent since 2015, according to the Trust.
Species including dead wood beetles, lily of the valley and the willow tit are said to be in particularly steep decline, with the last down 94 per cent since 1970.
Nitrogen pollution from farming is particularly harmful because it changes the natural make-up of animal habitats by damaging delicate tree lichens and encouraging grass in its battle for supremacy against wildflowers like violets, bugle, heather and bilberry.
Climate change is meanwhile shifting the pattern of the seasons, currently bringing the onset of spring forward by 8.4 days, confusing creatures like blue tits whose breeding cycles no longer match their food supplies, crucial when nurturing young chicks.
Also contributing to the problems has been the introduction of 19 new damaging tree pests and diseases since 1990, compared with four in the previous four decades.
The report blames a 10-fold increase in live plant imports since 1990 as the likely cause, with a disease like ash dieback able to kill off 120m trees, a cost of £50 for every £1 earned from importing saplings in the first place.
"Wildlife is going down - woodland birds, woodland butterflies, woodland plants are all going in the wrong direction for woodlands as a whole," Chris Reid, lead author of the report, told BBC News.
"This is down to factors such as pollution, invasive species, deer browsing and fragmentation - woods chopped up into small parcels. All of these need to be tackled."
The impact on Britain's ancient woodland is particularly concerning because long-established trees hold 36 per cent of all forest carbon, approximately 77m tonnes.
"We take them for granted because of their longevity, they are resilient and they have been resilient over millennia, some of them, and hundreds of years, but there's only so much they can cope with," says Abi Bunker, the Trust's director of conservation and external affairs.
"It's reaching crisis point. The warning signs are loud and clear. If we don't tackle the threats facing our woods and trees, we will severely damage the UK's ability to address the climate and nature crises. Green spaces that are rich in wildlife, bird song and blossom are also intrinsically linked to our own health and wellbeing."
The report calls for the protection of existing woodlands, a better balance of tree species being planted by forest managers, the quadrupling of current planting rates and increasing the proportion of native species.
The Committee on Climate Change, the government's independent adviser on tackling global warming, has said the UK must plant 2bn more trees if it is to reach its net-zero carbon emissions target by 2050.
The panel also says the percentage of Britain devoted to trees needs to rise from 13 per cent to as high as 19 per cent by 2050.
A spokesperson for Defra commented: "We have committed to increase woodland creation across the UK to 30,000 hectares per year by 2025, as well as protecting existing woodlands.
"We have already announced the Nature for Climate Fund and will shortly publish our action plan for trees and woodland, which will help us meet this target by ensuring we plant new high-quality, well-managed woodlands and improve the condition and resilience of existing ones."
Join our new commenting forum
Join thought-provoking conversations, follow other Independent readers and see their replies