Years of marine research sunk – because seals ate the evidence
Electronic tags were meant to track movement of fish but also alerted predators
Lewis Smith
Tuesday 18 November 2014 20:30 Comments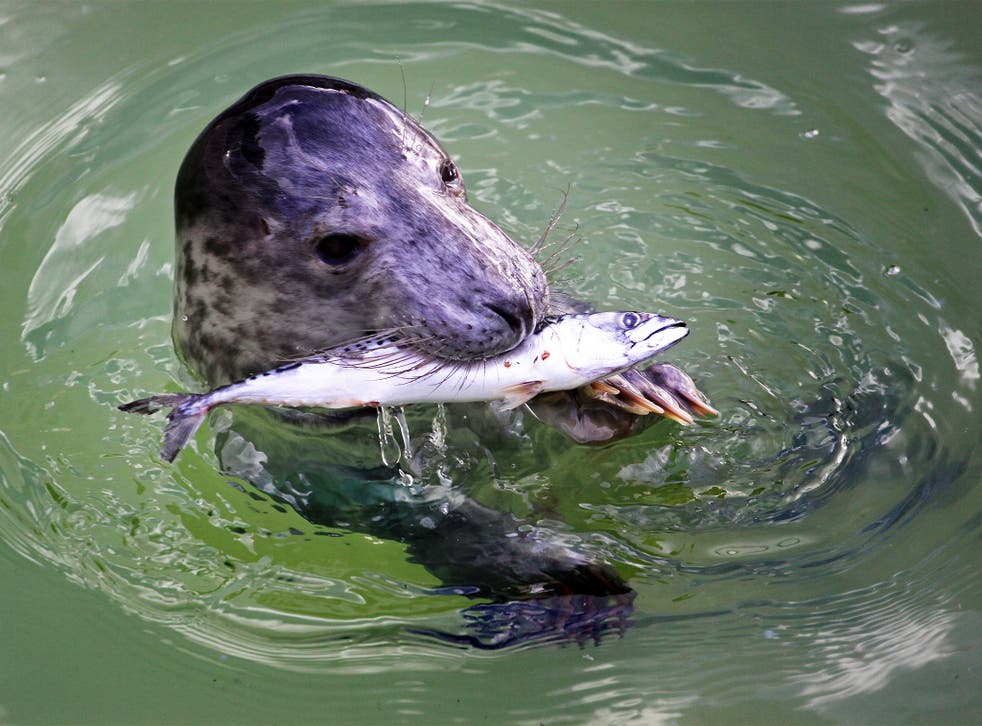 When scientists began tagging wild fish to track their movements, the researchers thought they were the only ones listening to the acoustic signals. Unfortunately for the shoals fitted with the devices, experts had not reckoned on the intelligence of hungry seals that learnt to interpret the noise tags as "dinner bells", beckoning the predators straight to a tasty fish meal.
In fact, the quick-learning seals have become so adept at picking up the signals, and realising they meant food was around, that academics fear their attempts to study the movement and behaviour of the tagged fish could have been skewed to a "profound" extent, ruining their findings.
Studies monitoring the movements of salmon and lingcod have already suffered disproportionate losses of juveniles, and scientists believe further research may be compromised unless a different type of tag is used.
Acoustic tags are increasingly being used by researchers to monitor shark populations. But there is a risk, at least for the smaller species and the young fish, of the subjects becoming "more detectable by prey species such as seals", said Amanda Stansbury, of the University of St Andrews. She added that experiments in conjunction with the University of Cumbria had provided "concrete evidence" of the so-called dinner-bell effect.
Ten young grey seals born on the Isle of May in the Firth of Forth were used in experiments to test whether they learnt to associate the ultrasound frequencies of the tags with food.
All were taken to the university's Sea Mammals Research Unit before they had swum in the sea. They were released back into the wild before their first birthdays. In the experiments the speed with which they found herring hidden in boxes was measured along with the frequency with which they sought boxes containing tags compared with those just baited with fish.
"Seals revisited boxes with the acoustic tag significantly more often than boxes which initially contained untagged fish," the researchers wrote in the journal Proceedings of the Royal Society B: Biological Sciences.
"Seals learnt the relevance of the acoustic cues and adjusted their foraging strategy to revisit profitable foraging spots.
"Our findings present a novel way of looking at anthropogenic [man-made] noise that illustrates how animals exploit cues when they become available."
Warning that the adaptation could be costly to studies using tags to monitor fish populations they said: "Research agencies worldwide invest significant resources in acoustic tagging studies to assess fish stocks and determine survival rates.
"As acoustic tags could make a fish more vulnerable to predation, tagging can lead to erroneous conclusions in such studies.
"This concern is supported by observations of decreased survivorship rates for acoustically tagged juvenile salmon compared with those with similar tags that produce no sound signal.
"Similarly, tagged predator species may experience a decrease in foraging success. Acoustic tags are becoming more widely used on sharks and could make them more detectable by prey species such as seals."
Register for free to continue reading
Registration is a free and easy way to support our truly independent journalism
By registering, you will also enjoy limited access to Premium articles, exclusive newsletters, commenting, and virtual events with our leading journalists
Already have an account? sign in
Join our new commenting forum
Join thought-provoking conversations, follow other Independent readers and see their replies