The world has to keep fossil fuels in the ground – we owe it to both current and future generations
What is required to tackle the climate crisis is urgent investment in renewables and clear plans for a fair transition to them for people and places, writes Ed Miliband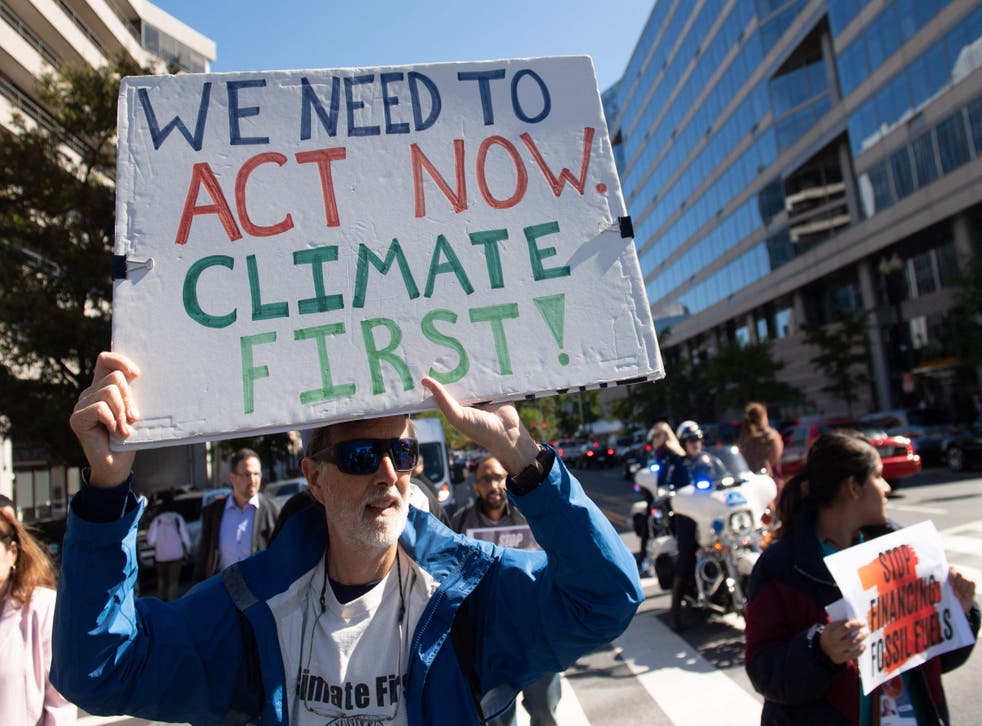 Today President Joe Biden is hosting 40 world leaders at his Earth Day climate summit. Such a summit was unimaginable just six months ago under President Donald Trump.
The way the Biden administration has thrown itself into the climate cause is a real source of hope – a $1 trillion green infrastructure plan and a real ambition to work internationally to meet the 1.5C limit for global warming agreed in Paris in 2015. But there is a problem: the maths. To keep to 1.5C, the world needs to halve its greenhouse gas emissions between now and 2030.
How hard is that? Greenhouse gas emissions have risen inexorably since the industrial revolution and the global economic recovery is set to be powered by a surge in fossil fuel demand. When you add up what the Biden administration and other major economies are planning, it is just not enough to put us on course for that halving that we need: in truth we are not yet even close.
So what should we do? Despair? Definitely not – because the world is finally taking the problem seriously. But in our quest not to despair, we cannot duck the truth either. Indeed those of us without the levers of national power have a special responsibility in the run-up to Cop26, the crucial global summit we are hosting in Glasgow in November.
These summits matter because they provide a forcing mechanism – where the attention of the public and the spotlight on leaders can force them to confront inconvenient truths. We must be the truth-tellers, demanding of world leaders everywhere that they do more, with greater urgency, and with greater ambition. Right down to the wire, right up to the last minute.
Every government faces its own pressures, from the deniers to the delayers. It is the public around the world that are by far the best counterweight to those pressures. So what truths need telling? First, getting to net-zero emissions in the middle of the century matters, but we are in the decisive decade now. Every country, including the major emitters like China and the US, must set ambitious 2030 targets because too often, net-zero targets are used as an excuse to kick the can down the road.
If I was in the shoes of the UK Cop26 president Alok Sharma, rather than his shadow, I would be demanding Boris Johnson raises our ambitions for 2030, because it is right domestically and to help persuade others to move. Sharma has conceded that the current targets are "nowhere near enough". In that case, more must be done.
Second, we need to tell the truth about green recovery – and its absence. After 2009, 16 per cent of economic stimulus packages were green. But rather than doing better, so far, in this crisis, green stimulus plans amount to even less than in 2008 – just 12 per cent of total action. Here at home, the government is planning a green stimulus far smaller than those in the US, France and Germany. For the jobs we need in this country and as Cop26 hosts, it is an appalling dereliction of duty.
Labour has called for a £30bn green recovery to tackle the climate and nature crisis as well as the jobs crisis head on; the government should be doing that at home and convening others at the G7 and G20 to do the same.
Third, we need to tell the truth about the pressures and inequalities facing developing countries – which have done the least to cause this crisis, but are now on its front line. The way in which those countries develop in the coming decades will be fundamental to our efforts to limit heating to 1.5C. It's incumbent on the developed world to provide the support that gives countries like India the confidence to raise their ambition, whilst pressuring others like Brazil who refuse to do so.
Greta Thunberg issues 'emergency alert' over climate crisis
The world has been talking for a decade about $100bn of climate finance for these countries to both adapt to the ravages of this crisis and to cut their emissions. Delivering this is now a matter of trust but, in truth, there is evidence that the costs of climate adaptation alone facing developing countries could be as much as $300bn by 2030. A much more ambitious plan of debt relief and support is required. As we do this, we must remember that climate breakdown and biodiversity loss are two sides of the same coin and must be addressed together.
Fourth, we need to demand truth from all large companies about their role in the climate emergency. Every government should be demanding that companies disclose the compatibility of their actions with the Paris climate goals and act accordingly. We should welcome genuine action – but also push back against greenwash. In the UK we are waiting until 2025 to implement only disclosure; that is the pace of business as usual, not an emergency, and it lets other countries off the hook too.
Finally, we need to reckon with the source of our emissions: fossil fuel supply. As the UN warns, countries are on course to produce more than double the amount of fossil fuels in 2030 than would be consistent with 1.5C. The solution, as 101 Nobel laureates have said, "is clear: fossil fuels must be kept in the ground". That requires urgent investment in renewables and clear plans for a fair transition to them for people and places.
In light of the challenges we face, some people will say that we shouldn't rock the boat and that a mediocre outcome is preferable to the disaster of the Copenhagen summit in 2009. I witnessed that failure, so I understand the anxiety. But the route to success at Glasgow is not to lower our ambitions but to build a high-ambition coalition, spanning the developed and developing world.
Indeed, we must guard against another danger. As Bill McKibben, the long-time campaigner, puts it: the climate "winning slowly is the same as losing". Even a world 2C warmer threatens appalling human, biodiversity, and economic costs, accelerating trends that have sadly already begun to wreak damage on people's lives and livelihoods.
That is why we need to be persuaders for maximum ambition. We must demand above all that Glasgow "keeps 1.5C alive". We should be the truth-tellers in pursuit of that end. We owe it to current and future generations.
Ed Miliband is shadow secretary of state for business, energy and industrial strategy and Labour MP for Doncaster North
Register for free to continue reading
Registration is a free and easy way to support our truly independent journalism
By registering, you will also enjoy limited access to Premium articles, exclusive newsletters, commenting, and virtual events with our leading journalists
Already have an account? sign in
Register for free to continue reading
Registration is a free and easy way to support our truly independent journalism
By registering, you will also enjoy limited access to Premium articles, exclusive newsletters, commenting, and virtual events with our leading journalists
Already have an account? sign in
Join our new commenting forum
Join thought-provoking conversations, follow other Independent readers and see their replies