MY SUSTAINABLE LIFE
Alice Temperley: My Sustainable Life - 'We should all be ashamed of ordering off Amazon becoming the norm'
The fashion designer tells Olivia Petter how sustainability influences her daily life and why she moved to the countryside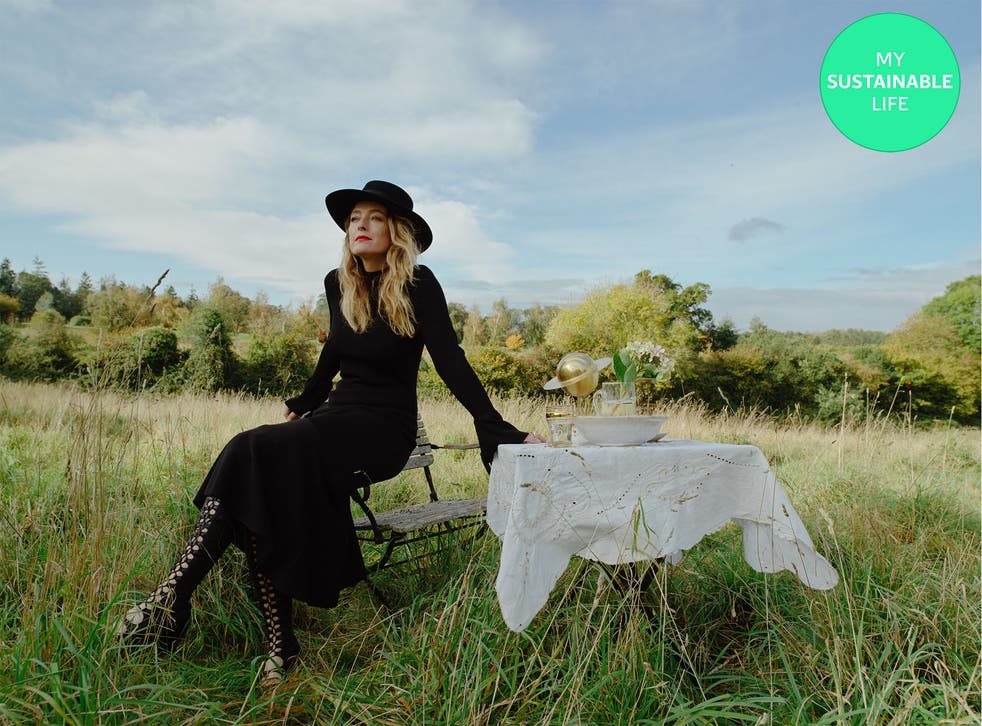 Leer en Español
The Independent's My Sustainable Life is a Q&A series in which famous faces reveal their personal approach to the climate crisis
This week, for My Sustainable Life, we hear from British fashion designer Alice Temperley.
Previous guests on My Sustainable Life include singer Birdy and TV presenter Laura Whitmore.
The acclaimed industry tastemaker Temperley, has dressed everyone from the Duchess of Sussex to Sandra Bullock.
Here she explains how moving her business operations to Somerset has given her a new - and eco-friendly - lease of life, and why she can't let go of her Amazon habit.
The most sustainable decision I made in the past year was...
To move my office close to my house in the countryside, go from four to two collections a year, season-less and forever items, [do] production locally and have zero fabric waste and pledges all over the company to do our best.
We already had worked hard on sustainable packaging and we have the Butterfly mark [awarded by Positive Luxury to brands committed to sustainability, other holders include Givenchy and Thomas Pink] we are proud of, but we can all do more as every little it helps.
Read more: My Sustainable Life: Laura Whitmore - 'You don't have to be perfect'
My least sustainable habit is...
Amazon … It's terrible and we should all be ashamed of this becoming a normal... [Amazon said its carbon footprint rose 15 per cent in 2020, even as it launched initiatives to reduce its harm on the environment - it pledged to be 100 per cent renewable by 2030 and Jeff Bezos has pledged $10bn (£7.68bn) to climate crisis - it has also been criticised over employee rights].
I will stop and support the local shops now schools are open and as restrictions lift. There are no excuses.
If I ruled the world, I would make it more sustainable by...
Closing down Amazon. Eating local farm produce rather than importing from countries around the world.
Alice Temperley meets with inspiring changemakers.mp4
Eating seasonal local produce would make such a difference to the planet and would also, I think, help with obesity and most health problems.
When I want to feel in touch with the natural world I...
Ride my shire horse or walk for hours along the Jurassic coast in Dorset.
I also love wild forests and want to get into cold-water swimming.
If I could invent one thing that would make my life more sustainable it would be...
Self-sustainable renewable energy at home.
My sustainability hero is...
I am completely in love with David Attenborough (he gave me my masters certificate in the Royal Albert Hall, which made me weak at the knees).
Read more: My Sustainable Life: Birdy - 'I am trying to grow my own vegetables'
He's been waking the world up – he is an inspiration.
The one thing everyone should watch about the climate crisis is...
Everything by David Attenborough.
My favourite vegetarian or vegan restaurant is...
I don't have one. I only eat locally grown meats and fish.
Lamb is mainly from my parents' farm or Coombe Farm, and for fish I get it locally from my mate, the chef Mark Hix.
My one piece of advice to people trying to be more sustainable is...
Think about what you buy always... and what you can get with refills. I have just started using shampoo soap and it's great!
Three sustainable brands everyone should know about
Patagonia world
New haven project
And you should also know about our fully sustainable hoodies and outwear at Temperley, all of which was made in the UK. I am very excited about them.
Join our new commenting forum
Join thought-provoking conversations, follow other Independent readers and see their replies