11 ways to take your business to the next level
Make 2023 the year of soaring growth with the help of these innovative products and services
Monday 30 January 2023 11:50 GMT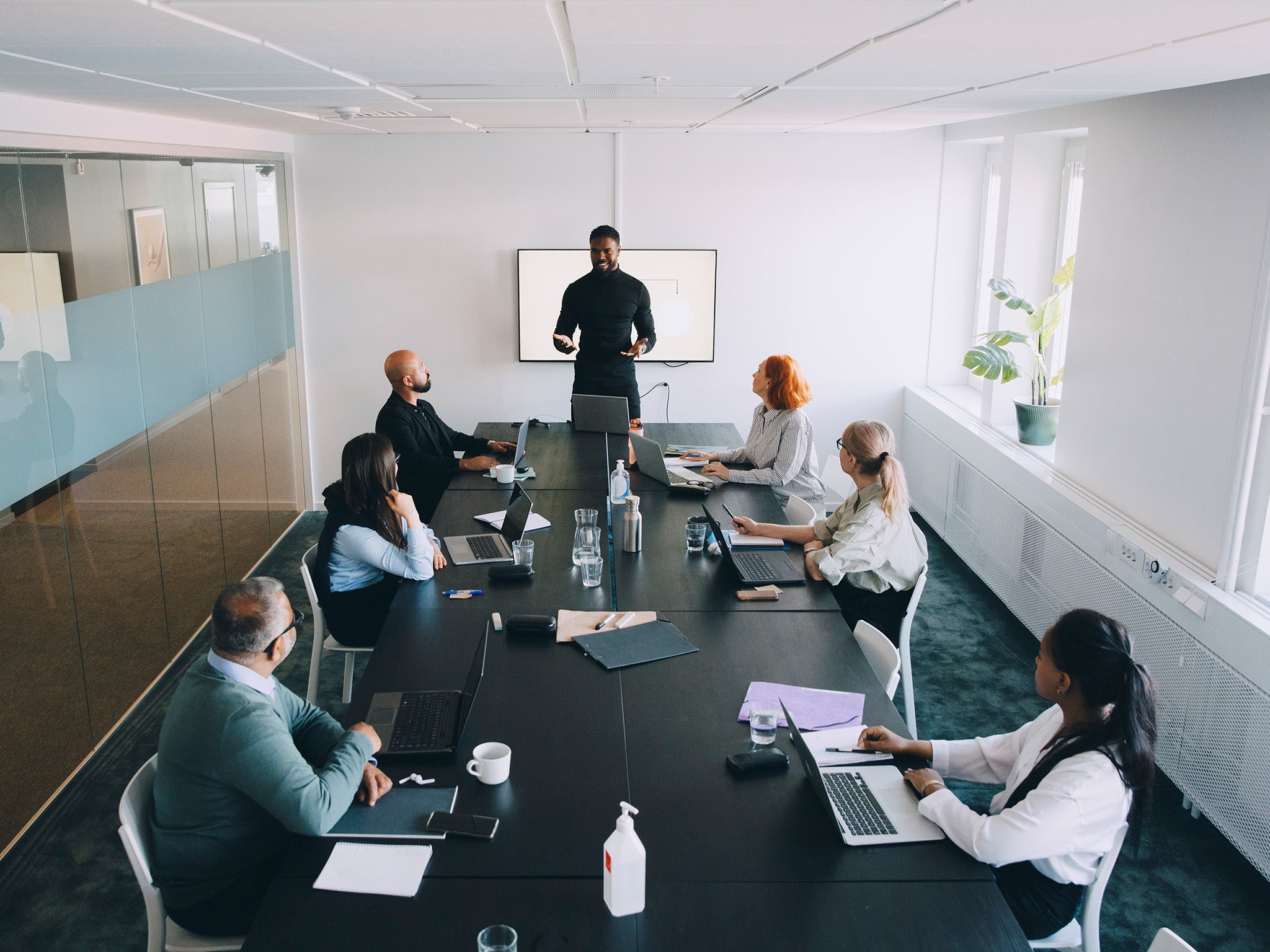 From cutting-edge leadership courses to experts who can take the hassle out of your contracting woes, we've rounded up a select list of companies that can give your business a real boost.
Invest in a contract specialist
No matter what kind of business you're running, you'll have undoubtedly dealt with the frustration of managing contracts, which can often get in the way of more important and fulfilling tasks. However, help is at hand thanks to Contractsmith, a new virtual contract assistant from Mattersmith. The regulated lawtech business has combined its legal expertise to create an accredited product that can help you with all your contracting needs. You can write contracts using its clever drafting tool, manage documents in one place and keep stakeholders informed 24/7.
"I discovered Mattersmith four months ago and I'm so glad that I did," says Inarm Osborn, CEO of AutiQuest. "Its services have enabled us to manage our contracts much more efficiently than before, saving us both time and money."
Subscribe for a bespoke Contractsmith membership before 28 February 2023, quoting code "JAN2023", and get 12 months for the price of six.
Take your leaders from good to great
All successful business leaders know that for positive change to take place in any company, it has to start at the top. Breakthrough Global has spent 30 years developing a business-tested model that achieves extraordinary results for private business and Fortune 100 companies through its two-day intensive leadership workshops. The courses offer strategic guidance, coaching and personal and professional growth for aspirational leaders who want to create a winning culture, and a new wave of high performance.
"I've already used it in four different companies and, combined with our business programmes, it's enabled [us] to create close to $20bn [£16.8bn] of shareholder value," says Pierre Laubies, CEO of Jacobs Douwe Egberts.
Want to achieve alignment in your executive committee and grow your business? Contact Breakthrough at partnerships@breakthroughglobal.com.
Find out more at Breakthrough Global
Secure the right capital funding for your company
Whether you're raising equity or debt capital, refinancing your business, structuring an acquisition or advising on the disposal of an existing business, IDCM can help you find the best way forward. For over a decade, the corporate finance specialist has used its insight, experience and knowledge to connect clients with the right funding partners from its network of the world's leading capital providers. IDCM has worked extensively with clients from the core infrastructure, social infrastructure, renewable energy and real estate sectors, and with the capital markets' volatility seen in recent months, IDCM's services could be more important than ever.
Build a team you can trust with the help of a DBS provider
You may not realise it but having the right partner to help you with your staff's DBS checks (covering their criminal record background) could be vital to your business. Depending on the sector you work in, it can be a legal requirement for employees to have completed a DBS check and the responsibility lies with the employer. DBS Check Online, a government-approved DBS provider, can help you with all your needs when it comes to providing background checks for new employees. Not only does it allow you to build a trustworthy and reliable team, it also demonstrates that you're an ethical organisation, which could make you look favourable in the eyes of high-profile investors and clients. Register your Business for free and receive a no-obligation call at DBS Check Online.
Find out more at DBS Checks Online
Kick-start your career with an apprenticeship
Whether you're preparing to leave school, embarking on a career change or simply looking to progress and develop in the sector you're already in, an apprenticeship is a great way to develop your talent and gain valuable experience. What's more, personal tutors are on hand to provide effective pastoral support to ensure you flourish in your chosen career. It's no wonder that Paragon Skills boasts an apprenticeship pass rate of 99%, with 65% of those achieving merit or distinction. Paragon Skills offers a multitude of different training schemes, in everything from childcare to accountancy. Rated number one on Rate My Apprenticeship and "excellent" on Trustpilot, learners will make strong links between classroom learning and their chosen job role, as well as gaining valuable hands-on experience, while personal tutors are on hand to provide effective support, ensuring you flourish in your chosen career.
To kick-start your apprenticeship journey, visit Paragon Skills or email hello@pgon.co.uk.
Visit Paragon Skills to find out more
Make business meetings memorable
Want to ensure your next meeting or conference is as memorable and informative as possible? Host it with Imago Venues, one of the Midlands' premier conference brands offering several options within easy reach of both London St Pancras and East Midlands Airport. Venues come with contemporary meeting spaces finished to a high standard, as well as luxurious accommodation options for those travelling from further afield. As a wholly owned subsidiary of Loughborough University, Imago Venues can also provide unique executive education programmes and senior leadership apprenticeships in partnership with the Loughborough Business School. Explore what options are available to you at imagovenues.co.uk.
Hands-on help with organisational design
Optimise your business structure and improve ways of working with Q5's MetroMap+, a user-friendly platform that provides step-by-step advice to those in need. The digital platform comes complete with access to a range of interactive content and masterclasses, as well as videos and downloadable templates. Suitable for both small and large organisations, the platform is essential for those looking to successfully undertake an organisational design project. With over 150 satisfied clients a year, Q5 is committed to building healthier and more successful organisations with lasting results. To get started with MetroMap+, email info@q5partners.com or click here to visit the website.
Build the right website for your business
A fully functional, eye-catching website is one of the most important elements of any business. The experts at ProfileTree are ready to draw on their deep knowledge of web design and digital marketing to help you build a user-centric website that attracts customers and generates more sales. With over a decades' experience in the industry, the agency prides itself on launching beautifully designed sites across multiple sectors and platforms, including mobile.
To guarantee a bespoke approach to every new update, ProfileTree takes each client through a complete planning cycle to ensure their full understanding of the project, and will make sure that the final UI/UX delivers improved leads or sales. As well as website building, the agency also offers a range of digital services, from website hosting to digital strategy, training and marketing. Visit profiletree.com for a free audit of your current website. Offer ends 28 February 2023.
Visit ProfileTree to find out more
Discover a one-stop shop for finance functions
The Financial Management Centre's (TFMC) outsourcing service is ready to help. For business owners looking to streamline processes and manage budgets, The Financial Management Centre's outsourcing service is ready to help. Working with businesses of all sizes, from sole traders to multi-nationals, the company offers a range of accounting and bookkeeping services that are tailored to the needs of each client. Whether you're looking for support with payroll, VAT returns, bank reconciliations or cloud accounting packages such as Xero and QuickBooks, The Financial Management Centre's network of fully qualified accountants is ready to provide the expert advice you need to help run and grow your business.
With an emphasis on ensuring the highest levels of professionalism, TFMC prides itself on working with clients to instill best practice, reduce overheads and provide meaningful management information to help business owners make better, more informed decisions. If you are seeking to revamp financial administration in your business, visit tfmcentre.co.uk.
Find out more at The Financial Management Centre
Reimagine learning with AI
For companies looking to level up their learning, Sana's AI-powered platform could be the ideal solution. Since 2016, Sana has championed the potential of Artificial Intelligence to revolutionise how companies approach learning and development. Capable of providing bespoke recommendations, powering enterprise search and even creating questions, images and entire training courses from scratch, Sana's AI is built to save your business time and money while helping to increase productivity.
As well as AI, the platform offers everything you need to manage your company's learning activities under one roof, from a built-in video platform that helps facilitators deliver compelling, interactive virtual sessions to workflow automations that will save your teams countless hours. Whether you're hoping to increase productivity, improve colleague engagement or simply maximise knowledge sharing across your business, Sana's learning platform can help your teams reach new heights. To discover why Sana is right for you, visit sanalabs.com.
Transform the way you negotiate
Picture the scene: you're about to step into a meeting to negotiate a new deal with one of your biggest suppliers. Under pressure from your shareholders and other senior management, getting the best deal possible is pivotal to if you're going to take your business to the next level. Wouldn't it be great if you were going into that meeting with top-notch negotiation skills? This is where Scotwork comes in. Through its Advancing Negotiation Skills (ANS) Programme, you can get the knowledge and tools to excel in any situation, even under pressure or when the odds seem stacked against you. The course prepares people of all ages, backgrounds and levels to become successful negotiators via its virtual and face-to-face sessions, helping you unpick the complex and chaotic practice of negotiation and simplifying it into an effective process you can repeat again and again.
This content is brought to you by Living360, a digital lifestyle destination keeping you up to date with health and fitness, food and drink, homes and gardens, beauty, travel, finance trends and more.