9 products and services to help you look and feel better
Feel like your top self with these wellness-boosting products
Monday 06 March 2023 14:47 GMT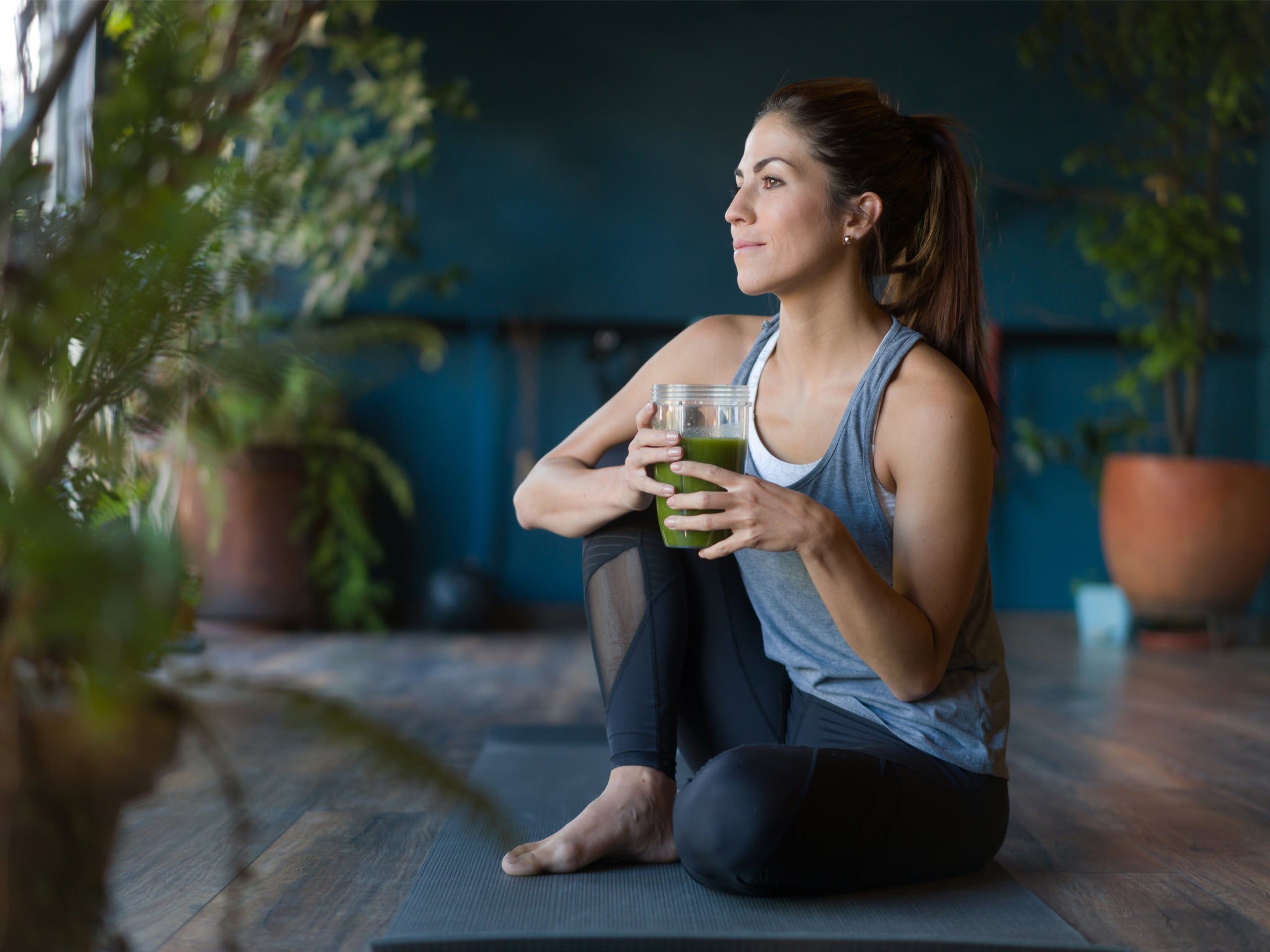 From supplements and workout gear to wellness oils, laser treatments and more, boost your health in 2023 with these products.
Stay hydrated on the go with a travel mug
This fashionable travel mug comes complete with a trigger-action lid that makes this thermo cup leakproof and easy for one-handed use while travelling. The lid is fitted with a push button that opens the mouthpiece on top – a unique feature that makes the Stanley Trigger Action Travel Mug perfect for sipping from on the go.
It's designed to fit most cup holders so it can come along on your daily commute, and the double-wall vacuum insulation keeps your favourite beverage hot, cold or iced for hours – making the mug ideal for use throughout the year. Plus, to ensure easy cleaning, every part of the stainless-steel mug is dishwasher-safe, plus the lid disassembles for deep cleaning. Push, sip and go with this easy to use travel mug.
Available now via Uk.stanley1913.com
Take a self-care meno-moment with menoTHRIVE 
menoTHRIVE is a range of natural essential oils, carefully curated with botanical ingredients such as red clover, ginseng, baobab and green tea. Each 30ml dropper is handbag-friendly, perfect for keeping on top of your wellbeing while on the go. To use, simply massage into the skin, focusing on pressure points for an ultimate moment of wellbeing.
You can also feel the aromatherapeutic benefit of menoTHRIVE through diffusers, or by popping a few drops into your bath to help you let go of the days' stresses. menoTHRIVE is a quick and easy way for you to take a meno-moment in your everyday, self-care routine.
Browse the range at Amazon.co.uk
Protect your eyesight
Oxidative stress occurs naturally with ageing and can be triggered by diet, lifestyle, UV, blue light and other factors. It may lead to serious eye diseases such as macular degeneration and may also cause annoying eye floaters, shadowy dots and lines that drift around your vision. Theia Bio's Clearer eye health supplement contains zinc, which contributes to the maintenance of normal vision and the protection of cells from oxidative stress.
Clearer also contains lutein, zeaxanthin, grapeseed extracts, lysine, and more. Shona Wilkinson, former head nutritionist at Tesco's NutriCentre, calls Clearer an "innovative" and "important" supplement. Better still, use the code "HEALTH25" to get 25 per cent off right now (offer ends 31 March 2023).
Order Clearer at Clearereyes.com
Introduce a plant-based supplement into your diet
Arella Collagen is a new, vegan liquid collagen supplement, and is one of the first of its kind to be available to the UK market. Containing VeCollal – a vegan alternative to animal and marine-based collagen – Arella mimics the human body's collagen protein production almost identically, marking a true disruption to the beauty and wellness market within the UK.
Founder Laura Capewell created Arella Beauty as way to bring her favourite supplement – collagen – to those looking for a clean and environmentally friendly way to boost their wellbeing routine. The brand-new Arella Collagen costs £37.99 for a one-time purchase and £30.39 for a fortnightly delivery subscription.
Visit Arella-beauty.co.uk to shop
Make big savings on a new bike
Cycling is booming due to the climate, health and financial crises, meaning more people than ever before are choosing to commute to work by bike. Cycling to work will enable you to build exercise into your daily routine – meaning you can ditch that gym membership and get fit whilst you burn calories and reduce air pollution.
The Cycle to Work Scheme, powered by Green Commute Initiative, allows those looking to make the switch to cycling but wanting to keep costs low, to save from 32 per cent to 47 per cent by using the scheme. A £2,000 bike could cost you just £75 per calendar month as part of the free to use scheme, which is a big saving when comparing it to the expenditure of commuting.
Find out more at Greencommuteinitiative.uk
Invest in sustainable footwear
Hylo Athletics was founded in 2020 by former Premier League footballer Michael Doughty, in a bid to protect the future of both running and sport. After learning that most trainers are made entirely from plastic, and also the enormous environmental footprint the industry has, if it were a country it would the 17th largest polluter in the world – Hylo set out to make a change in the industry, and prove that nature can perform.
Their comfortable, high-performing shoes are made with renewable materials such as sugarcane, corn and algae, and are certified vegan, too. The brand boasts two unisex shoe styles, the hylo LIGHT and the hylo RUN – the LIGHT is built for all day comfort and the RUN is suited to short to middle distance running and workouts.  
Discover a skin revolutionary laser treatment
Avid beauty lovers will be pleased to hear that The Yorkshire Skin Centre, in Leeds, is the first clinic outside of the US to offer this revolutionary skin resurfacing laser treatment. UltraClear laser is the first technology of its kind to offer skin rejuvenation, which works by vaporising damaged tissue and stimulating collagen production. The technique uses thermal energy to heat up the underlying layers of the skin, temporarily revealing rejuvenated skin.
The consequent elastin produces a more youthful complexion, that could result in smoother, clearer and tighter skin post treatment. Designed to substantially reduce discomfort and down time associated with traditional skin resurfacing technologies, the treatment ensures an entirely comfortable experience.
Explore treatments at Yorkshireskincentre.co.uk
Invigorate your daily routine with certified organic and vegan skincare
OF NATURE is a certified organic and vegan skincare brand based in rural Wales. Formulated with clinically proven natural ingredients, each product has been designed to boost your morning and evening rituals with ayurvedic practices in mind. The collection features organic actives at the correct concentrations, designed to both balance your skin's natural pH levels and support the skin barrier function.
Having only launched in January 2023, the brand has already attained prestigious certifications with B Corp, COSMOS, PETA vegan and cruelty-free and FSC, boasting a range of products that are both kind to your skin and the environment. Additionally, 40 per cent of profit and five per cent from every purchase goes directly to support conservation projects in the Amazon rainforest. You can save 10 per cent on your first purchase via the website with code "10OFF" (valid until 28 May 2023).
Find out more at Ofnature.co.uk
Find keto products that work for you
Looking for low-carb, low-sugar, high-fibre keto foods? 8Foods' snacks, breads and desserts are gluten-free, dairy-free and refined sugar-free. Uncompromisingly delicious, 8Foods' products don't contain fillers, additives or preservatives. The multi-award-winning British brand is on a mission to offer healthy snacks and breads that are perfectly suited to the low-carb and keto lifestyle.
The range is created at 8Foods' own kitchens in Battersea, London, ensuring quality and minimal food waste while using sustainably sourced ingredients and fully recyclable packaging. You can receive 20 per cent off with code 'Keto20IND'until 30 April 2023.
Visit 8foods.co.uk for more information
This content is brought to you by Living360, a digital lifestyle destination keeping you up to date with health and fitness, food and drink, homes and gardens, beauty, travel, finance trends and more.