Quiz of the year 2018: Round one
Take Chris Maume's quiz and test your knowledge of the events of the past year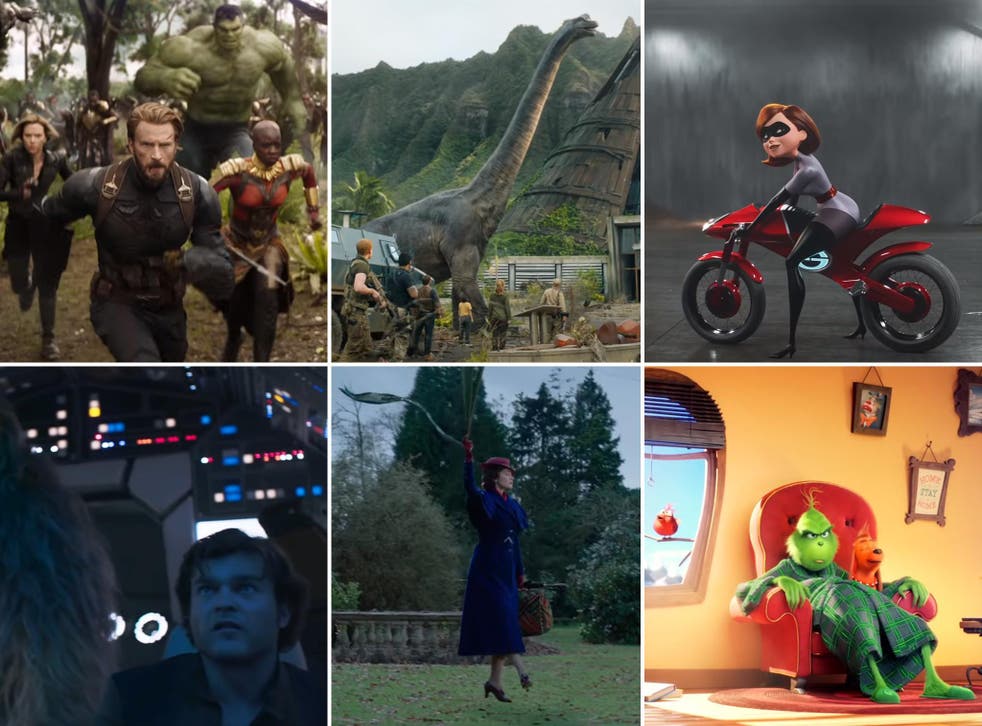 1. What are the above films, and what's the link?
2. Which 16-time world champion did Rob Cross beat on New Year's Day?
3. Where did 83,222 people break a record in February?
4. Which subspecies was declared functionally extinct in March?
5. What was Cameron Bancroft caught doing in Cape Town in March?
6. Which 59-year period came to an end in April when Miguel Diaz-Canel came to power?
7. The cowboy series Gunsmoke ran for 625 episodes, a record for non-soap US primetime non-reality TV programmes. Which series surpassed it in April?
8. What drew an estimated television audience of 1.9 billion in May?
9. On 13 June in Moscow, what linked Canada, Mexico and the US?
10. In 2012, MIA made a protest video to accompany her song "Bad Girls". In June this year, the thing she was protesting about came to an end. What was it?
11. Who lost $109bn on 26 July?
12. In August, what did Pope Francis declare to be unacceptable "under all circumstances", changing the Catechism of the Catholic Church to fit his decision?
13. Who was banned in China in August?
14. According to a report in The Lancet in September, in which country do 36.6 per cent of all female suicides occur?
15. In September, what did the Miss America contest lack for the first time?
16. According to a report in the Journal of Family Medicine and Primary Care in October, how have 259 people died since 2011?
17. Which internationally significant event occurred in Konaklar Mahallesi in Besiktas in October?
18. Who in November was named by People magazine as the sexiest man alive?
19. In November, the Planck Constant was defined to be exactly 6.62607015×10−34 kg⋅m2⋅s−1. Why was this important?
20. What did Lloyd Russell-Moyle reveal in November?
Tap here for answers
1. Avengers: Infinity War, Jurassic World: Fallen Kingdom, Incredibles 2, Solo: A Star Wars Story, Mary Poppins Returns and The Grinch, the six highest-grossing films of 2018, in descending order.
2. Phil "the Power" Taylor, 16-time world darts champion.
3. Wembley Stadium, where 83,222 watched Tottenham Hotspur beat Arsenal 1-0, a record crowd for the Premier League.
4. The northern white rhinoceros. There are two left, owned by a Czech zoo and living on a nature conservancy in Kenya; both are female.
5. The Australian cricketer was filmed rubbing the match ball with sandpaper during the third Test against South Africa; the ensuing scandal rocked the cricket world.
6. The period of a Castro being in power in Cuba; Fidel took charge in February 1959, and was replaced by his brother Raul in April 2011.
7. The Simpsons.
8. The wedding of Prince Harry and Meghan Markle.
9. The three nations succeeded in their joint bid to host the 2026 World Cup.
10. Saudi Arabia's ban on women drivers.
11. Facebook shareholders. Following a warning that growth had slowed since the data leak scandal, a record sum for a single day was wiped off its share price.
12. Capital punishment.
13. Winnie-the-Pooh. The film Christopher Robin was denied a release in the country because of memes comparing Xi Jinping to the honey-loving bear.
14. India. Women who died by suicide are likely to be married, from developed states and below the age of 35.
15. A swimsuit section; Miss New York, Nia Franklin, was the winner.
16. Taking selfies.
17. The Saudi Arabian journalist Jamal Khashoggi was murdered by Saudi agents in the country's consulate in Istanbul.
18. Idris Elba.
19. It forms the basis for the new definition of the kilogram, which will take effect in May 2019.
20. The MP told the House of Commons that he has been HIV positive for nearly 10 years.
Hide the answers
Join our new commenting forum
Join thought-provoking conversations, follow other Independent readers and see their replies