Exclusive interview
Ted Talk! F1 cult hero Kravitz on pit lane secrets and... cheese
The unique, popular Sky F1 presenter speaks to Kieran Jackson about the thrill of live broadcasting, why his lack of career progression doesn't bother him and how the size of your notebook really does matter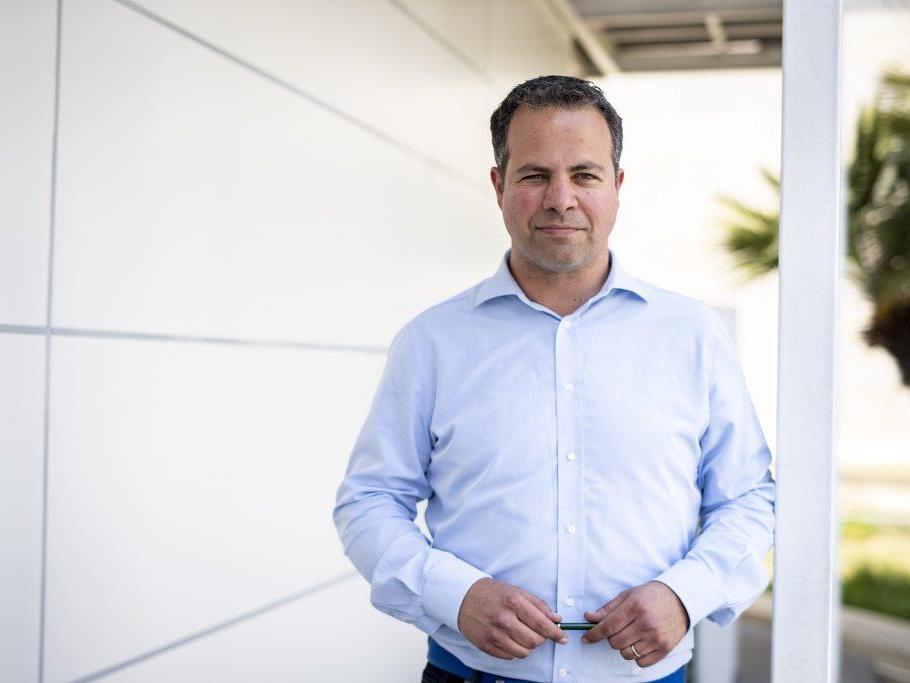 Ted is talking about cheese. For a Formula 1 pit lane reporter functioning in a world of tyre compounds and floor specifications, Ted often finds himself talking about cheese. Usually at pre-season testing. A bizarre synonymity, some might say, and readers not drooling in the daily churn of digital F1 content may be a little lost already. Don't worry, you're forgiven.
Sky Sports' ever-present pit lane reporter Ted Kravitz – of BBC and ITV before that – has a style of presenting so inimitable that the man himself has formed a devoted following of his own, hate it as he might. Ahead of his 22nd year of pit lane reporting and 27th working in the sport he loves, Ted's methodology of fan interaction is constantly evolving. This year, forget TikTok: it's all about TedTok. So, back to the cheese.
"TedTok was just too good for somebody to steal," the 48-year-old tells The Independent, in the unusually formal setting for him of an office at Sky Studios. "So I'm just going to put nonsense about doing stuff with cheese on there.
"I put up a video of me and Anthony [Davidson] choosing the perfect cheese in Bahrain to carve away the venturi tunnels of the car to the floor edge… it's harder than you think.
"You could have got a block of cheddar, but then it would've just crumbled away and the whole shoot would've been a disaster. This was 20 minutes and Anthony was quite right in choosing the right type of cheese… gouda!"
And there you have it. The end result, Kravitz detailing the changes in the underside of this year's car with a slightly bemused technical director of AlphaTauri Jody Egginton, is viewable to all on YouTube.
Kravitz's unique use of cheese in broadcasting started two years ago in an interview with Sebastian Vettel but is one example of how, sometimes unbeknownst to the man himself, he makes the intricacies of physics and mechanical design a viewable commodity to the regular sports fan. No mean feat, it must be said, in a world where F1 is ever-growing and attracting new audiences.
What has also taken on a life of its own in recent years is his Notebook feature on Sky. It started out as a written column for the old ITV Sport website in the noughties, developed into a short video segment for BBC Sport and now has its own 30-minute timeslot on Sky after qualifying on Saturday and the race on Sunday.
Recorded in the most unique of improvised fashions, all in one take, it is a lesson in filling air time with unearthed detail on every driver and every team.
"Only if there's something really un-broadcastable do we edit it," Kravitz reveals. "There was a kid in the paddock who flicked the V signs in front of the camera one race, so we had to redo that. But usually it is the livest of live. And there is a thrill about that.
"Last year I apparently caught the moment that Williams was signing the deal with James Vowles to be their team principal! Not the best scoop in the world, it happened without me even noticing, but that's what people at home like – you get a real behind-the-scenes view of the paddock.
"Once it's live we never stop, even if I fluff the opening link. It's unpredictable and whatever happens, happens."
Like when Ted and his cameraman walk down an upwards moving escalator in Miami. Or when he drinks from his shoe amid a rapturous group of fans in Melbourne. Moments that have become iconic, almost as much as the man himself in F1sphere. A fan banner emblazoned with 'Hi Ted' at Silverstone symbolises that. Not that he likes it.
Asked what he makes of a popularity now undeniable, he replies: "I'm just a schlub in shorts, as my grandmother might call me! It makes my toes curl hearing you say that.
"I don't want to think about it. I appreciate it if people like what I do. I just tell the stories like it is and how I see it – and if that gets me into a scrape here or there, that's part of the game too."
Indeed. Last year, for example, Christian Horner and his Red Bull team boycotted Sky as a result of what Kravitz implied in his Notebook feature, speaking about Lewis Hamilton being "robbed" of an eighth World Championship after the controversy in Abu Dhabi in 2021, which saw Max Verstappen win his inaugural crown.
Nowadays, for all the adulation, usually comes criticism too.
"People can misinterpret or not like what I say, but I'll always say things the way I see them and how a reasonable F1 fan might see things," he says.
"They might not like that. But if you're true to yourself and accurate – I will always correct myself if not. But I think people mostly like it and that's fine. I get embarrassed by it all to be honest."
Peculiar, you might think, for a presenter who has no problem filling voids on the box to be so uncomfortable in the spotlight. But it points to how he views his role and the importance of it: a journalist, with unprecedented access, keen to give Sky's customers the full grand prix weekend experience.
"This is depressing reading but it's my 22nd year in the same job," he tells. "Anybody might look at that and say, you haven't had much career progression have you?
"But I love the job I have. I work very hard to try and get the best and most timely information to my viewers and give them the best experience possible with as much information as possible. That's what I get a kick out of."
Much like a rejuvenated Fernando Alonso for Aston Martin this year, the motivation remains sky-high as well, in an era of never-seen-before popularity for the sport.
"Murray Walker once said to me looking out the window at the end of a 24-hour flight in Australia, 'I'm excited about this season, because Formula 1 always finds a way of reinventing itself year-after-year!'
"I thought 'does it really Murray?' But it's true. The stories are always new. You might ask Lewis Hamilton, if you're not in contention for the world championship, where do you find the motivation?
"For us in TV, we win every time we go on air if we produce a good show that our viewers are going to like – that's us winning. If we tell the story, inform and entertain people, we've had a little win. If a big story happens, something amazing, that's a big win for our viewers because I don't want any one of our viewers to go away from the television on Sunday afternoon and find something out on a Monday that they we haven't told them.
"New drivers, new teams, different challenges – that's what gets me going."
And there we have it. The interview concludes: four out of 12 questions have been answered in 25 minutes.
"Sorry for rambling on," Kravitz says. "Your notebook there is full of questions… wait is that an A5?! Oh you need an A6 notebook – that way it fits into your back pocket like mine!"
Of course, it's the small details which matter to Ted.
Join our commenting forum
Join thought-provoking conversations, follow other Independent readers and see their replies