The new wave of retro gaming
Stuck in the past or keeping history alive? David Crookes talks to the coders who are still producing games for machines which died 20 years ago.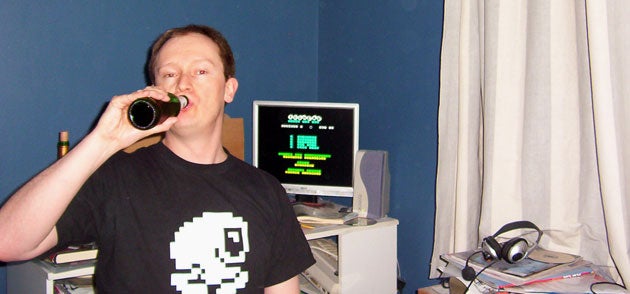 Sometimes it's really hard to let go. Like that vinyl collection you've got stashed away in the attic or those VHS cassettes of movies that you've already replaced on DVD that you just can't force yourself to flog on eBay. There are just those times when nostalgia takes over, leaving a home strewn with junk and a partner pleading for you to move on.
If there is one area of life in which people do embrace change, however, it's gaming. Did you love Operation Wolf back in the 1980s? Pah, we're now shooting out way with friends across the universe on Call of Duty. Let those Mega Drives, Dreamcasts and N64s be thrown by the roadside. We're technophiles and we're marching to the promised land of the best that electronics have to offer.
But it's not that simple. Just as music lovers tend to get stuck in an era of their youth, many gamers also nostalgically hanker for days gone by. Retro gaming is big business. You only have to switch on your Nintendo Wii, head for the Virtual Console and you can replay age-old classics from the original NES version of Donkey Kong to The Last Ninja on the Commodore 64. The appetite for old school gaming is as insatiable as a hungry Pac-Man.
Such is this great love for technology less capable than the majority of mobile phones that a group of people continue to produce games for machines that saw their heyday in the 1980s. Titles are being developed for computers such as the Spectrum, Commodore 64 and Amstrad CPC. Not only are they keeping the whole ethos of the bedroom programmer alive but they're also going to extremes. They make their games, run them off on cassettes, create inlays and box them up.
"There is immense satisfaction in owning and collecting a good library of attractively packaged software, and the packaging is important to many people," says Simon Ullyatt, who runs a retro game label called Cronosoft from his own home. He had the idea for the company in 2002. "I'd always liked the idea of running a software label with a kind of independent 'punk ethic' - a DIY label that could produce decent quality items, on a 'real' physical format, that would not seem to be viable in a commercial sense," he says.
Ullyatt is a popular figure in the retro gaming scene. Married with two daughters, Alice and Kristina, his underground ethic also finds an outlet as a bass player in a band called Moe's Anvil. But it's his label which gets most attention these days and amassing content for it was easy – within days of posting a request for titles on a forum, he was contacted by programmer Jonathan Cauldwell who offered him the imaginatively named 'Egghead in Space'. The Shaw Brothers, who produced more than 40 games for the Spectrum in the 1980s and early 1990s, passed on an unreleased game, 'Hop 'n' Chop'. Many more followed.
"I write games for old machines for the sheer fun and sense of freedom it gives me," explains Cauldwell. "I can make a football fly into the back of a net, explode alien spaceships into dozens of pieces of shrapnel, or have pigs flying in tight formation in the sky. Anything I want to put in a game is there to be included, any conceivable game design is just waiting to be plucked from the ether and turned into a brand new game for a computer which was launched more than a quarter of a century ago. Best of all, there is a small army of retro gamers who will download and play each one, and provide feedback."
Cauldwell is arguably the most prolific retro game programmer of all ('The Shaw brothers used to hold the record for the Spectrum with more than 40 but I think I probably overtook them a couple of years back," he smiles). Like many of the current old school game creators, he started programming in the 1980s. Cauldwell knocked out a plethora of games that were given away on the covers of Crash, Your Sinclair and Sinclair User magazines. He simply enjoyed it so much, he didn't stop – even though the machines died a death a generation ago.
They certainly don't do it for the money. Sales are low and companies like Cronosoft and Psytronik Software tend to be non-profit making. "The bank balance of Cronosoft is very much in the hundreds of pounds, and not in the millions," says Ullyatt.
One of the main motivations is being able to concentrate on gameplay. The programmers understand the age-old languages well. "I write games for the Commodore 64 because it's very simple and quick to learn," admits a coder who calls himself, rather ironically, Richard of The New Dimension. "It also shows support for the retro gamers who still love this retro machine today."
The guys who code retro games (they're invariably all men) also know the technology inside and out and it allows them to push the boundaries of what the machines can do.
"People are pushing the hardware to do things they never did back in the 80s and 90s," says Jason Mackenzie, owner of retro label Psytronik. He explains that people are not just interested in creating the very best games and says some also want to hack the hardware too. A new graphics mode for the Commodore 64 has been created called NUFLI. It displays high resolution, full colour, bitmap images on a standard machine. Mackenzie also points to advances made with the Commodore's sound chip.
"I've also seen games and demos on the Spectrum featuring new effects and ground breaking code that I've never seen before," he adds. "New games are pushing the hardware – one of our games, 'Knight 'n' Grail', which was made by Mikael Tillander, has more than 200 screens, multiple weapons power-ups and atmospheric soundtracks. It's easily as good as some of the big releases back in the day."
Tillander spent eight months producing 'Knigh', highlighting just how dedicated these latter day bedroom programmers are ("I drank several cans of soda per day during that time," he states. "The money I got for the game don't cover the cost of the first can."). Tillander says it is harder to make games on newer machines because of the larger teams that are usually required.
One thing is stark, however - nostalgia for old games runs deep among the coders. They are incredibly keen to better the titles they played when they were young. "The 1980s was a time when the industry was at its most fresh, exciting and innovative and it is good to be able to try and advance on what was being created back then," offers Jon Wells, producer of more than 15 Commodore 64 games over the years, including a recent conversion of The Wild Bunch. "The current machines and technology is fantastic but games have kind of lost their sparkle over the years. There's nothing to distinguish between them and far too many look visually the same. The great thing about the old machines with their limitations is that some could handle certain styles of games than others."
It is possible to enjoy these new retro games without having to load them from tape first. Most of them are available as downloads and they can be played via an emulator on a PC or Mac. For people who don't currently own an old machine, it's an easy way to play. "Downloading is good because the whole point is really to push gameplay - the bit of a game that doesn't include the graphics," says Cauldwell, who has even staged events where crowds of people sit around and watch him produce a game in a short space of time. "I like experimenting with game designs that nobody else has ever done before. Sure, I can do things which were considered impressive back in the 1980s, but that's not the point."
With titles like Quantum Gardening. Loco Bingo and Mister Fruity, Cauldwell's game are certainly eyebrow raising. "Not many people would ever imagine that a combination of Soko-Ban, bingo and a platformer would work," he laughs. "It does, and it was done on a ZX Spectrum first."
For more information on the new wave of retro gaming, try Cronosoft and Psytronik.
Join our commenting forum
Join thought-provoking conversations, follow other Independent readers and see their replies