The Independent's Happy List 2019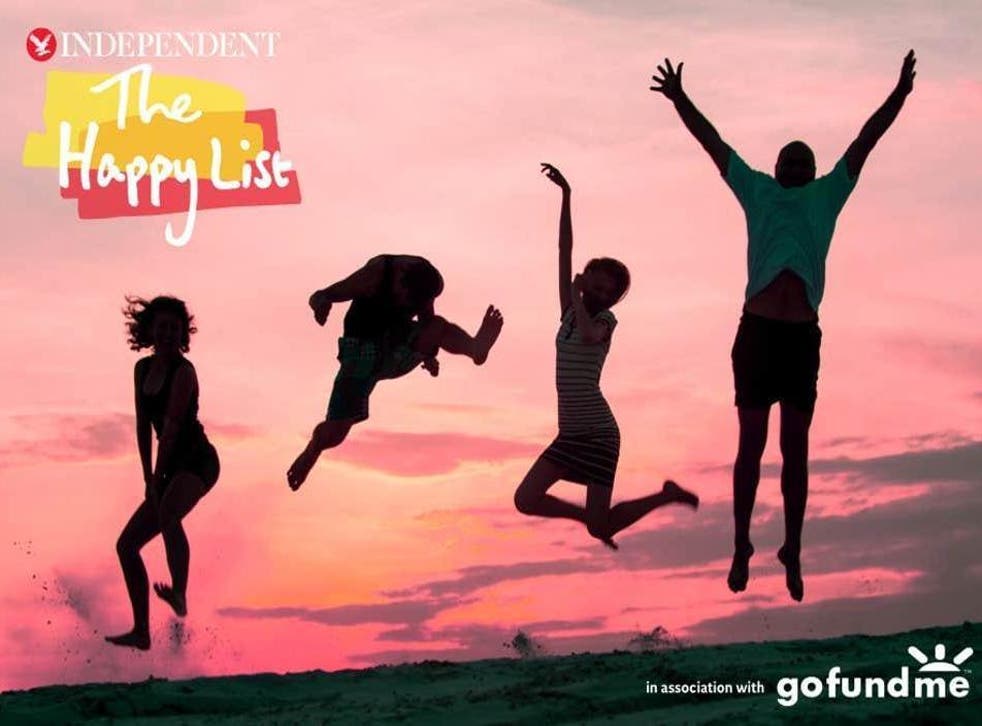 Today The Independent publishes its 11th annual Happy List, celebrating 50 of the most inspirational people whose kindness, ingenuity and bravery have made Britain a better place to live.
This year's Happy List, in partnership with GoFundMe, the largest online fundraising platform, is full of incredible, inspiring individuals nominated by readers of The Independent.
They include nine-year old Jacob Rabi-Laleh, who has handed out almost 400 bags of essentials to make like a little easier for people living on the streets.
Other heroes on the list include Emma Baines, who launched singing group Find Your Voice to bring together vulnerable people in marginalised communities, and 13-year-old schoolgirls Kyra Barboutis and Sophie Smith who are on a mission to rescue hedgehogs, including through 'Hedgehog Hospitals in their gardens.
At a time when economic, social and political changes are leaving us uncertain about our future, and society seems more fragmented than ever, the Happy List is a moment to celebrate unsung heroes whose good deeds remind us of the best of humanity.
The Independent's Happy List 2019

Show all 50
Amid news feeds dominated by cynicism, disappointment and disgrace, the Happy List champions those who too often go unrecognised.
Founded in 2008 as an antidote to awards that celebrate wealth or celebrity, the Happy List acknowledges people that give rather than take, doing extraordinary things without their own personal gain in mind.
The 50 individuals below have been carefully handpicked and researched from appeals across social media and scores of nominations from readers of The Independent. As ever, the list is completely unranked and appears in no particular order.
Christian Broughton, editor of The Independent, said: "We are living in a time of great uncertainty, which makes it all the more valuable to shine a light on remarkable people who simply strive to make Britain a better place.
"All of those on the Happy List give back to society rather than take from it, and what makes it even more special is that the nominations come from you, our readers.
"Everyone featured should be very proud of the difference they have made".
Register for free to continue reading
Registration is a free and easy way to support our truly independent journalism
By registering, you will also enjoy limited access to Premium articles, exclusive newsletters, commenting, and virtual events with our leading journalists
Already have an account? sign in
Register for free to continue reading
Registration is a free and easy way to support our truly independent journalism
By registering, you will also enjoy limited access to Premium articles, exclusive newsletters, commenting, and virtual events with our leading journalists
Already have an account? sign in
Join our new commenting forum
Join thought-provoking conversations, follow other Independent readers and see their replies