The Independent's journalism is supported by our readers. When you purchase through links on our site, we may earn commission.
Help a Hungry Child: Market stall funded by The Independent appeal opens in London school
Pupils at Stanhope Primary school in Greenford have become the first to see a Felix Project market stall set up in their playground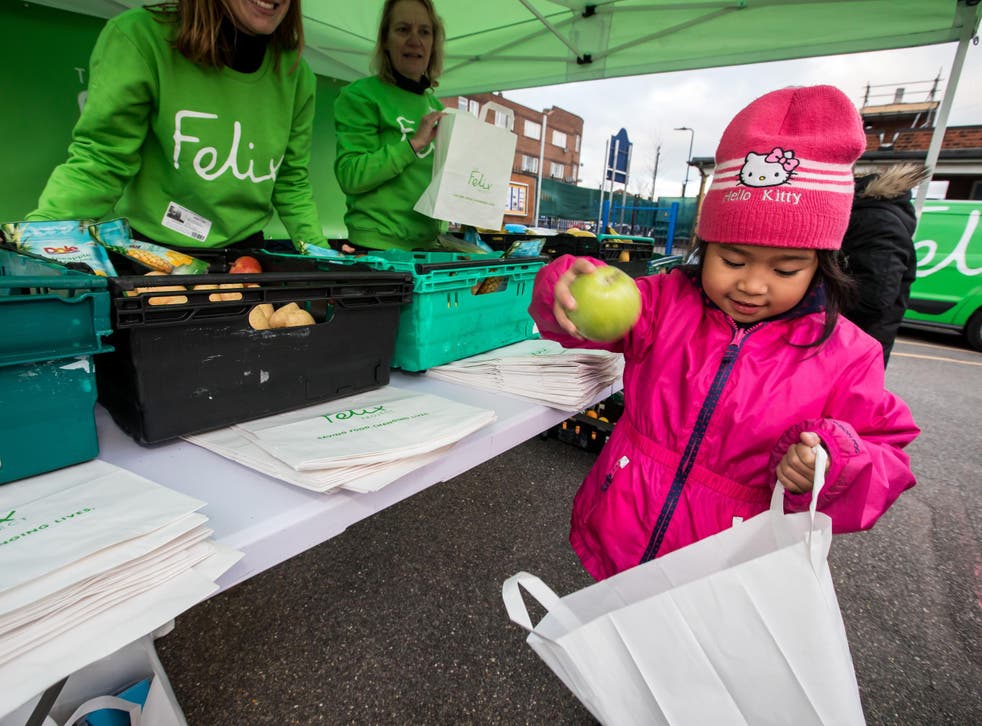 The first pioneering school market stall, stocked with fresh, free food for London's hungry children, has opened to an "overwhelming" response.
Pupils at Stanhope Primary school in Greenford have become the very first to see a Felix Project market stall set up in their playground, and the first to be able to take home bags of food to their parents.
The market stall is at the heart of The Independent and London Evening Standard's Help a Hungry Child Christmas appeal.
Money raised during the campaign will go to The Felix Project, which will use it to open similar stalls in 120 deprived schools in London, with the scheme expected to be rolled out further afield. They will be stocked with high quality surplus food which would otherwise have been wasted.
The stalls aim to make sure no child goes to bed hungry, and will help youngsters like eight-year-old Emma Burnell. She was one of the first in line for food at the Stanhope market stall, which is the pilot scheme for the whole project.
Standing with her mother Tara, 36, she picked out potatoes, a leek, bananas, apples and a yogurt from the stall and put them in her Felix-branded paper bag to take home for dinner.
Emma's family regularly uses foodbanks, and her mother quietly admitted that there are times when Emma has had to go to bed hungry.
It means she is one of the 70,000 London children who do not have enough to eat.
Mrs Burnell said: "Money is very tight and there are days when there is not enough food in the house. This morning Emma came to school without breakfast because there is not anything in the house.
"We have had to go to foodbanks where we get things like tins of beans and pasta."
The Felix Project – in pictures

Show all 10
Mrs Burnell, who also has three-year-old twins, added: "I go without sometimes so that Emma can have dinner. Money is the main problem, but it can also be time and trying to work out what to give her to eat."
Emma, who teachers say is a joy to have at school, said softly: "I think I should let my mum have her food first and then I should have my food afterwards.
"It is sad when she doesn't have food because I really like my mum, she is precious to me."
Visibly moved, Mrs Burnell admitted that it is not just a lack of food which is difficult, but finding healthy food to cook cheaply.
She said: "It is easy to put something in the microwave, or have a lot of pasta with cheese and a sauce.
"It does play on my mind a lot. It's something I really want to change.
"Sometimes Emma doesn't have much energy. On the way to school today she said she felt tired from walking and her legs were hurting."
Mrs Burnell planned to add the fresh leek and onion from the market stall to the family's pasta dinner that night.
"It helps having the ingredients, and it would be really good to have some recipes as well." she said.
Emma is eligible for free school meals and eats her lunch at school. It is sometimes the first food she will eat all day, and Mrs Burnell said that without it life would be even harder.
The family also receives food bank vouchers through the twins' nursery.
The Felix market stall, with its bright green gazebo and crates of food, will come to the Stanhope playground twice a week.
Its launch on Wednesday 29 November was an overwhelming success, and every single item of food was taken by children and parents within 15 minutes.
There were boxes of freshly baked bread, mounds of fresh fruit and vegetables, bagels, zip-lock bags of pineapple chunks, hundreds of boxes of raisins and crates of yogurts.
Wendy Noel-Gordon, whose six-year-old daughter Neveah is a Stanhope pupil, said: "It is a bit of a struggle to provide food because it costs so much. I always manage to get something together, but this will really help. I also have my mum for support and she will often invite us round and cook for us."
Roshan Bhattarai, whose five-year-old son Aarush goes to the school, said: "I think it is a brilliant idea. The food will definitely be helpful to top up what we have at home.
"Food is always on our table no matter if it's expensive or not. But I am sure there are families here who are struggling and this will help. Just look at the interest there has been in the market stall – it is overwhelming."
The Felix Project CEO Hilary Croft said: "The families at Stanhope are the pioneers who are leading the way in this campaign.
"At Felix we get really angry about the fact there is so much surplus food around. Lots of restaurants and supermarkets are throwing away food and it is not getting to people who would really like to have it. We are determined to change that."
Every £1 donated will ensure a primary school child and their family has the food needed for a nutritious meal. £500 will enable a new school to be recruited to the programme.
Help A Hungry Child: Independent teams up with The Felix Project to tackle food poverty
Here are the ways you can donate to our appeal:
Call – 08000 639281 (freephone)
Text – FELIX £5 TO 70700
Click – independent.co.uk/helpahungrychild
Post – Freepost – HELP A HUNGRY CHILD
Want to help a hungry child? Join our Facebook group now https://www.facebook.com/groups/2016636181953774/