The Homeless Fund: Zeenat's story
The Homeless Fund: 24-hour shelter can make us feel whole again, says IT trainer who slept on buses
'I had plans but when you lose the roof over your head, you lose your entire life, you lose your dignity'
The plight of homeless women using night buses to shelter after dark has highlighted the urgency of The Independent's homeless appeal.
We are raising funds for the capital's first 24-hour shelter offering women sanctuary with the hope it will cut the numbers snatching fitful sleep on the back seats of double deckers.
It comes as a veteran frontline worker warned that homelessness was at levels unseen before in her 23 years at the Church Army-run Marylebone Project.
Sue Way, the charity's homeless projects manager, said busy night buses can offer dry and warm sanctuary from assault, bullying and manipulation, but the new 24-hour facility was crucial.
Among those going into "survival mode" was Zeenat Bashir, an IT trainer who found herself homeless after her 18-year marriage broke down, her merchant naval officer husband died and she was saddled with mortgage arrears.
The Stats: Homelessness in the UK

Show all 10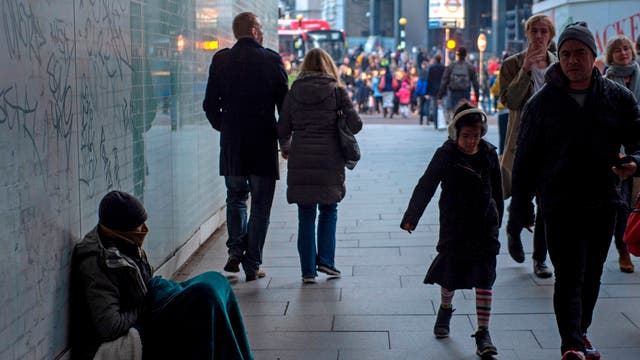 She became too ill to work and, with no living family, for three months she had to sleep on the back seat of No 25 buses between Holborn to Ilford, trying to avoid rowdy revellers.
Ms Bashir, 59, from Tower Hamlets, said: "I was quite comfortable before, I had my 9-to-5 job but when you get divorced, things collapse. The people I knew disappeared suddenly and there were times I didn't have money, but I had a bus pass and could benefit from a little bit of sleep on a long journey.
"When you reach the final stop the bus driver tells you to wake up, I think they are used to it.
"Then at 6am you go to the nearest McDonald's and sit there."
Ms Bashir would take soap, shampoo and towel to wash in fast-food restaurant bathrooms.
She said: "I was always scared and trying to hide. I was thrown in the deep end and had to accept it. Then I met a lady who was also homeless, who told me about day centres that could help me, where I could take a bath."
Ms Bashir later found emergency places in churches, where camp-beds and mattresses are set up after dark.
She now stays at a short-term female-only shelter in Hackney, with her own bed and space in a shared room.
Ms Bashir is helped by the Marylebone Project, which offers a drop-in centre for 1,300 women each year delivering education, employment and training opportunities. But she is desperate to find a stable home, return to work and not get "trapped" on benefits.
Ms Bashir said: "I had plans but when you lose the roof over your head, you lose your entire life, you lose your dignity and if you don't have your dignity, you have nothing."
She added: "We are appealing to the public to protect us, to make us feel whole again."
Appealing to readers to help raise funds for the 24-hour facility, Mrs Way said: "We could keep more women safe. It would mean they're not forced into incidents of exploitation and danger."
Join our new commenting forum
Join thought-provoking conversations, follow other Independent readers and see their replies