'Porky PCs' who 'waddle' to crime scenes should be sacked, says Met commissioner
Sir Bernard Hogan-Howe said people in need of help 'want fit people to come'
Adam Sherwin
Tuesday 02 June 2015 00:14 Comments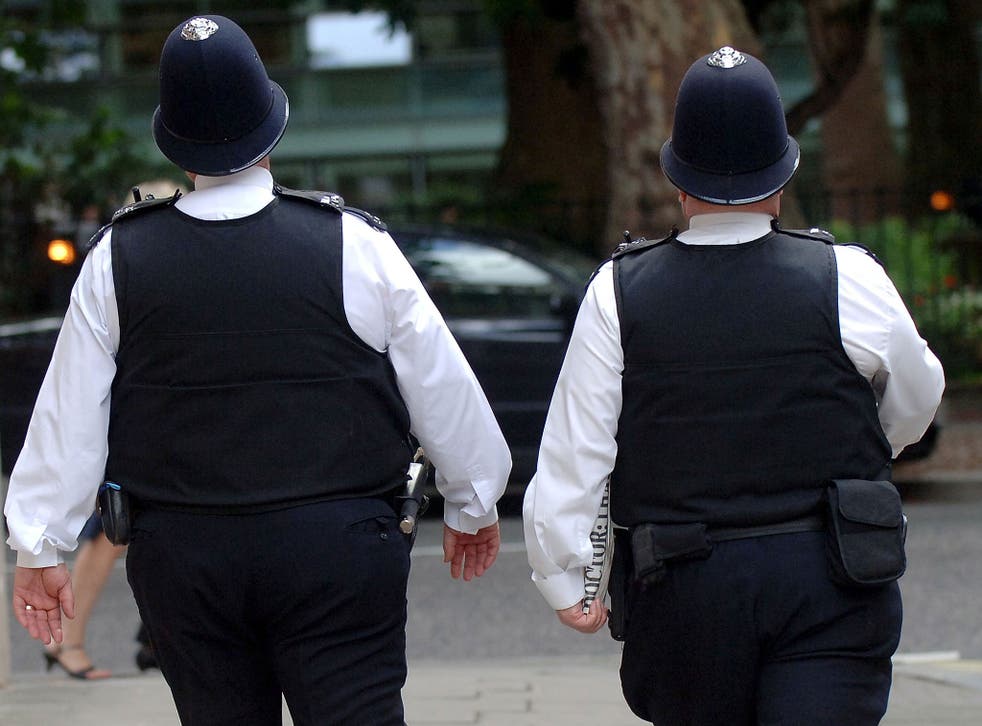 Overweight Police officers who "waddle" to the scene of a crime will be sacked, Sir Bernard Hogan-Howe, the Metropolitan Police commissioner, has promised.
With three-quarters of male officers and staff in the Met overweight or obese according to one study, the head of the force pledged to toughen up the new annual physical fitness test.
The 15-metre "bleep test" requires police to run at an average speed of 5.5mph for 3mins 35secs. A Scotland Yard review recommended that officers take the test every year and suffer a pay cut if they fail three times.
Sir Bernard, 57, boasted that he had recently passed the annual police fitness test "very well with no preparation". The Commissioner said police should face the ultimate sanction if they can't race to a crime scene.
Responding to a Radio Times interviewer suggesting that "there are a fair few porky PCs," Sir Bernard replied. "It's taken too long to get the annual test, but it will start to have an increasing impact. For me, the standard is too low: I think it should be higher. It's relatively easy to pass."
Police who fail will be given time to lose weight and get fitter, he says. "If they don't, then we haven't got a job for them. I think you've got a duty to your colleagues.
"If they shout for help, they want fit people to come. They don't want somebody waddling down the road who's never going to arrive, and when they get there they're out of breath."
The Commissioner spoke admiringly of 60-something officers who are still on the front line, "fighting 18-year-olds, strong, athletic people – that takes guts."
However Steve White, Chair of the Police Federation of England and Wales, dismissed any suggestion of "porky cops." He said: "The fact that there is a high pass rate in the police fitness test shows that the vast majority of officers are more than fit enough to do the job – there is no question of that.
"We fully support the need for officers to be fit enough to properly perform their valuable role but it is crucial that forces do what they can to allow and encourage their workforce to be as fit and healthy as possible. When officers are working unsocial hours and rushing from job to job without a break it can be extremely difficult for them to maintain a healthy lifestyle."
After carrying out the Met's review into officers' fitness, former rail regulator Tom Winsor, said: "I think the public will be surprised that after passing a fitness test at the point of entry, except in special units like firearms, physical fitness is not tested again in a 30 to 35-year career."
Sir Bernard allowed unprecedented access to a camera crew for a new BBC1 documentary series, The Met, which promises to deliver the first "in-depth, behind the scenes look at Britain's largest police force."
The Commissioner said he wanted the Met to operate more like the controversial taxi-hailing app, Uber. "They will know where your phone is and where the taxi is and then put you together," he said.
"But when people ring the police, we haven't got a clue where that phone is. You may have been stabbed and expect us to come and help." You can't use location data? "Not in real time. We have to make an emergency application, there's a process to go through."
Register for free to continue reading
Registration is a free and easy way to support our truly independent journalism
By registering, you will also enjoy limited access to Premium articles, exclusive newsletters, commenting, and virtual events with our leading journalists
Already have an account? sign in
Join our new commenting forum
Join thought-provoking conversations, follow other Independent readers and see their replies