Inside Politics: Brexit breakthrough chances 'recede' as talks hit snag
Boris Johnson's officials claim Brussels has hardened its stance on level-playing issues – at the prompting of France, writes Adam Forrest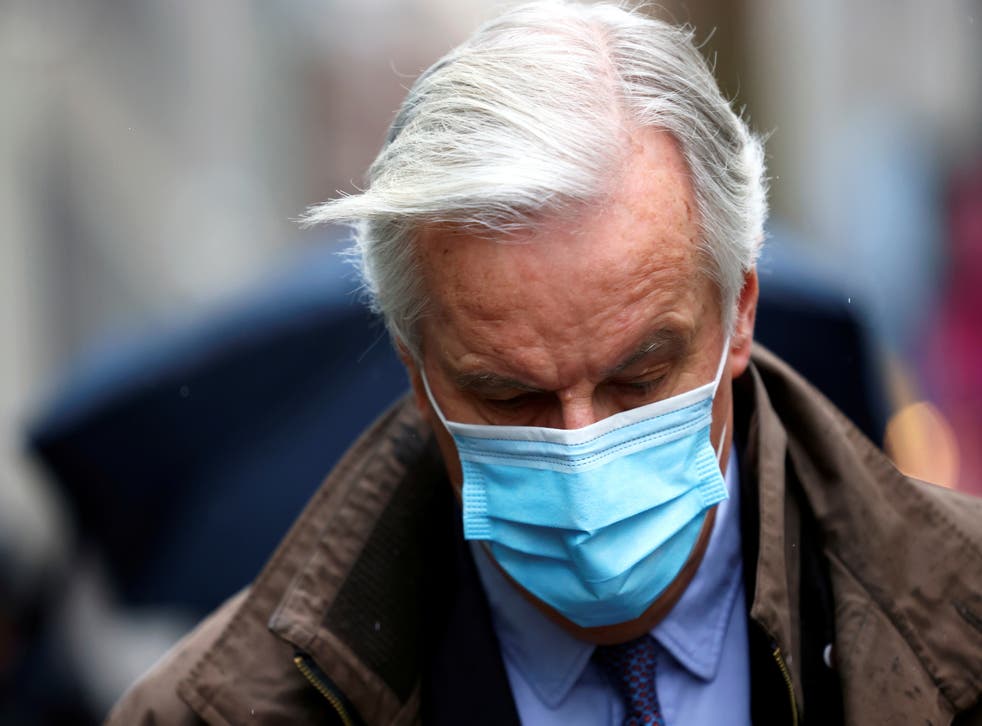 The show must go on! Prince Charles is "praying" more of Britain's theatres can start opening up again, after he paid a visit to the Soho Theatre to watch an actress perform on a break from her supermarket day job. Let's hope we don't get any more amateur dramatics over Brexit. Both Boris Johnson and Emmanuel Macron have been known for their histrionic grandstanding at crucial moments. Negotiations are said to be heading towards a final act "showdown" this weekend, as both sides try to bring the curtains down on the longest-running show in town.
Inside the bubble
Our political editor Andrew Woodcock on what to look out for today:
All eyes are on trade talks in London, as David Frost and Michel Barnier reach the end of another crucial week of negotiations. Insiders say there is no "white smoke" yet. It may be that the biggest sign of hope that can be expected on Friday would be for Frost and Barnier to agree to keep on talking and ordering in the pizzas through the weekend.
Daily briefing
SACRE BLEU! Everyone got very excited by the late-night pizza deliveries for Brexit negotiators on Wednesday, assuming it was the sign of an imminent deal. There were more takeaways in London last night, but the excitement has gone. One UK government official said the prospect of a breakthrough is "receding", telling the BBC that Brussels had hardened its stance on level-playing issues, while other reports suggest they have also stalled on fishing rights. Apparently the French president has insisted on firm red lines, with Emmanuel Macron's officials said to be "agitating around EU capitals". What happens next? Boris Johnson is expected to call European Commission boss Ursula von der Leyen later today, while The Telegraph suggests this weekend will see a "showdown" between Johnson and Macron. Meanwhile, Keir Starmer has suggested that voting for a deal – if it finally emerges – would be "in the national interest". Could some Labour frontbenchers consider resigning over the issue?
VAN-TAM THANK YOU MAM: It looks like NHS front-line staff will no longer be prioritised during the first wave of the Covid vaccine roll-out. Chris Hopson, chief executive of NHS Providers, said an initial 800,000 doses "could be the only batch we receive for some time". Care homes have been bumped up the list again by the Joint Committee on Vaccination and Immunisation (JCVI), despite the logistical difficulties in getting doses out to residents. Deputy chief medical officer Jonathan Van-Tam – who is weirdly becoming something of a cult hero – said the first wave of vaccinations could cut up to 99 per cent of hospitalisations and deaths. Appearing on the This Morning couch with Pip and Holly on Thursday, Van-Tam said he told his own 78-year-old mother she "must" get the vaccine. As No 10 tries to persuade the public of the vaccine's safety, Van-Tam appears their best weapon. The Jonathan Van-Tam Appreciation Society on Facebook now has 21,000 members.
GROUCHY FAUCI: From Britain's most popular boffin to the country's least popular minister. Gavin Williamson managed to cause a diplomatic stir with an ill-fated attempt at patriotic humour – claiming the UK achieved vaccine authorisation first because it is a "much better country" than France, Belgium and the US. The EU Commission's spokesman fumed: "This is not a football competition, we are talking about the life and health of people." And top US pandemic official Dr Anthony Fauci wasn't very nice about us either – claiming the UK "did not do [approval] as carefully". Dr Fauci likened Britain's medicines regulator to a marathon runner who cheats by joining "in the last mile". He later apologised and pointed out he had "a great deal of confidence in what the UK does". The day wasn't over for Williamson. The education secretary caused another stir by saying allowing girls to study at Eton would be a "step forward". Old Etonian Jacob Rees-Mogg said: "I think it works very well as it is, thank you very much."
INSTANT WHIP: Keir Starmer's problems don't end with Brexit. Eight left-wing, Labour-backing trade unions – including Unite, the NUM and the TSSA transport union – have called on the party leadership to end "internal wrangling" caused by Jeremy Corbyn's suspension as an MP. Their joint statement reveals that union leaders met Starmer on 23 November and urged him to quickly reinstate the whip to Corbyn – claiming voters would not "forgive" the party at the next election if it remained divided. Speaking of the next election, the Tories might just be looking at an advantage of up to ten seats under a plan to redraw the constituency map. The Times reports that the plan will see each constituency contain 73,000 voters, with a permitted margin either side of five per cent. "The net benefit to the Tories is likely to be between five and ten," said the leading psephologist Lord Hayward.
MIND THE GAP: Boris Johnson has committed to a more ambitious target for tackling the climate emergency. The PM has announced that the government will aim to cut greenhouse gas emissions by 68 per cent by the end of the decade (based on 1990 levels). Campaigners have largely welcomed the news, but remain sceptical about what it means in practice. Leading climate scientist Prof Sir Brian Hoskins said: "Mr Johnson's target is ambitious – but we need action to back it up, right now." Labour said there was a "yawning gap" between the government's aspirations and its policies. Real action may depend on more detailed surveys of voters' priorities in the north of England. A new poll has found Johnson is losing his grip on many of the seats that won him his majority last year. The Tories would lose 36 out of the 45 seats they took at the last election, according to the survey by JL Partners.
JOE AND THE JAB: With all the politicians pledging to take the Covid jab on air, television producers should really consider a Vaccinations – Live! winter special. Joe Biden said he would allow the TV cameras in for his own vaccination whenever the country's top infectious disease expert says it is safe. "When Dr Fauci says, 'We have a vaccine that will be safe,' that's when I'll stand before the public," Biden told CNN – grabbing his left shoulder to indicate that's where the needle would go. The president-elect is said to be considering using his inaugural address next month to call on all Americans to wear a mask for 100 days to slow the spread of the Covid. Biden also called on Donald Trump to attend his inauguration to signal the peaceful transfer, but added: "It is totally his decision and it's of no personal consequence to me."
On the record
"I just reckon we've got the very best people in this country and we've obviously got the best medical regulator … we're a much better country than every single one of them."
Gavin Williamson sparks anger with his 'light-hearted' humour.
From the Twitterati
"Gavin Williamson saying we're much better than everyone else is the essence of Brexit Britain. Raw stupidity, prejudice and inadequacy boasting about its greatness."
Campaigner Sarah Murphy says Williamson's comments were typical…
"If we were a much better country, I'm not sure we would have Gavin Williamson at the cabinet level of government."
…while the Liverpool Echo's Liam Thorp says they were telling.
Essential reading
John Rentoul, The Independent: Will Boris Johnson let Universal Credit be cut?
Mark Steel, The Independent: Historians must remind us when stories about the royal family aren't accurate
Isabel Hardman, The Spectator: Boris Johnson hasn't seen the last of the lockdown rebels
Yascha Mounk, The Atlantic: Why there's reason to hope Trump might just fade away
Sign up here to receive this daily briefing in your email inbox every morning 
Join our new commenting forum
Join thought-provoking conversations, follow other Independent readers and see their replies