After Senate acquittal, Trump goes to 'war' and lays down the law for allies and enemies alike
President tells reporters as 'Chopper Talk' returns: 'Everyone is a threat'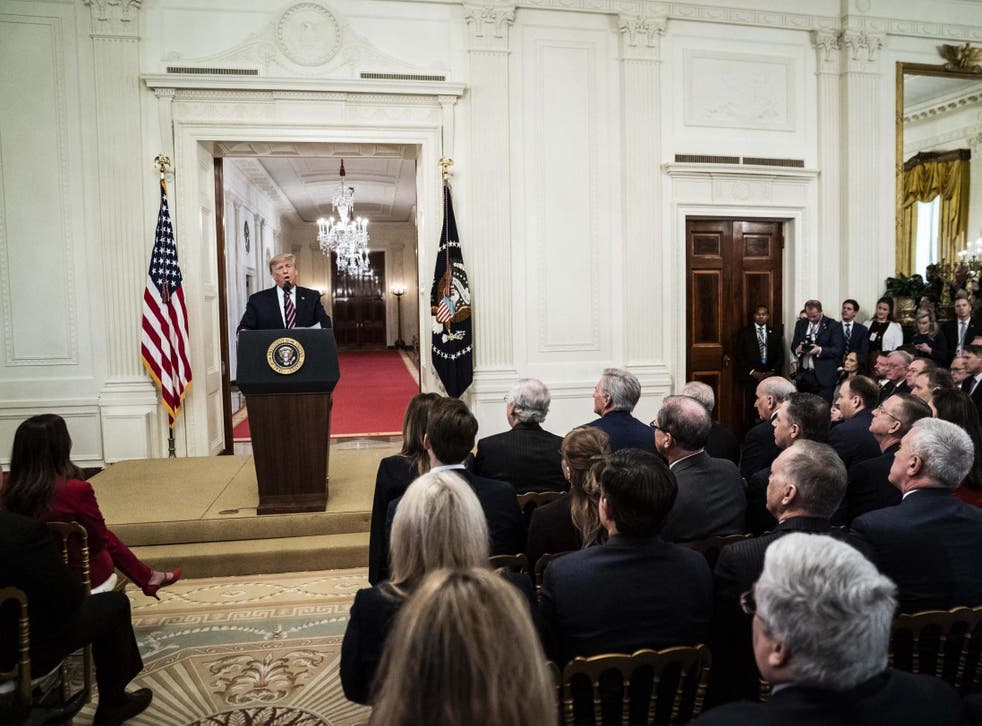 Donald Trump stormed into the White House's East Room and described himself as a wartime president. For over an hour, he was on the attack. He lashed out at political enemies. He cursed. He flashed his anger. And he let Republican lawmakers know he owns them.
Fresh off his acquittal by Senate Republicans, Mr Trump was more than defiant on Thursday. He was vindictive. He ranted and rambled. He challenged Speaker Nancy Pelosi's faith - at a prayer breakfast. Democrats are "evil" and "vicious," led by a "horrible person" in Ms Pelosi. He was unapologetic. But more than anything, he was Peak Trump as he called out "friend" after "friend", meaning those who helped him avoid removal. "I call them friends because you know, you develop friendships and relationships when you're in battle and war, much more so than 'gee, let's have a normal situation'." To Mr Trump, it's all war. He told reporters Friday during the year's first edition of "Chopper Talk" – his infamous gaggles over the idling engines of Marine One – "everyone is a threat".
As Democrats muddled from Iowa to New Hampshire with no clear frontrunner – and unease among party elites that that person is self-described socialist Bernie Sanders, the uber-liberal Vermont senator – Mr Trump victoriously held up newspaper front pages with war type-sized headlines declaring he had been acquitted. He looked like a prize fighter proudly displaying a championship belt he had just gone 12 rounds to retain.
Join our new commenting forum
Join thought-provoking conversations, follow other Independent readers and see their replies