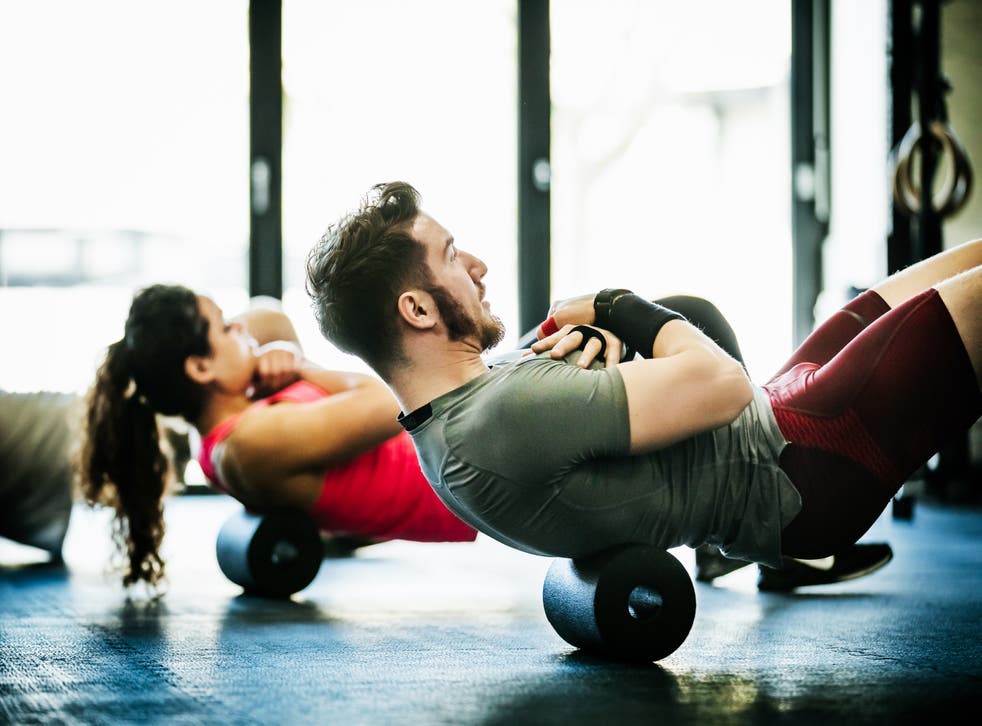 10 ways to achieve and maintain your New Year's health goals
From home fitness and paddleboarding to turmeric shots and honey lozenges, these are some of the most effective ways to have a wholesome kick-off to the year.
Monday 25 January 2021 14:23
According to Public Health England, almost half of the UK population currently feels more motivated to have a healthy lifestyle than they did this time last year.  Luckily there are a wealth of fun and unusual ways to get fit, eat well, or simply even sit better if you're working from home. From supplements and alcohol-free tipples, to standing desks and new exercise ideas, here's how to kick-start your new year's health goals.  
Revitalise your workspace with a new desk chair
With so many of us working from home for the foreseeable future, comfort in our home office environment has never been more important. Investing in a desk chair with the body's needs in mind can make all the difference. The Symbiotic Chair was built around the human body, allowing for movement and frequent changes of position. Its adaptive design ensures that the seat and the backrest follow the user's movement, providing support without restricting freedom of movement. Similar to an exercise ball, the flexible seat is mounted on a balancing mechanism, which challenges the user's postural balance, helping to improve their sitting posture and core stability. Your body was not designed for prolonged sitting, making the Symbiotic Chair a great solution for an increasingly sedentary lifestyle. Use code SYMBI15D for 15% discount at symbioticchair.com . Offer valid until 28 March 2021.
Add a dash of relaxing CBD power to your tonic water
If you're looking to add more flavour to your tonic water or find a mellow alternative to alcoholic drinks, then Novae CBD-infused tonic water might be what you're looking for. It offers bold flavours with a silky finish, making it perfect as a standalone drink or as a mixer. Novae is created in the UK, contains less than 51 calories per serving and is third-party lab tested to ensure high CBD quality and purity. The range offers three delicious flavours: Premium Indian is a refreshing twist on traditional tonic, Mediterranean is a delicious balance of herbal notes and Sicilian Lemon and Elderflower marries juicy citrus notes with the floral sweetness of elderflower. Get 15% off your first order with code NOVAE21 when you visit drinknovae.co.uk. Offer valid until 8 March 2021. 
All the joys of honey in lozenge form
Honey has been used for centuries as a delicious treat as well as a vital medical treatment for many maladies. Now, rather than having it by the spoonful, you can reap the benefits in handy lozenge form. Tahi 100% Mānuka Honey Lozenges offer a natural energy boost, alongside being a delicious treat. 100% natural, Tahi honey is 100% natural, carbon neutral and fully traceable, with no GMOs, GE or added sugar or water. Available at selected health and department stores. tahinz.com
Get all the benefits of turmeric in one quick shot
Turmeric has been getting a lot of plaudits as a super food in recent years, but can be hard to find in anything other than powdered form. The guys at B.Fresh are here to help with Turmeric Super Shots, made from 49g of cold-pressed raw turmeric root. These juice shots have been formulated with the help of nutritionists to make them as effective as possible. They come in two varieties: Turmeric Immunity with added vitamin D3, and Turmeric Energy with added B12.  They are both available in 70ml bottles or multi-shot bottles containing seven shots for £8.90. You can also save 10% by subscribing at b-fresh.co.uk/super-shots
Find healthy ways of losing weight
Setting weight loss goals can be hugely motivating, but it's important to find solutions that are sustainable and healthy. PronoKal has been developing personalised weight-loss programmes for over 15 years, with a focus on health and effectiveness. The doctor-led teams of nutritionists and personal trainer will be by your side throughout the programme, which combines diet, exercise and behavioural change to help you lose weight, restore metabolic health and avoid weight regain. The benchmark PnK Method is based on a ketogenic diet, which makes weight loss easier. The varied selection of food preparations keep hunger at bay, despite a very low calorie content, and their high quality means you lose fat, not muscle. Supported by numerous clinical trials, PronoKal brings you a realistic alternative to challenging restrictive diets, appetite modifying drugs or invasive procedures. pronokal.com/uk
Make sure you're getting all the fibre you need
Fibre is an essential part of a varied and balanced diet but is not always easy to accommodate into today's busy lifestyle. ACAZEN is a 100% plant-based soluble fibre powder made from sustainably sourced acacia gum that gives you all the fibre you need from one convenient source. It's organic, vegan, low FODMAP certified and free from gluten, lactose and sugar — so able to work with many dietary requirements. ACAZEN's neutral taste can be mixed into anything, and blends into your choice of drinks and foods without altering the flavour, colour or texture. It's available in a monthly supply can or single sachets, ideal for people on the go. Get 20% off ACAZEN with the code FIBRE20 until 31 March 2021 at alpiniashop.com/en/acazen
Keep your essentials safe while running
Hit the ground running in 2021 while keeping your essentials protected and within reach at the same time. Freetrain's V1 and VR vests are the perfect way to carry your valuables when training — whether you're jogging down the street or trail running in the wild. The innovative centralised phone case is equipped with a hinge so you can access and use your device on the move without having to break stride, and it's complemented with an adjustable waistband so you can tailor your fit. There are also pockets on either shoulder to allow you to carry your keys, energy gels or even an inhaler, as well as a clever little compartment for cash and card inside the phone pouch.freetrain.com
Discover how a sit-stand desk can help you
Sitting at your desk for extended periods of time can be uncomfortable and lead to problems with your posture. Furna supplies high-quality electric sit-stand desks that can break up the monotony of desk-based work by easily changing from sitting to standing position throughout the day. Minute differences in bodily proportions mean fine adjustment of the desk height is key to long-term comfort and reducing muscle/joint stress. The desks offer smooth electric height adjustment at the touch of a button, from 65 to 130cm. Home delivery is available across the UK and the desks are quick and easy to set up. Get free UK delivery with code FURNA21 at furna.co.uk. Offer valid until 28 February 2021.
Why paddleboarding is the next big thing
Paddleboarding is fantastic for hitting fitness goals, as it's a full body workout that's particularly good for building core strength. What's more, it's great for all ages so the whole family can get on board — even your dog! It can also be synced up to wellbeing practices such as mindfulness, meditation and yoga. With Aquaplanet's affordable and well-made boards, setting up is quick and easy, with an encouragingly low barrier to entry. There's no storage space required, as all kit packs down into a handy rucksack. You'll be able to see and explore parts of the UK in a way you've never been able to before. Download Aquaplanet's paddleboarding guide, packed with tips, tricks and breath-taking locations and be in with a chance to win a free paddleboard. aquaplanetsports.com/supguide
Get fighting fit in your own home gym
Don't let lockdown and gym closures hold you back, you can still achieve your New Year's fitness goals. Work off your winter weight in your own home gym. JLL Fitness is here to support you and help identify the best products to suit your abilities. It offers a broad range of cardio and weight equipment for beginners through to advanced users, as well as advice on how to optimise your workouts. Start building your home gym today at jlllfitness.co.uk