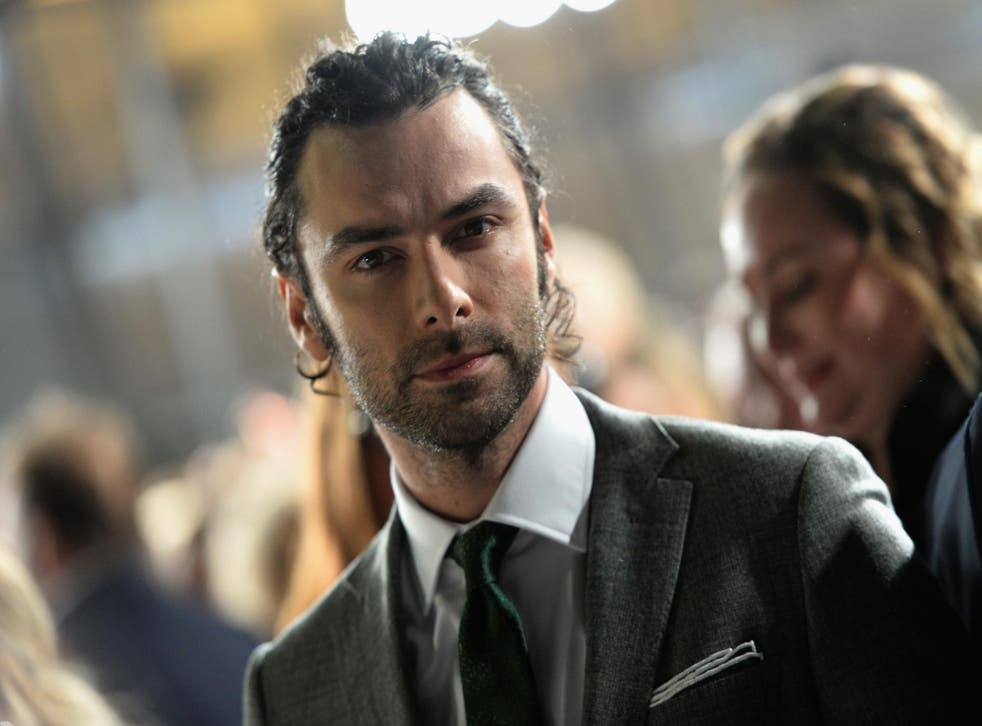 Aidan Turner says topless Poldark scene gave him more empathy for objectified women
'It's a completely different world for me'
Aidan Turner has said he feels empathy for objectified women, adding that he has never felt like his "safety is in question" as a result of his fame.
Turner rose to prominence following his role in the Cornish-based BBC One drama, Poldark, in 2015. The actor made headlines following a scene in which his character appeared topless in episode three, season one of the show.
The 36-year-old told The Radio Times that while he has never felt objectified, the media attention following his shirtless scene made him feel empathetic towards women who have experienced a similar level of scrutiny.
"I'm a man. It's just not the same," he told the publication.
"It's a completely different world for me. I walk down the street, I don't ever feel scared. There are women who feel scared every day."
Most beautiful 'bread and roses' costumes at the Women's March 2019

Show all 12
The Irish actor said that he rarely feels like his life is in danger when meeting fans but couldn't say the same would be the case for a woman.
"If I go to a BFI screening and 20 women come up and they want selfies, it can sometimes get a little hands-on," he said.
"But I never feel like my safety is in question. I never feel like I need to get out of there. I don't get scared, so it's different.
"Whereas a woman might, if it happened with 20 guys crowding around her."
Last year, Turner opened up about the subject of objectification when journalist Mariella Frostrup discussed whether "double standards" existed in the way women discussed the physical appearance of men, namely Turner's, in an article for The Radio Times.
"Admiring Aidan Turner should be an acceptable National Pastime, as a thumbs-up for the glories of humanity and another for his engaging performance," Frostrup wrote.
In response, Turner told the BBC: "Sure, I think everyone should be, I don't see the problem there. I've never felt objectified. I think sometimes other people want to feel that for you, which can be quite a strange thing. But personally, I haven't.
"You say objectify, but it just sounds like [Frostrup] was sort of admiring that character of Ross Poldark or physically how he looks or whatever."
"It seems like there is a double standard, yeah, it does seem that way. But I try not to get involved in [that debate]," he added.
Turner's comments come almost a month after Miley Cyrus spoke out about consent and victim-blaming following a incident during which she was groped and kissed by a fan in Spain.
A clip of the incident was shared on Twitter, where the singer can be seen walking with husband Liam Hemsworth in Barcelona when a fan reaches out and grabs her hair, before pulling her in and kissing her.
Cyrus responded to the incident, taking to social media to condemn the fan's behaviour.
Alongside video of the incident, as well as footage of The Talk hosts discussing the encounter, the singer wrote: "She can be wearing what she wants. She can be a virgin. She can be sleeping with five different people.
Support free-thinking journalism and attend Independent events
"She can be with her husband. She can be with her girlfriend. She can be naked."
"She CAN'T be grabbed without her consent."
Register for free to continue reading
Registration is a free and easy way to support our truly independent journalism
By registering, you will also enjoy limited access to Premium articles, exclusive newsletters, commenting, and virtual events with our leading journalists
Already have an account? sign in
Register for free to continue reading
Registration is a free and easy way to support our truly independent journalism
By registering, you will also enjoy limited access to Premium articles, exclusive newsletters, commenting, and virtual events with our leading journalists
Already have an account? sign in
Join our new commenting forum
Join thought-provoking conversations, follow other Independent readers and see their replies