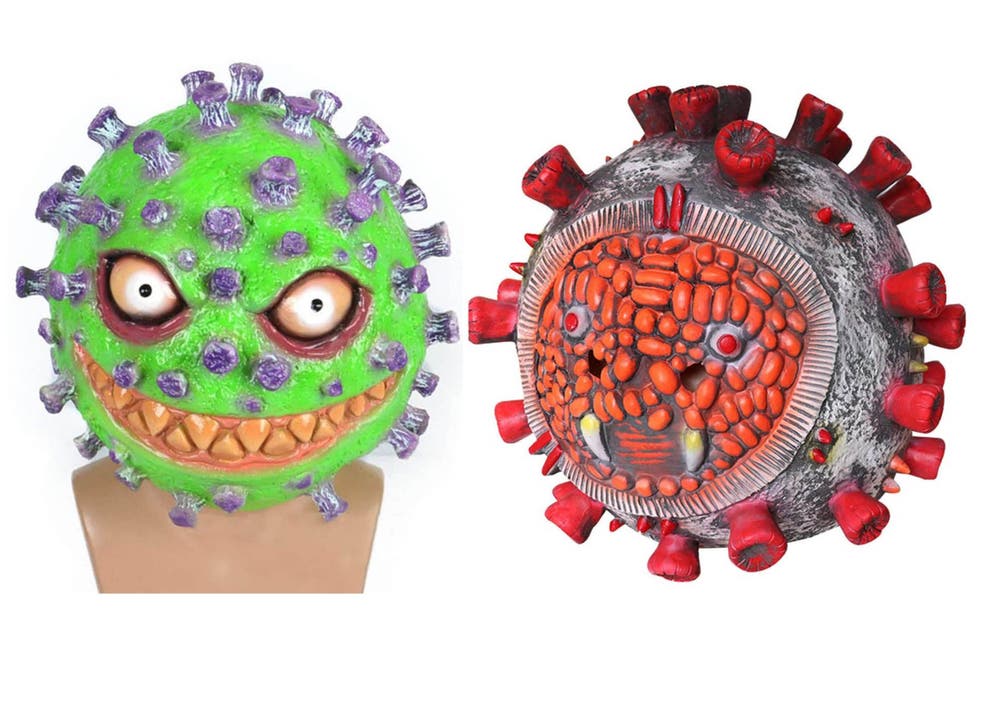 Amazon removes 'hugely distasteful' coronavirus Halloween masks from sale
Masks show 'a terrible lapse of judgement', says parenting group
Leer en Español
Amazon is removing a series of coronavirus-themed Halloween masks from its website after critics said they show a "terrible lapse of judgement".
A spokesperson for Amazon confirmed to The Independent that the latex masks, some of which were being sold for more than £100, were being removed from sale.
The masks resemble what the Covid-19 virus looks like under a microscope, with the addition of haunting eyes and jagged teeth.
They were listed on the online marketplace by a number of different sellers based in China and are said to be "suitable for adults and teenagers". Some of the items were still available to buy on Thursday morning.
A spokesperson for Amazon said: "All sellers must follow our selling guidelines and those who do not will be subject to action including potential removal of their account".
One of the listings, which has since been removed, included the "YTFU Corona Latex Horror Mask", which said it boasted a "terrible Corona design" and was being sold for £14.59 with free delivery from China.
In the description for the product, the seller said the "horror mask", which was available in bright green and red, could be used to "frighten everyone" at a party.
A second mask, which remains listed on Amazon, is being sold for £28.99 from a separate seller in China.
"This mask can attract people's attention when wearing at the party," the description reads.
Another costume, called "Halloween Virus Headgear", is still available to buy via Amazon for £113.99 and is said to give a "stunning and lasting impression of a lifetime."
A parenting group criticised the manufacturers of the costumes.
Rachel Power, chief executive of the Patients Association, told The Sun: "These masks show a terrible lapse of judgement by the manufacturers and sellers, and I hope they will be removed from sale quickly.
"I've no doubt the great majority of people will find them hugely distasteful, and I can't imagine that many people would wish to wear one."
The masks have appeared online in the lead up to Halloween, which falls on 31 October, and come after the worldwide death toll for coronavirus reached one million.
The milestone was passed in the early hours of Tuesday morning. In total, 1,000,555 people have died according to John Hopkins University, which calculates the totals from sources including governments.
Join our new commenting forum
Join thought-provoking conversations, follow other Independent readers and see their replies