Apple praised for new disability-themed emoji, including a wheelchair and guide dog
'Finally for the autumn more emojis to reflect disability and the people I love'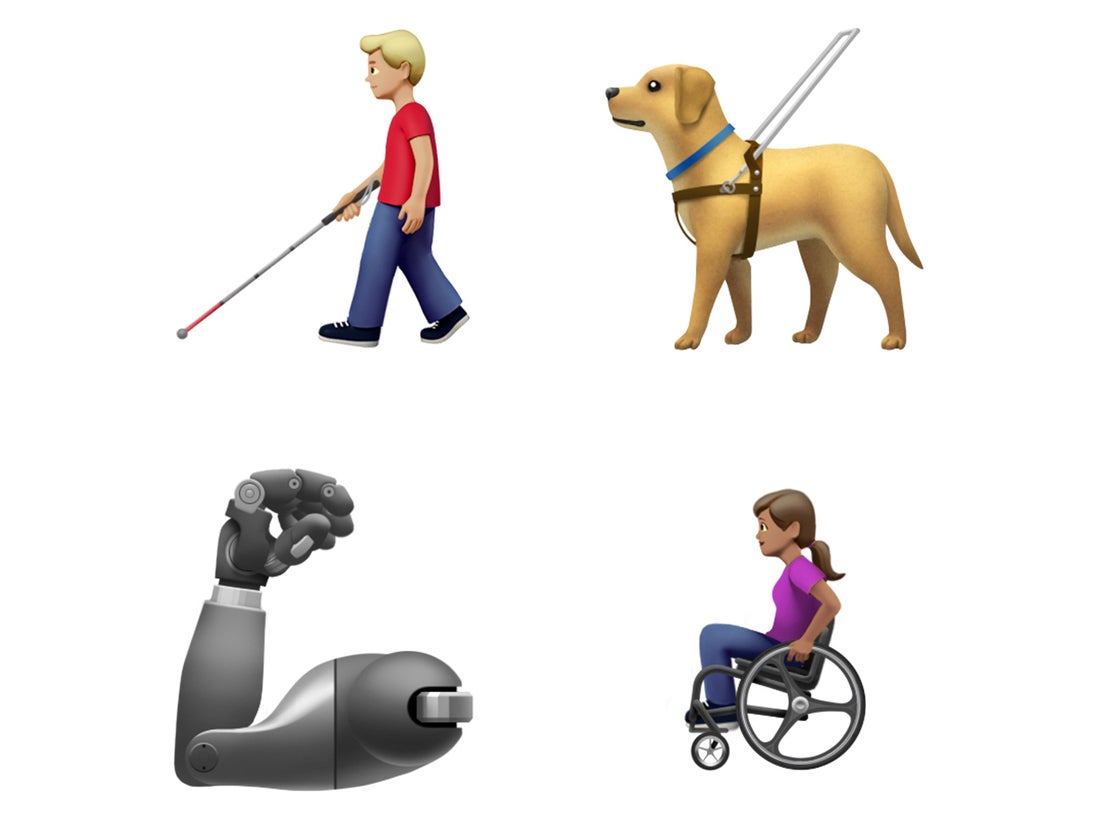 On Tuesday, Apple announced that a host of new emoji will be made available on iPhones this autumn.
The latest additions to the emoji dashboard include interracial couples and several icons designed to be representative of individuals with disabilities.
Apple has been highly commended for adding emoji portraying wheelchairs users, prosthetic limbs, people walking with canes and guide dogs to its roster.
"I must say being in a wheelchair and seeing they added wheelchair emoji is very cool," one Twitter user wrote.
"Finally for the autumn more emojis to reflect disability and the people I love," another added.
Muscular Dystrophy UK, a charity which supports people who have been diagnosed with muscle-wasting conditions, praised Apple for its improved emoji diversity.
"On #WorldEmojiDay, we're glad to see @Apple diversify its emoji range to better represent #disability and include both mechanical and manual wheelchair users," the organisation wrote on Twitter.
Hereward College, an academic institution based in Coventry which caters for young people with disabilities, expressed similar sentiments.
"Fantastic to see some new emojis coming out that celebrate diversity," the college tweeted.
"With a @guidedogs emoji, a wheelchair user and people with walking sticks. Great move on #WorldEmojiDay!"
Despite the positive reception to the emoji, some have questioned why it has taken up until now for Apple to introduce emoji of people who use wheelchairs, having started offering emoji in 2011.
"To think that it's taken this long for them to make a wheelchair user emoji is disappointing," one Twitter user remarked.
Several Twitter users also commented on the inclusion of an ASL (American sign language) emoji, which shows a person signing the word "deaf", in addition to a hearing aid icon.
"They are releasing an emoji that is the ASL sign for deaf. I can't tell you how cool that is!" one person stated.
"Okay these emojis make me happy!!! They finally have an emoji to sign 'deaf'!! I love this and everything about this," someone else said.
Support free-thinking journalism and attend Independent events
In March 2018, Apple proposed plans to the Unicode Consortium to create new "accessibility emojis".
"Apple is requesting the addition of emoji to better represent individuals with disabilities. Currently, emoji provide a wide range of options, but may not represent the experiences of those with disabilities," the proposal read.
Apple worked with the American Council of the Blind, the Cerebral Palsy Foundation and the National Association of the Deaf when developing the proposal.
To read more about the newest addition to Apple's emoji, click here.
Join our commenting forum
Join thought-provoking conversations, follow other Independent readers and see their replies