Archie makes royal tour debut during visit to Archbishop Desmond Tutu

Show all 13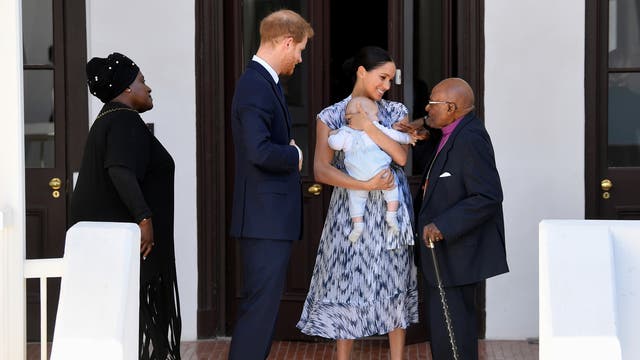 Archie makes royal tour debut to meet Archbishop Desmond Tutu with Meghan Markle and Prince Harry
Four-month-old was photographed with the anti-apartheid activist in Cape Town
Archie Harrison Mountbatten-Windsor has made his royal tour debut in South Africa with his parents, the Duke and Duchess of Sussex.
The four-month-old was pictured for the first time during an official royal tour engagement as his parents, the duke and the duchess, made the acquaintance of anti-apartheid and human rights activist Archbishop Desmond Tutu.
The Sussex family met the Archbishop and his daughter, Thandeka Tutu-Gxashe, at The Desmond and Leah Tutu Legacy Foundation in Cape Town.
As the members of the royal family were photographed with the Nobel Peace Laureate and his daughter, Prince Harry joked that Archie is not camera shy, saying: "I think he is used to it already."
Meghan held Archie outside the centre as she and Prince Harry greeted the Archbishop and Thandeka, before the group headed indoors.
Arch meet Archie: Harry and Meghan release new video of baby Archie Harrison
Archbishop Desmond Tutu, who became the first black Anglican Archbishop of Cape Town and Johannesburg, said he felt "thrilled" by the "rare privilege and honour" of meeting the royals.
The Duke and Duchess of Sussex's Instagram account later shared a photograph from their meeting.
"The Archbishop, a globally respected figure in anti-apartheid movement, is one of the world's great champions of equality, and has spent his life tirelessly battling injustice," the picture's caption read.
"Their Royal Highnesses have joined the Archbishop and Thandeka to learn more about the work of The Tutu and Leah Legacy Foundation, and see first-hand how they are focussing on global awareness of the critical issues affecting the world."
The Desmond and Leah Tutu Legacy Foundation is a "centre of knowledge and discourse, a repository for intellectual property and a platform to reconnect people to each other and to their own integrity", it states on its website.
The foundation was established by the Archbishop in 2013, who was previously selected by Nelson Mandela to chair South Africa's Truth and Reconciliation Commission.
The Duke and Duchess of Sussex shared a second photograph from the visit on Instagram, which showed Archbishop Desmond Tutu kissing Archie on the forehead.
"Thank you Archbishop Tutu for your incredibly warm hospitality," the duke and duchess wrote in the caption.
"Archie loved meeting you," the royal couple added.
Meghan and Harry take baby Archie to meet Desmond Tutu
For all the latest news on the royal tour, click here.
Join our new commenting forum
Join thought-provoking conversations, follow other Independent readers and see their replies