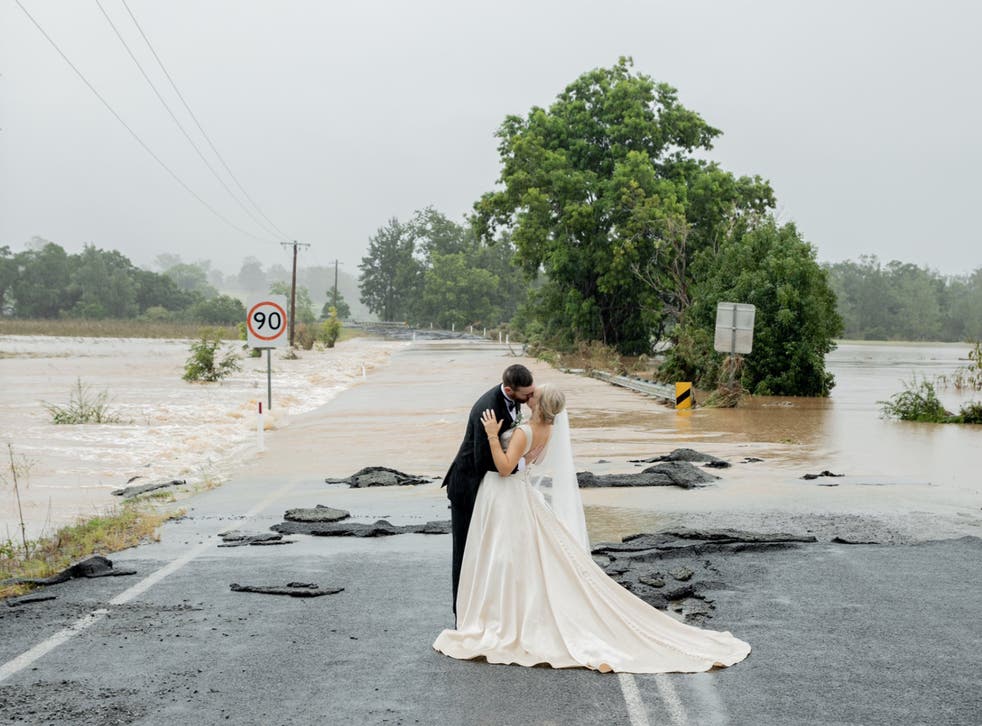 Wedding photo taken in the middle of Australian floods goes viral
A local helicopter firm came to the rescue after the bride-to-be was left stranded by flood water
A pregnant bride's plea for help getting to her wedding, after severe flooding left her stranded, has resulted in one of the year's best wedding portraits so far.
Kate Fotheringham spent the night before her wedding to Wayne Bell at her parents' home in New South Wales, Australia.
The region has been ravaged by heavy rainfall and flooding in recent weeks that has resulted in the evacuation of 18,000 people.
Upon waking on her big day, Fotheringham found that the property was completely surrounded by floodwater and that she had no way of reaching the wedding venue.
In desperation, she took to social media in a bid for assistance, tweeting: "Help me!!! It's my wedding day and we're flooded in! We need help to get to Wingham over the flooded creek. Anyone know someone willing to help?"
Thankfully, Affinity Helicopters answered the call and sent over a chopper to collect the bride.
The aircraft landed in her parents' garden to whisk her and her family away with her dress carefully contained in a protective bag.
Minutes later, the aircraft landed, ensuring Fotheringham was able to get to the ceremony on time.
And it wasn't the only miracle that day; Fotheringham was walked down the aisle by her father, Peter, who had broken his spine in three places and both of his legs just five months previously, according to 9News.
A remarkable photograph shared by Fotheringham on social media shows the happy couple embracing in front of floodwaters.
She wrote: "Update, I made it to the church and married the love of my life! Affinity Helicopters in Port Macquarie came to the rescue and made sure we all got there. This is the bridge that blocked us from making the 5minute drive into town! What a day!"
Other couples were not so lucky, however. Joshua and Sarah, also from New South Wales, were left devastated after their home was washed away by flood waters.
The pair had planned to marry on Saturday, according to 7News.
In a GoFundMe appeal launched by Joshua's brother, Lyle Edge, it reads: "What was supposed to be their wedding day ended up with their house floating down river and them losing everything they have worked hard for and sadly losing their pets as well."
The campaign has now reached over $100,000 (£55,000).
Join our new commenting forum
Join thought-provoking conversations, follow other Independent readers and see their replies