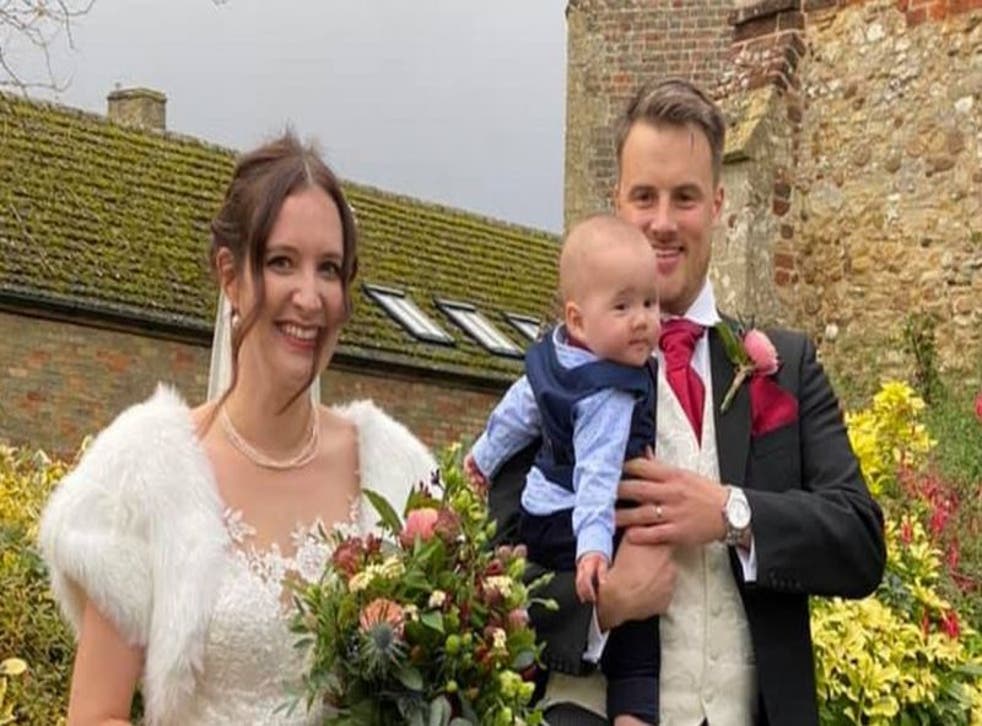 Couple rearrange wedding with 24 hours notice to beat England lockdown
The bride described the changes as 'hectic'
A couple who rearranged their wedding with just 24 hours notice to beat the incoming lockdown restrictions have described the whirlwind changes as "hectic".
Jo Loosemore and Matt Goffin were set to marry on Saturday 14 November in Devon.
Upon learning of the new lockdown measures set to take effect in England from Thursday, however, the pair decided to fast-track their nuptials to ensure they tied the knot before the country entered its second lockdown.
Veterinary nurse, Mrs Goffin, heard the news of an expected lockdown whilst showering on Saturday morning, according to the BBC.
"I just thought, 'Well I'll see if we can get it done this weekend'," she said.
"I thought I can either let this get us down and we can get stressed having to rearrange it for the 100th time or I can be proactive and try and be positive about it and do something about it."
The original ceremony scheduled later this month was designed to welcome 200 guests.
Existing coronavirus restrictions already in place permit no more than 15 people to attend any marriage or civil partnership ceremony in England, however.
Their Devon venue had been selected due to its location close to the bride's parents' home, but the couple decided to switch the ceremony to Witcham in Cambridgeshire where the pair live with their eight-month-old son, Rupert.
Less than 24 hours after learning of an imminent lockdown, the couple married at the Church of St Martin, becoming Mr and Mrs Goffin.
Mrs Goffin described the weekend as "hectic", adding that they were able to switch the ceremony with the help of their local reverend, Mary Hancock, who she described as "absolutely brilliant".
The standard Sunday morning church service was duly replaced with the marriage ceremony, with "scores" of people chipping in to help out.
An appeal was also put out on the village's Facebook page, prompting offers of music, while friends and family also assisted.
New government restrictions are set to come into force in England on Thursday.
The measures mean weddings and civil partnership ceremonies will only be permitted in "exceptional circumstances".
Join our new commenting forum
Join thought-provoking conversations, follow other Independent readers and see their replies