Lifestyle Features
The rise of the micro wedding: What it's like to get married in the middle of a pandemic
Planning a wedding is stressful at the best of times but doing it in under a month during a global pandemic came with its additional challenges, writes Harriet Hall
Friday 09 October 2020 16:08 Comments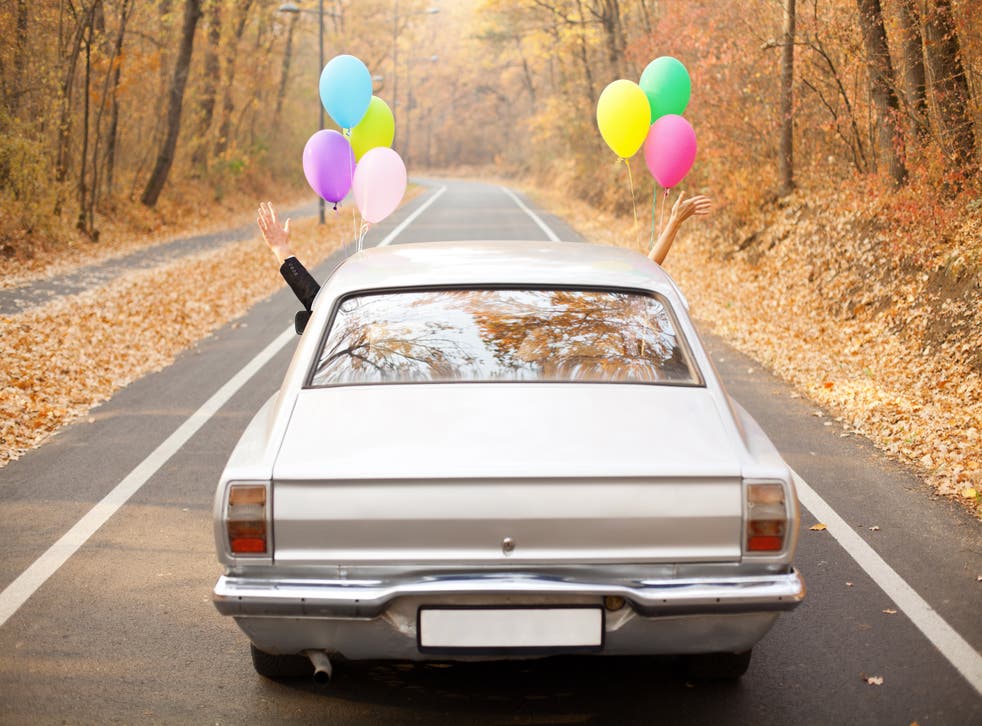 In the end, it turned out to be better than the wedding we had originally planned. Perhaps because our lockdown experience, like so many others', had involved death, loss and financial strain. When the day came around, what we'd initially thought might end up feeling like a sombre, legal officiation was actually a jubilant moment of escapism.
When our first wedding - the one that had taken a year to plan - was cancelled by our venue in March a week before the nationwide lockdown, we, like many couples, assumed we'd still be able to have our big day in 2020. So, my fiancé and I planned how we might need to adapt things. Either way, we'd decided this year was when we were getting married, Covid be damned.  
On daily walks around the local common, as daffodils began to border the park bringing colour to London's ashen patina and Wisteria stirred from a year-long slumber; discussing the logistics of our imagined nuptials brought positive purpose to a time defined by monotony and days spent talking to colleagues over buffering Zoom calls from the living room.
We pondered how we might drive to Gretna Green without being able to stop at hotels along the way; we checked in with our original wedding venue; we even investigated our virtual options – a brief investigation, as it happens, since Zoom ceremonies are not permitted in the UK.
When our original wedding date came around, we got dressed up and celebrated at home with a family video chat, then walked down to our venue to say our vows. After a Spring that saw the mercury tip above 35, the 6 June saw torrential rain and thunderstorms. Serendipity, perhaps.
We watched apprehensively as the government changed the rules to permit 30-person receptions, then banned them again when Covid cases rose. We brutally chopped our guestlist by two thirds. Even still, we soon discovered that, despite what it said on paper, a 30-person ceremony isn't really possible in most register offices anyway, since it relies upon the venue being able to accommodate social distancing.
Eventually we bit the bullet and booked a date, deciding we'd see what happened. We pinged off a non-committal email to our closest friends and immediate family saying we'd be getting married on the first Monday in September and they may or may not be invited depending on government restrictions, but could they please cancel all their plans anyway, just in case?
Planning a wedding is stressful at the best of times but planning one in under a month during a global pandemic came with its additional challenges. Venues who were treading the precarious waters of re-opening cancelled on us, holidays saw us lose guests to quarantine and – our new date falling on the first day back at school meant our teacher friends were out.
The register office told us readings and music were not likely to be permitted, that we weren't allowed to walk down the aisle and that we'd have to sanitise our hands before the exchange of rings. It sounded every bit as dystopian as the Contagion life we were living.
Still, we were determined to make the most of it. I ordered 30 bespoke face masks and 30 miniature bottles of hand sanitiser. Luckily, both our outfits had been hanging in the wardrobe for some time, so that was one thing sorted; we ordered flowers from our original florist and checked that our photographer was available to capture the strangest of wedding days.
We were lucky to have snuck in there just days before government mandated wedding guest numbers were once again halved. Even if we hadn't been, we'd still have gone ahead; there was only space for 18 guests to join us in the register office. And yet, it turned out to be exactly what we wanted.
The 'I do' or not to 'I do' wedding-in-a-pandemic dilemma that many betrothed couples have been faced with in 2020 has changed our collective perception of what the 'perfect wedding' should look like.
After all, it happens to the best of us. We believe ourselves to be reasonable, measured humans who check the price per kilogram of groceries and tick the box agreeing to contribute to our work's voluntary pension scheme then, suddenly, 10 months into being engaged, something inside of us switches. We no longer bat an eyelid when quoted an extortionate amount for flower arrangements or when someone suggests we simply must shell for out for a PA system.
The day suddenly becomes less about the commitment you're making to your partner, and more about the one you're making to your bank – to pay them back. The wedding industry, for all its confetti and love hearts, is pretty good at fleecing people. In a country in which the average full-time salary is £35,423, the average wedding costs £31,974.  
So, when forced to strip things back and venues and suppliers had to accommodate smaller numbers, the feeling we were being strongarmed into something we didn't want evaporated. Nobody wants social distancing at their wedding, of course, or to not be able to have a first dance, but removing the guestlist guilt, overinflated price tags and enforced traditions actually resulted in a day that felt more authentic to us.
We didn't treat it like a "getting the legal bit done" day – this was our wedding; there will be no do-over in 2021 (though I look forward to jetting off on our original honeymoon when Bali opens again to tourists). That mindset meant we threw ourselves into every part of the day – and so did our guests.
We booked the cheesy vintage route master I'd always wanted, held our reception on a rooftop to ensure everyone felt safe and kept all our planned speeches. Because we all appreciated what we previously thought nothing of but that had come to feel like an utter privilege: being around the people we love.
Though wedding receptions are now limited to 15 people, for anyone feeling unsure about whether or not to go ahead, I'd say that while it may not be the wedding you had envisaged, it might just be better. For all the fun of dancing into the early hours with all your friends, it's the getting married bit that ultimately matters. And the bill will be far easier to pay off.
Six ways to make a small wedding feel special
1. Do more with less
After months of planning and excitement build-up, drastically cutting down your guest list is initially going to seem like a disaster for most couples, says Helen Pye, Deputy Editor of Hitched. But it doesn't have to be. "It can be a real opportunity to create a romantic, intimate and unforgettable day," she explains.  
Pye suggests taking financial advantage of your smaller wedding by "splashing out on a few things that you might not have been able to with a bigger guest list.
Glasgow-based wedding planner Fin Flukra agrees. "Use having a smaller wedding to your advantage," she says. "Perhaps you were having to compromise on your budget due to having more guests, but by having a more intimate celebration you can treat yourself to the things you couldn't before."
And don't forget the honeymoon. It might not be the best time to go abroad, but there are plenty of beautiful hotels in the UK. If ever there was time to treat yourself to a luxury staycation, it is now.  
2. Lean into the times
The latest government guidelines decree that all wedding guests – though not the bride and groom – must wear a face covering. So why not make them extra special? After all, nobody wants Uncle Bernard's Arsenal mask ruining the vibe…
"Masks are actually a nice opportunity to create and provide small wedding favours," says Robin Weil, CEO of WeddingPlanner.co.uk "Why not create masks that fit in with your theme and can act as great mementos from the day?"  
But wedding planner and founder of bespoke event planning company La Fête, Charlotte Ricard-Quesada, advises to resist the temptation to personalise wedding face masks, as guests may be disinclined to wear them after the big day. Instead, she suggests, "make them in lovely cotton fabrics that match your colour scheme".
And why stop at masks? "Mini antibacterial gel bottles, and any other Covid-19 related gadgets are also welcome right now," she adds.
3. Keep your photographer
While a micro wedding might not be what you originally had planned, it's still going to be one of the most important days of your life and tying the knot during such a historic time is something you'll want evidence of.
"It may seem like the right time to cut back on some suppliers and that is something you and your partner will need to discuss. However, your photographer is not one that you should be looking to cut," says Weil.
"It's now more important than ever to capture those moments that many of your original guest list will be unable to witness."
Most wedding photographers will be able to adapt their usual packages to allow for the brevity of a shorter day, whether you just go to the register office or have a reception afterwards. Reach out to your original photographer and see what they can do. The wedding industry is one of the hardest hit by the pandemic, so it's also a positive gesture to stand by your suppliers.
"Most suppliers are up and running again and so will be excited to work with you," explains Ricard-Quesada.
4. Return to your Pinterest board
Just because your original wedding isn't going ahead as planned, doesn't mean you can't have the colour scheme or decorations you spent months creating dedicated Pinterest boards for.
"Whether it's a ceiling of flowers, a staircase of balloons, an entrance full of props of whatever your imagination has floating around – do it!," says Ricard-Quesada.
"Do not downsize your wedding to the point where it no longer is your wedding – just think of that gorgeous flower arch at Princess Beatrice's Lockdown wedding!"
5. Make the most of technology
With the latest regulations around weddings permitting only small celebrations of 15 people, this means cutting your guestlist down to just 13 people, and perhaps even 12 if you plan to have a photographer.
It's going to be tough – but most people will understand and your original guestlist can still be a part of your special day.
"Why not embrace the digital age and livestream the whole ceremony?" suggests Weil. "That way, more people can be part of your day and you will be able to watch the ceremony back time and time again."
If you're planning to go down this route, Ricard-Quesada recommends you assign a member of the bridal party to manage that bit for you. "You want it done properly and tested so there are no glitches on the day," she says.
6. Have a proper reception
Whether it's a seated dinner at your favourite pub or a private space at a rooftop bar, make sure you book a reception and still ask your important people to give speeches. Don't treat the day like it is just getting the legal bit done. This is the day you get married. Make the most of it however many people you are able to invite.
The key to making a small wedding feel special, explains Pye, "is atmosphere". Pye suggests choosing a venue that "suits a smaller number so the space feels cosy and intimate."
Personalisation can also make a small reception feel more special. "You want every detail to feel personal to you as a couple," Pye says. "You might not be able to have the guest list you wanted, but you do have control over almost every other aspect of the day."
Register for free to continue reading
Registration is a free and easy way to support our truly independent journalism
By registering, you will also enjoy limited access to Premium articles, exclusive newsletters, commenting, and virtual events with our leading journalists
Already have an account? sign in
Join our new commenting forum
Join thought-provoking conversations, follow other Independent readers and see their replies