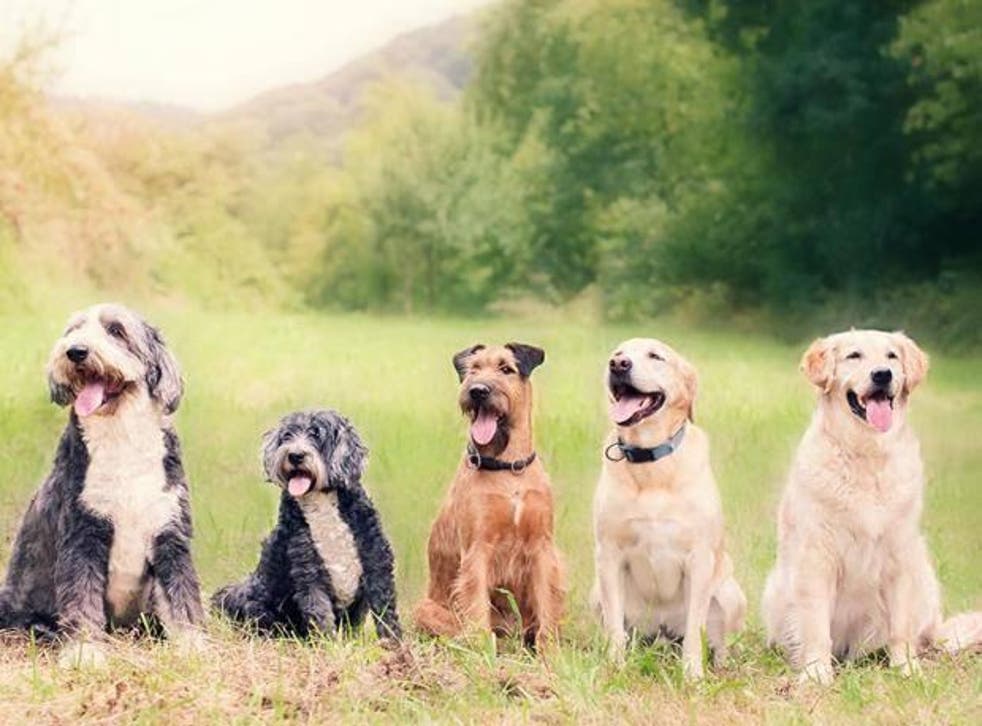 The average dog owner walks their pet 1,000 miles in a year
Dog owners trek more than 1,000 miles, play 2,080 rounds of fetch – and call their pet's name 3,120 times while walking them each year, a study has found.
Exercising their dog will also result in owners having 1,040 conversations with other animal lovers a year with the average pooch spending 17 minutes of each walk off the lead.
But owners will also have to untangle their dog's lead more than 1,000 times and put up with 1,040 arguments – two every week - with their partner or children about whose turn it is to take their pet out for a walk.
It also emerged 24 per cent reckon the daily dog walk is an ideal opportunity to talk to children away from the distractions of home while 64 per cent use it as a time to bond with their pet.
The survey was commissioned by Harringtons, who have teamed up with Ben Fogle and eight dog experts to create a series of dogventures to make sure owners and their dogs are getting the most out of their walks.
A spokesman for Harringtons, said: "For dog owners, going out for a walk is one of the main perks of owning a pet.
"It's staggering to think just how far you walk, and how many times you will play fetch over the course of a year.
"While a walk is necessary to keep your pet fit and healthy, it's also a great opportunity to bond with your dog, away from the chores and your busy day-to-day lives."
Ben Fogle added: "For me, a dog walk isn't a dog walk if you can't take the dog off the lead – it means they can fully stretch their legs and let off steam.
"There are plenty of places that are geared up for lead-free dogs, so it's worth taking the time to find one close to your home.
"That's why teaming up with Harringtons to create these dogventures has been great – I really hope we can inspire owners to be more adventurous with their walks and encourage them to do something they wouldn't normally feel comfortable doing."
The study of 2,000 dog owners found the average pooch is taken out for a walk 10 times a week, with each trip lasting around 34 minutes.
On each occasion, they will walk just under two miles, but almost one in ten admit they usually trek across the exact same route every time.
Another one in twenty only tend to change where they walk once a year.
But dogs will spend just half the time off the lead – around 17 minutes - with one in four admitting they never let their dog off the leash.
Four in ten owners say other dogs stop them from letting their pet off the lead more often, while 31 per cent worry too much to let their dog roam free.
Others say they don't let their dog off the lead because they aren't allowed to do so in the area they walk in (17%), they aren't well behaved off the lead (18%) or that they feel it's too dangerous (31%).
But the study found that while 89 per cent enjoy walking their dog, 39 per cent admit a lack of time stops them from going out more often.
Poor weather (47%), feeling too tired (20%) and finding it difficult to find places where they can walk their dog off the lead (9%) also means they don't go on as many walks as they should or would like to.
As a result, almost one in five dog owners spend an average of £25.66 a month paying someone else to walk their dog for them.
During the average walk, dogs will also interact with other pooches three times, while owners will bump into four other people also out walking their pet.
On two of those occasions, they will stop to have a chat, with dog owners also having one break to buy a coffee or drink in a pub along the route.
Each walk will also see the average dog jump up to someone else once while the lead will need to be untangled from trees, other people and dogs twice.
A ball will be thrown four times while the dog's name will be called an average of six times before the walk is over.
A spokesman for Harringtons added: "To think that so many people walk their dogs on the same route every day, with some only changing this route annually, is astounding.
"At Harringtons, we believe that walking should be something that excites and inspires both you and your dog.
"To make sure owners and their dogs are getting the most out of their walks, we have teamed up with Ben Fogle and eight dog experts to create a series of dogventures.
"These dogventures aim to inspire owners across the UK to try something different, whatever the weather, from the peaks to the lakes, de-stressing strolls to adventurous ambles, there's a walk to suit everyone.
To download all the dogventure information, including maps for routes across the UK, visit: www.harringtonspetfood.com/dogventures.
SWNS
Join our new commenting forum
Join thought-provoking conversations, follow other Independent readers and see their replies