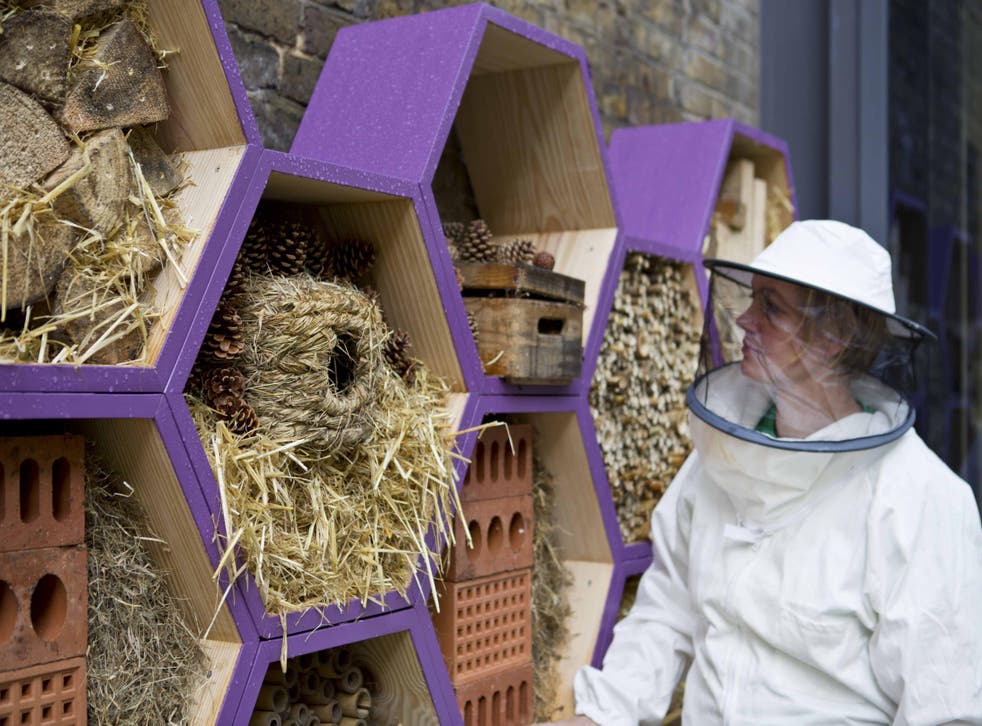 Beekeeping for beginners
Everything a novice apiarist needs to know about beekeeping
There's a massive question mark over the future of bees as their colonies worldwide continue to struggle and decline.
So how do we play our part in ensuring that our buzzy friends don't go extinct? Well, have a go at beekeeping yourself, of course.
It's not as complicated as most of us would think, all it requires are basic equipment, space and patience. I went to learn the art of beekeeping through expert beekeeper Camilla Goddard at St Ermin's Hotel, London's first bee and bee hotel.
Camilla is keen to demonstrate how small actions by all of us can make a big difference for what she describes as "small but immensely industrious creatures".
She added: "Simple steps in our garden planting to provide year round forage can make a huge difference.
"The St Ermin's six active hives are currently doing well, producing on average 25 pounds of honey each year, helped by the fantastic range of flora in the surrounding royal gardens and parks.
"London's only Bee and Bee at the hotel is also doing well, providing a welcoming stopover for solitary bees and a host of other friendly creepy crawlies!"
British bees have actually gone extinct in the 1920s. The extreme cold weather wiped them out and so nowadays we actually have bees from Italy. Most beekeepers in this country keep the bees for the sake of keeping bee numbers up rather than just for gathering honey.
"Bees are suffering massive decline and have a lot of challenges at the moment, including reduced natural forage, such as wild flower meadows.
"I really want to encourage more people to help by creating more forage for bees - don't forget trees like apples, chestnuts and pears. In London, bees visit lots of privet flowers, so please don't prune off the flower heads," Camilla requested on behalf of the nation's bees.
After talking about the decline of bees, Camilla covered what are needed to start beekeeping.
The basic equipment is a hive (she recommends a national hive, which has an open mesh floor and slide out tray), protective clothing, hive-related tools and a source of bees.
Camilla, of Capital Bee, said: "A beekeeper's equipment consists of: bee suit and veil; suitable boots; bee gloves; smoker; hive tool; queen marking cage and pen; a feeder to feed your bees sugar syrup; a porter bee escape (a one-way valve for bees) and a good book for reference.
"A complete single walled hive contains: a roof, crown board, up to three or more (honey) super boxes; queen excluder (so she doesn't lay eggs in the honey); brood box and floor."
Beekeeping is a seasonal hobby so the time spent on it varies with the seasons. In the middle of winter, there's not a lot to do, except to occasionally check for physical damage or snow blocking the entrance.
The busiest time is early summer when each hive should be checked weekly to stop swarming and add supers. This doesn't take no longer than a few minutes when you get the hang of it.
You can spend a small fortune if you buy everything new, but you can find a second hand hive with cost around £50-70 and the local association might do you a good deal as a new member. A new bee suit and veil will be between £40 - £100, the other bits and pieces if you buy new such as smoker, gloves should come to less than £100. The most expensive piece of equipment you'll want within a year or two will be a honey bee extractor and these start at around £150, however if you don't have enough cash, most bee associations will allow you to use a shared extractor.
You don't need a licence to keep bees but Camilla says it is good to belong to a local association to keep you in touch with local expertise, local problems and conditions. These groups will often run training programmes, regular meetings and send out regular newsletters.
In the UK, most associations with the British Beekeepers Association (BBKA) gives you third party and honey insurance.
There are a number of sources where you can get your bees from. You can get them from a beekeeper; from a swarm; from your local association and by post. Yes, by post! Beebreeders and some equipment suppliers who advertise in the bee press are able to post you what is called a "package" of bees in a travelling box or a nucleus hive.
Once you've found your space to keep your hive, Camilla's top tip is not to move the hive immediately. She said that you should only move the hive three feet every few days from one place to another because bees orientate.
Camilla looks after a thriving resident colony of more than 350,000 Buckfast honey bees on St Ermin's Hotel's third floor wildflower terrace, which guests can see through glass walls in the hotel's walkway corridor. It also features stylish hexagon suites in the hotel's purple livery. This bee hotel provides a welcome home for a wide variety of visiting bee species and produces around 25 lbs of honey each year.
Camilla's two-and-a-half-hour workshop outline the complexities of bee society and behaviour; highlight the close relationship between bees and flowers as well as give guidance on what to plant, when, where and how best to site hives in gardens or allotments.
Participants also have the chance to visit the Bee and bee hotel to get real hands on experience handling bees, managing their hives and collecting raw honey in full on beekeeping suits and gloves. If you fancy the buzz of beekeping, you can find out more about joining Camilla's workshop here. There are workshops in April, May and June and they come in different packages whether it's a straight up workshop, post workshop cocktails or afternoon tea.
And there are taster sessions too for budding beekeepers this August. Suitable for those aged seven to 14, attendees will get a brief introduction into beekeeping before getting into a bee-suit and exploring the bee terrace. They can enjoy a delicious afternoon tea after working up an appetite learning and having fun.
St Ermin's celebrates the hard work of its honey bees from September, the second summer harvest of delicious honey, through its scrumptious Honey Afternoon Tea created by Head Chef Alex Boyd during the hotel's annual honey month.
The hotel's residents fly a three-mile radius, visiting many prestigious addresses such as Buckingham Palace, St James' Park and flower boxes in Mayfair, St Ermin's bees gather nectar from 53 types of plants, flowers and trees including sweet chestnut, blackberry and horse chestnut.
St Ermin's Hotel, 2 Caxton St, Westminster, London, SW1H 0QW