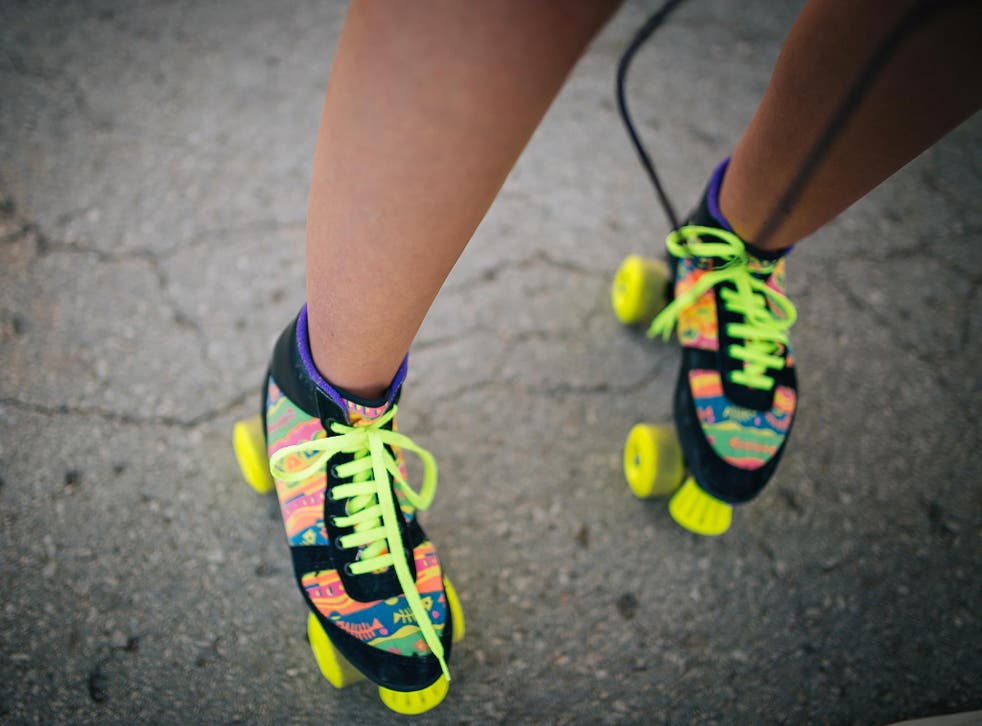 The pioneering women of Beirut's roller derby team
Roller Derby Beirut team member Nada Ben Jemaa, or The Killer Pillar, talks to The Independent about playing a fast-paced and happily brutal sport in the capital of Lebanon 
By day, Nada Ben Jemaa is a student at the American University in Beirut. But by night, she takes on the fierce persona of The Killer Pillar in the Lebanese capital's all-woman roller derby team.
"We get two hours per week of pure fun," she tells The Independent. "We get to be violent, to fall, to get bruised, all within a friendly and supportive environment."
"Skating is liberating for our minds and bodies. We get to be ourselves and push our physical limits."
Brutal, violent, and apparently a whole lot of fun, roller derby is a contact sport which involves two teams of five who skate counter-clockwise around a track. As legs and elbows fly, injuries – from concussion to sprained ankles and bruising – are common.
Roller Derby Beirut - In pictures

Show all 11
The sport is dominated by all-woman amateurs teams - many of whom have a feminist punk, riot grrrl aesthetic - of which there are an estimated 1,250 across the world.
Roller Derby Beirut currently has ten fierce skaters aged between 19 and 22 hailing from Tunisia, Egypt, Bahrain, Lebanon, and Yemen.
The Killer Pillars opponents, or teammates depending on the game, are Karmia Garima, gALAAdiator, Tiny Shiny, Resting Kickface, Lazy Cake, and Nahla Bee R. (The three other members yet to decide their nicknames). The gang gathers once a week for two care-free hours in Gemmayze, a neighborhood of East Beirut and, when the weather is good, on the city's waterfront.
The team was started in 2015 by Elisabeth Wolfhechel, a Danish skater who represents Game: an organisation which promotes street sports in Denmark and Lebanon. Game volunteers and coaches work across street basketball, dance classes, football across Lebanon in Game-zones. To stock the team with equipment before organising their first meet-up via Facebook, Wolfhechel raised funds at the Roller Derby World Cup 2014.
Ben Jemaa heard about roller derby from the Drew Barrymore film Whip It, and was at the very first meet up.
"When I moved to Beirut, I wondered if there was a team here," she explains, as the cosmopolitan capital of Lebanon struck her as the "kind of city" where you would find such a team.
"I went to the first practice and I loved it," she recalls.
The women in the team are recruited by word of mouth. Ben Jemaa convinced some of her friends to join, as they did theirs. The Facebook group also helps.
But as the team members are all from outside of Beirut, Ben Jemaa is anxious to recruit people based permanently in the city so that the team can live on.
"Word of mouth has been working so far but since we are all internationals, we keep attracting internationals. Consequently, in a couple of years almost all of our skaters will leave Beirut. Right now, we need Lebanese skaters or people permanently based in Beirut to ensure the continuity of the team."
However, potential team members are warned that roller derby hurts. A lot.
"The pain is the worst part of the game. Sometimes, we fall and get injured. While we are on track focusing on the game, it doesn't hurt but when we go home, it becomes very painful."
Still, don't be totally fooled by The Killer Pillar's tough front. After the game, the team head out for a bit to eat to catch up on their weeks.
The best thing about the roller derby? "The team. We're a family," says Ben Jamaa.
Join our new commenting forum
Join thought-provoking conversations, follow other Independent readers and see their replies