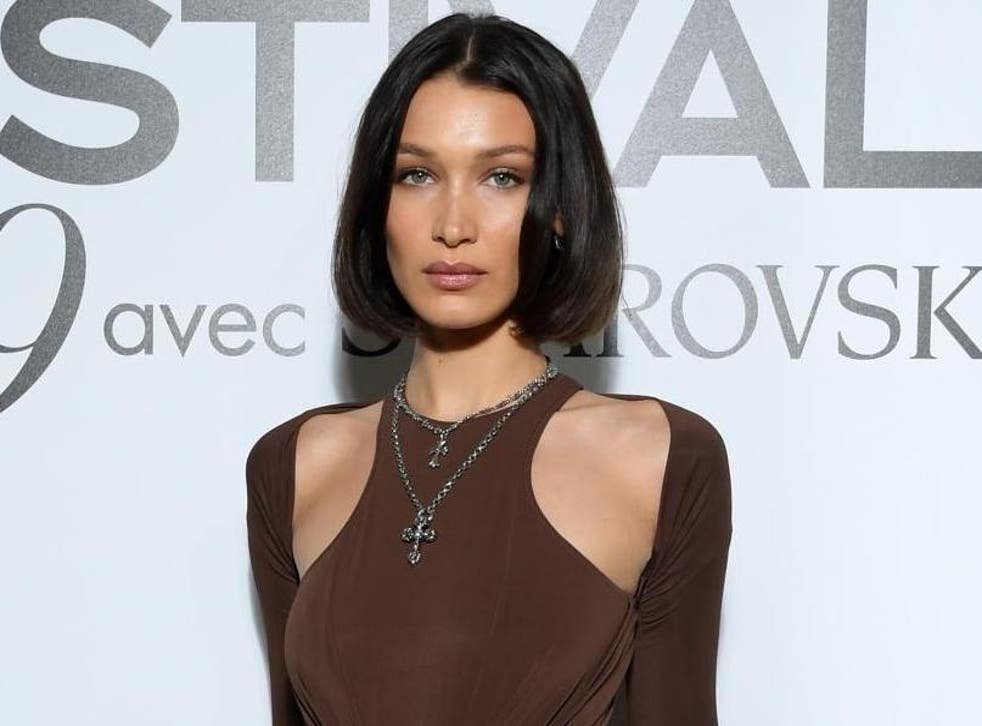 Bella Hadid says she used to feel guilty for suffering from depression despite having 'incredible life'
'I would cry every single morning'
Sarah Young
Saturday 16 November 2019 13:57 Comments
Bella Hadid has opened up about her own struggles with mental health and the pressures of being a fashion model.
On Friday the 23-year-old spoke at the Vogue Fashion Festival in Paris, where she discussed everything from the demands of working with high-profile photographers to her thoughts on the Victoria's Secret Fashion Show.
During the discussion, Hadid admitted that she struggled to deal with her own mental health in light of her professional success.
The model said there were times she would "cry every single morning" and that she often felt guilty for experiencing depression despite her "incredible life".
"For a while I just didn't want to talk about it, and I've gone through a lot in the past few years with my health," Hadid explained.
Sow Ay illustrations on mental health

Show all 18
"I feel guilty for being able to live this incredible life, have the opportunities that I do, but somehow still be depressed. It doesn't make sense."
She continued: "I would cry every single morning, I would cry during my lunch breaks, I would cry before I slept. I was very emotionally unstable for a while when I was working 14-hour days for four months straight as an 18-year-old.
"I think I just wanted to breathe a little bit. And so it kind of put me in a spiral."
The supermodel added that she felt it was important for her followers on social media to know that there is a light at the end of the tunnel.
"I just hope I can help in any way I can," Hadid said.
"I feel like I would be doing a disservice to myself if I didn't speak about something such as mental health, because that's pretty much what I've been going through for the past five years very intensely. Now we're here and we're good, but it took a while."
Hadid, who has modelled for the Victoria's Secret Fashion Show three times, also revealed that the first time she felt comfortable modelling lingerie was for Rihanna's Savage x Fenty show during New York Fashion Week in September, in which she walked alongside models of all ages, shapes and races.
Hadid, who was dressed in a bright yellow underwear set for the show, said: "Rihanna's amazing. For me, that was the first time on a runway that I felt really sexy.
"When I first did Fenty, I was doing other lingerie shows and I never felt powerful on a runway, like, in my underwear."
Last month, Hadid discussed how she copes with her mental health struggles in an Instagram post, as she thanked fans for their birthday wishes.
"I would like to add that everything you see online or through social media is not always what it seems," she wrote.
"The happiness we create online while being sad in real life makes no sense, but sometimes it just seems easier to live within your sadness rather than talk about it."
The model urged fans to take care of themselves and to not be afraid to reach out for help if they need it.
"When the world feels like it is collapsing around you, you are allowed to ask for help ... you do not have to deal w/ your mental state alone," she concluded.
If you have been affected by this article, you can contact the following organisations for support: mind.org.uk, beateatingdisorders.org.uk, nhs.uk/livewell/mentalhealth, mentalhealth.org.uk, samaritans.org.

Register for free to continue reading
Registration is a free and easy way to support our truly independent journalism
By registering, you will also enjoy limited access to Premium articles, exclusive newsletters, commenting, and virtual events with our leading journalists
Already have an account? sign in
Join our new commenting forum
Join thought-provoking conversations, follow other Independent readers and see their replies