Bring the cinema experience home with LG's range of soundbars
If you've recently upgraded your TV setup, a new soundbar can go a long way
Tuesday 26 September 2023 12:23 BST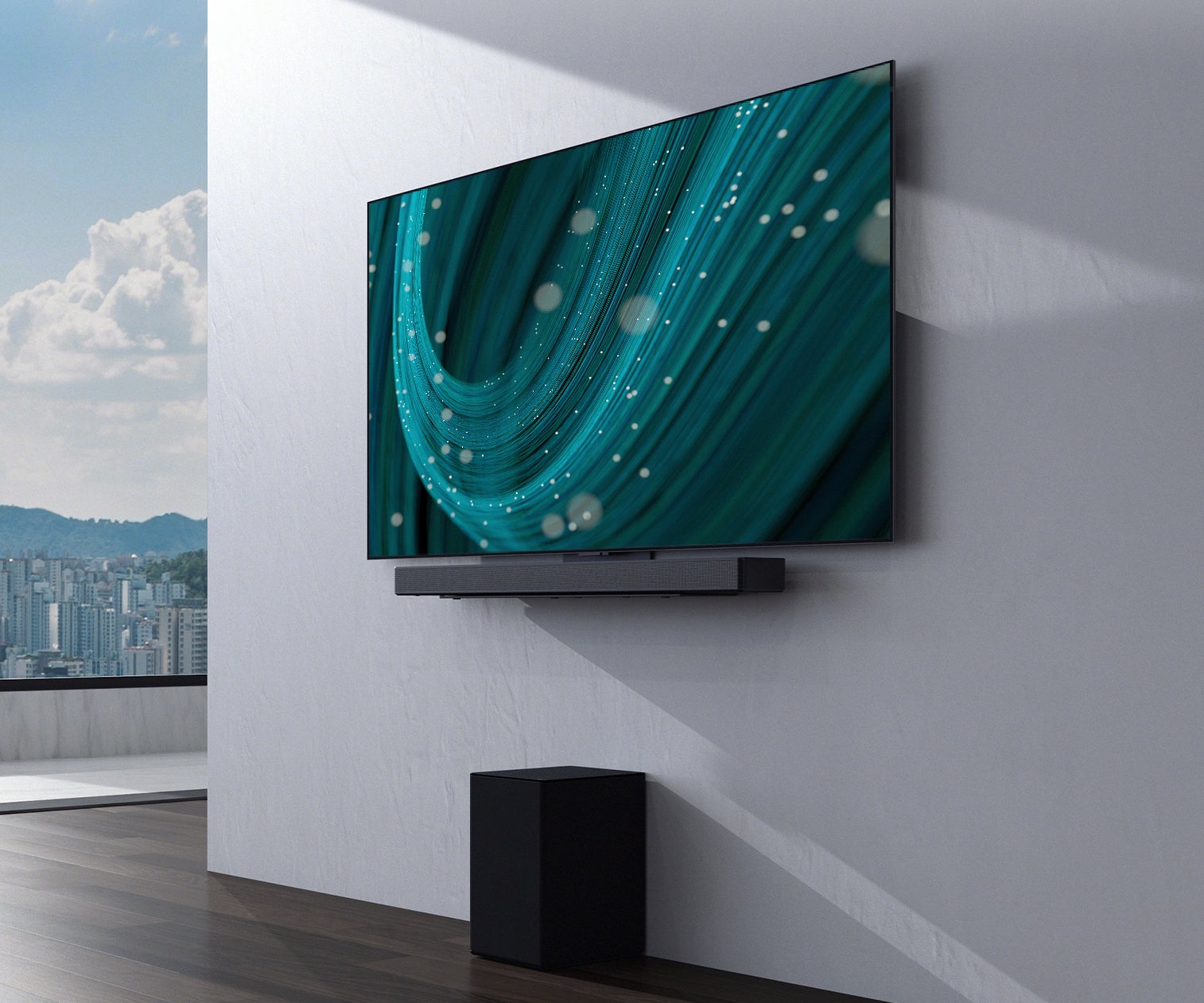 When looking to upgrade your living room's entertainment capabilities, finding the right display is always a good place to start. But what is often overlooked is an audio solution that can keep up with the action on screen.
That's why soundbars are a novel solution for those looking to meaningfully upgrade their home cinema while keeping things simple, streamlined and clutter-free.
Soundbars have come a long way in a cinematic offering and finding that ideal audio-visual pairing is now a very simple exercise.
LG's soundbars are not only designed to work in conjunction with apps, voice assistants and subscription services, but their range can also provide versatile audio for a wide range of viewing and listening habits – all neatly assembled in a sleek package.
To shop the latest deals on LG soundbars at Currys, keep reading below to find out more.
LG USE6S 3.0 all-in-one soundbar with Dolby Atmos: £499, Currys.co.uk
●      Connectivity: HDMI out (eARC), HDMI In (2.1), optical, USB, wi-fi, Bluetooth 5.0
●      Voice control: Google Assistant, Alexa
●      Dimensions: 6.3 x 80 x 13cm
●      Weight: 3.5kg
The LG USE6 soundbar is an excellent way to upgrade your existing TV audio to make those bone-rattling moments come home. With support of Dolby Atmos and DTS-X users can finetune their ideal spatial audio for more immersive surround sound – all without leaving their sofa.
With triple level spatial sound, the USE6S can also deliver a rich and accurate sound to create a virtual middle-layer in the audio for a big screen experience.
It's also user-friendly too with built-in Google and Alexa voice controls as well as its AI sound pro features which can analyse content and chooses the best settings for whatever is on the big screen.
The all-in-one design also means that it can deliver powerful sound without a subwoofer that can also easily be moved anywhere in your space, giving you freedom to watch and listen wherever is most convenient.
LG USC9S 3.1.3 wireless sound bar with Dolby Atmos: Was £999, now £799, Currys.co.uk
●      Connectivity: HDMI out (eARC), HDMI In (2.1), optical, USB, wi-fi, Bluetooth 5.0
●      Voice control: Google Assistant, Alexa
●      Dimensions: 63 x 975 x 125 mm (soundbar), 390 x 221 x 313 mm (subwoofer)
●      Weight: 4.1 kg (soundbar), 7.8kg (subwoofer)
The LG USC9S wireless soundbar features a 3.1.1 configuration, meaning that you can lose yourself in the picture with seven different channels of high-end audio. The subwoofer also packs a hefty punch in its audio capabilities all while providing a deep level of depth and clarity in the sound – whether that's that roar of a sports stadium or the gentle hum of an orchestra pit, each moment can be experienced how it was meant to be heard.
As well as Dolby Atmos and DTS:X, the USC9S is also compatible with IMAX enhanced, bringing theatre-like sound to the centre of your living room. With clear and realistic sound enveloping you from all sides, it can place you at the centre of your favourite films, TV shows, games and even albums. Its 'meridian sound technology' also means that you can binge your favourite boxsets with high-resolution audio to optimise your listening experience.