LIFESTYLE FEATURES
Can you trick or treat this year in Tier 3? All Halloween restrictions explained
With much of 2020 already cancelled, do we still have spooky season to look forward to? Sophie Gallagher looks at whether Halloween will go ahead on Saturday
Saturday 31 October 2020 09:29 Comments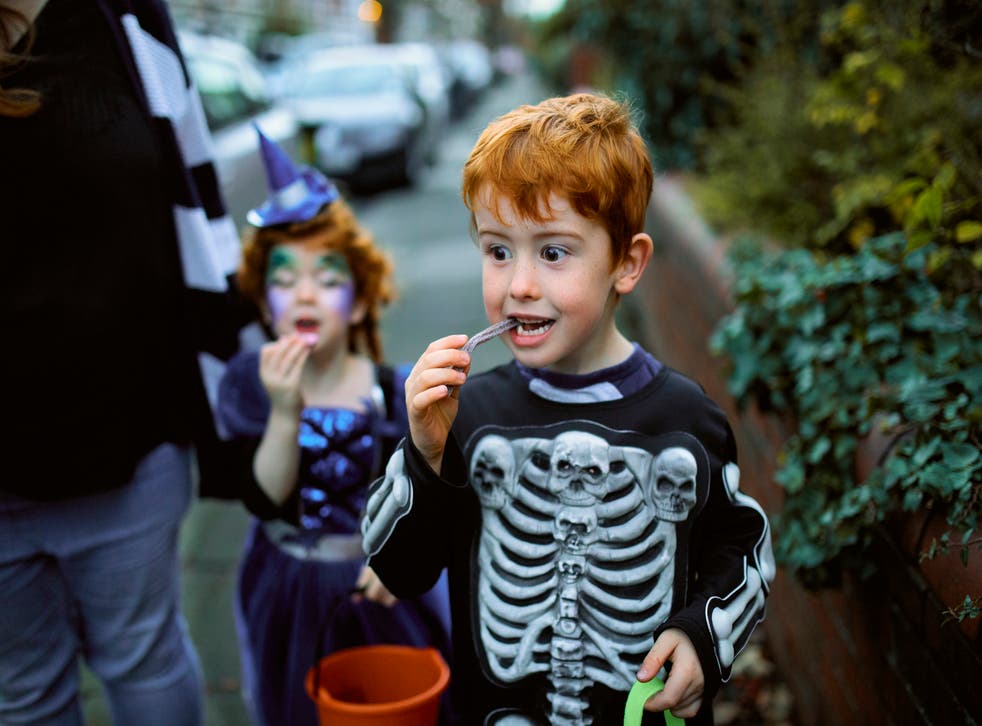 For weeks, Mumsnet has been flooded with concerned parents asking one question: can Halloween still go ahead in a pandemic? 
Politicians have found themselves presented with the same conundrum (Nicola Sturgeon said she wouldn't rule out banning trick or treating) and the Los Angeles County Department of Public Health has had to revise changes to its door-knocking guidance after backlash from parents.
The pandemic has already taken away much normality from our lives in 2020; the chance to see friends and family, the opportunity to travel abroad, or to execute long-awaited plans. Many annual observances, such as Easter, Eid and Rosh Hashanah had to be celebrated in lockdown (and Christmas might be next).
Now we are in the final quarter of the year and there are questions over whether the three-tier lockdown and increasing case numbers leaves any room for sentiment around holidays like Halloween on 31 October - or if should be cancelled altogether.
The much-celebrated annual calendar event does not have such significant religious or cultural associations as other holidays but Brits do celebrate en masse - spending £400m on it last year alone.
So should people be making plans or staying at home? Unlike other festivities it places a lot of emphasis on outside activities, but is it still risky to participate in something so widespread when Covid-19 hospital numbers are higher than they were in March?
What should we do for Halloween this year?
For those under short-term lockdown measures in Wales and Northern Ireland, the answer is clear, Halloween would not only require travel but also potential for household mixing, so best left alone.
And in Scotland deputy first minister John Swinney told parents that going trick or treating "brings an additional and avoidable risk of spreading the virus" and "families should avoid it".
England is subject to tiered lockdown restrictions that mean households in tiers 2 and 3 cannot mix indoors in either, or outdoors in tier 3. This impacts cities like Manchester, Liverpool and Nottingham (from Friday).
If you live in an area not subject to tier two or three regulations you will still need to ensure that anything you do abides by the rule of six (no more than six people), that you are wearing face masks, and that you observe social distancing at all times. To find out what rules apply in your area, visit the government website and put in your postcode. 
Professor Azeem Majeed, head of the department of primary care and public health at Imperial College London, tells The Independent that your number one focus on Halloween should be ensuring your plans fit the rules for your area. And if you do decide to venture beyond activities at home then remember that transmission risk is lower outside than inside.
"The risk of transmission of Covid-19 is substantially lower outdoors than indoors, and nearly all infections can be traced to contact with a case indoors," he says. "Therefore, avoid going into other people's houses."
Can we go trick or treating this year?
Downing Street confirmed on 2 October that for the 16.8 million people living in local lockdown areas, trick or treating was cancelled because households should not be mixing. Parents face fines of £200 for breaking the rules on a first-time offence. 
But if the local rules in your area permit you to trick or treat, then you might fancy taking your family out and a spokesperson for Number 10 said people should use common sense.
Linda Bauld, professor of public health at the University of Edinburgh, tells The Independent things should look a little different this year: "Trick or treating in the normal way should be avoided as it often involves larger groups of children and young people gathering and going inside other people's homes, even just onto a doorway or around a block of flats. Both of these should be avoided as they involve different households mixing.
"However, in areas where [household mixing] is permitted small groups (perhaps siblings and a parent, or two friends if older children) could still do this but should pre-arrange which houses they would visit and treats should be left outside or on a doorstep."
She adds that trick or treaters and those in the homes should wear face coverings (which could be inventively assembled as part of a Halloween costume). Dr Bauld recommends bringing a spare face covering in case one gets wet in the rain or damaged during the night.
Dr Majeed agrees there are several ways you can make things safer: "Pre-specify which houses you will be visiting. Avoid houses where there are vulnerable adults and there should be no cold-calling. Do not go indoors." Between houses you should use hand sanitiser in lieu of being able to wash your hands, says Dr Majeed.
What should we not do for Halloween this year?
If you are at home on Halloween, avoid answering the door to people who "cold-call" as you have no idea about who they are or what infection risk they pose to you, Dr Majeed warns.
In terms of accepting sweets or treats, Dr Majeed recommends only taking pre-packaged items as you can give them a wipe before eating them to reduce the risk of cross-contamination through handling. And do not share a bucket of sweets with people from other households or take part in activities like apple bobbing.
Dr Bauld says: "If exchanging sweets, aim for those with wrappings or in small treat bags, and wash hands before and after handling sweets (or use hand sanitiser). The risk from contact with wrappings is very small but good hand hygiene will still be important."
If you don't fancy walking around in the October weather, Dr Majeed says you should resist the temptation to have an indoor party. "[They] are not a good idea. They would breach the rules on how many people can gather in one setting and the risk of infection is much higher in crowded, indoor spaces with poor ventilation."
Ultimately Dr Bauld says the least risky activities are those in "our own homes with household members". This could include games, music, baking, pumpkin carving. Parents and caregivers could also try taking children on a Halloween walk, visiting a local park or following a 'spooky trail' outside.
And don't go trick or treating or leave the house for any Halloween activity if you or anyone in your household has symptoms of Covid-19, or if you have a vulnerable person in your household. Instead, why not try a virtual trick or treating using video conferencing software or pumpkin carving with friends and family on Zoom?
Register for free to continue reading
Registration is a free and easy way to support our truly independent journalism
By registering, you will also enjoy limited access to Premium articles, exclusive newsletters, commenting, and virtual events with our leading journalists
Already have an account? sign in
Register for free to continue reading
Registration is a free and easy way to support our truly independent journalism
By registering, you will also enjoy limited access to Premium articles, exclusive newsletters, commenting, and virtual events with our leading journalists
Already have an account? sign in
Join our new commenting forum
Join thought-provoking conversations, follow other Independent readers and see their replies