Instagram criticised for censoring Celeste Barber's nude parody photo but not Victoria's Secret original
'It's 2020. Catch up,' says comedian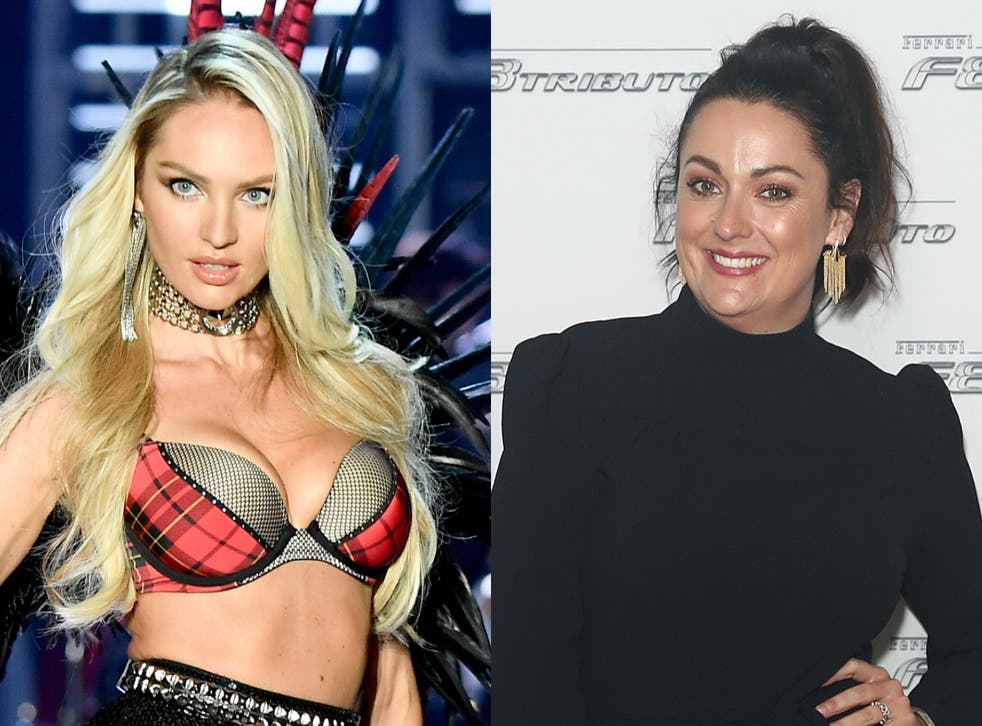 Instagram has apologised to comedian Celeste Barber after it flagged one of her parody posts of a supermodel as a violation of its community guidelines, while the original remained overlooked.
Barber has built a huge following on social media – she has 7.3m followers on Instagram alone – for her long-running photo series called #CelesteChallengeAccepted, which sees her post side-by-side images of herself recreating poses by celebrities and models.
However, her latest parody was met with some disapproval from Instagram.
On Friday, the Australian comedian shared a photo that recreated a posed shot from Victoria's Secret model Candice Swanepoel.
The image showed both women clutching one of their bare breasts and exposing their stomach and thighs.
But, despite the fact that the two photos showed the same parts of the body – with Barber even adding nude string bikini bottoms – Instagram prevented social media users from sharing the post, notifying them that it went "against our community guidelines on nudity or sexual activity".
Meanwhile, Swanepoel's post went unreported.
Barber was quick to criticise the app for its double standards, saying on Instagram stories: "Hey Instagram, sort out your body-shaming standards, guys. It's 2020. Catch up."
After being inundated by similar posts from her fans, Barber confirmed that Instagram had contacted her to apologise.
"Alright, a lot has happened," she said on her Instagram story.
"Instagram emailed me an apology, bless, saying it was an error and that they are working to fix it. They also said that even the people that tried to share my post, will be able to.
"They also said that they are going to review the breast-covering policy."
In a statement, Philip Chua, Instagram's head of public policy in Australia, added: "We have apologised directly to Celeste for this mistake.
"This shouldn't be happening and we are committed to addressing any inequality on our platforms. We expect to update our breast covering policies very soon, to make sure all body types are treated fairly."
This is not the first time that Instagram has been criticised for favouring images of thin, white, cisgendered people.
In June, black plus-size influencer Nyome Nicholas-Williams, who goes by @CurvyNyome on the platform, shared a topless picture of herself sitting on a chair, wearing cycling shorts and covering her breasts.
The image, taken by photographer Alex Cameron, was taken down for supposedly violating nudity guidelines, and Nicholas-Williams was warned her social media account could be suspended if the image was reposted.
On 4 August, Nicholas-Williams wrote on her Instagram: "Why is my body always being censored?! It's always Black women with bigger bodies and I am tired, I am out here sharing my art and trying to normalise ALL body types and I keep getting shut down at every turn but don't worry I'll keep doing my thing though."
Following repeated calls by Nicholas-Williams for them to be reinstated – a petition was started calling on Instagram to "stop censoring fat black women".
Nicholas-Williams later stated that Instagram had apologised for taking the image down and that it had started reviewing how it assesses semi-naked photos.
The Independent has contacted Instagram for comment.
Register for free to continue reading
Registration is a free and easy way to support our truly independent journalism
By registering, you will also enjoy limited access to Premium articles, exclusive newsletters, commenting, and virtual events with our leading journalists
Already have an account? sign in
Register for free to continue reading
Registration is a free and easy way to support our truly independent journalism
By registering, you will also enjoy limited access to Premium articles, exclusive newsletters, commenting, and virtual events with our leading journalists
Already have an account? sign in
Join our new commenting forum
Join thought-provoking conversations, follow other Independent readers and see their replies