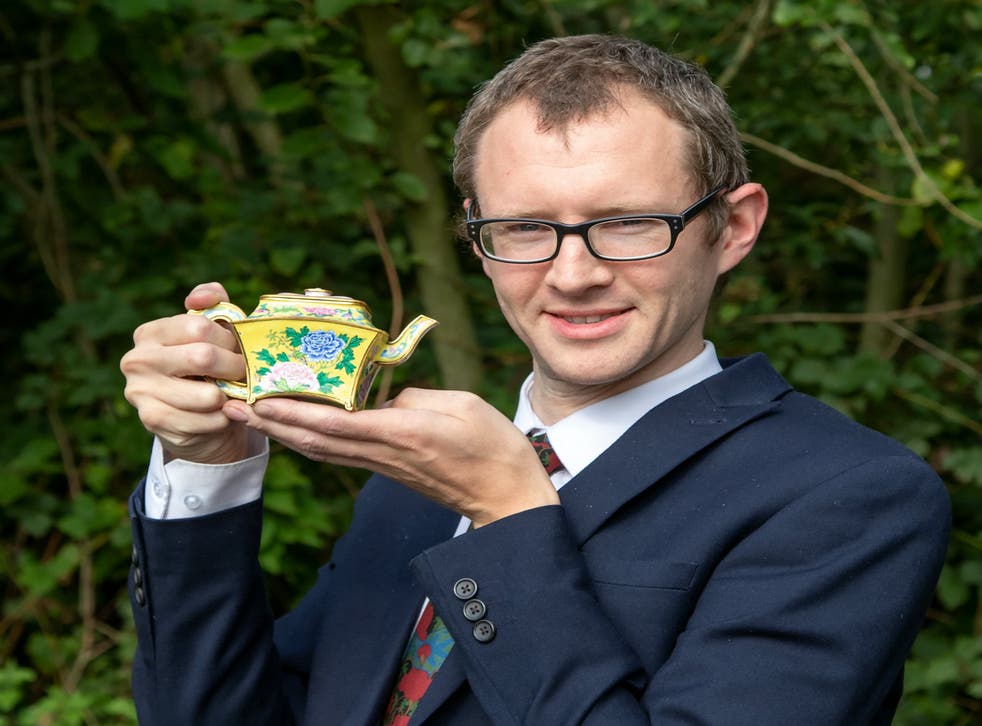 Tiny 'teapot' found in garage during lockdown clear out sells for £390k
It was only estimated to be worth £100,000 by the auction expert
A tiny teapot that spent decades in a garage gathering dust has sold for £390,000 at auction after a man unearthed it during a lockdown clearout.
The Chinese-enamelled wine ewer had been destined for a charity shop after being left in a garage and then an attic for years.
But on the off-chance it might be worth something, its 51-year-old owner decided to try his luck and show it to an auction expert.
The expert revealed the 15-cm tall pot was in fact a rare imperial antique dating back to the Qianlong period between 1735 and 1799 and could fetch around £100,000 under the hammer.
But when it went on sale on Thursday at Hanson Auctioneers it smashed its original target and reached a huge £390,000.
The seller, who watched the auction live at home with his brother and family, said: "I'm thrilled. This will change a few things for us all. It's come at a really good time.
"I got a few cans of Guinness in beforehand. We'll be going for a drink tonight and toasting grandad."
The teapot had been in the family since the seller's childhood and, at one stage, was kept in a cabinet in the house before being left in an outbuilding.
The family believes it was brought back to England by their grandfather who was stationed in Asia during the Second World War and was awarded a Burma Star.
"Mum passed away 17 years ago, then dad nine years ago and the teapot ended up in a loft in Newhall," said the seller.
"Later it was boxed up and moved to a relative's garage in Church Gresley. We'd been thinking of sending everything to a charity shop."
Fortunately the family decided to investigate beforehand and speak to the auction house.
Auctioneer Charles Hanson said: "It has to be the best lockdown find ever. Ewers and teapots of this type were fashionable at court during the period of Emperor Qianlong.
"He was fascinated by European enamel and the new method of enamel painting and the style was replicated in his imperial workshops.
"During Emperor Qianlong's reign this art form reached heady heights of perfection, with designs reflecting the emperor's extravagant taste."
Join our new commenting forum
Join thought-provoking conversations, follow other Independent readers and see their replies