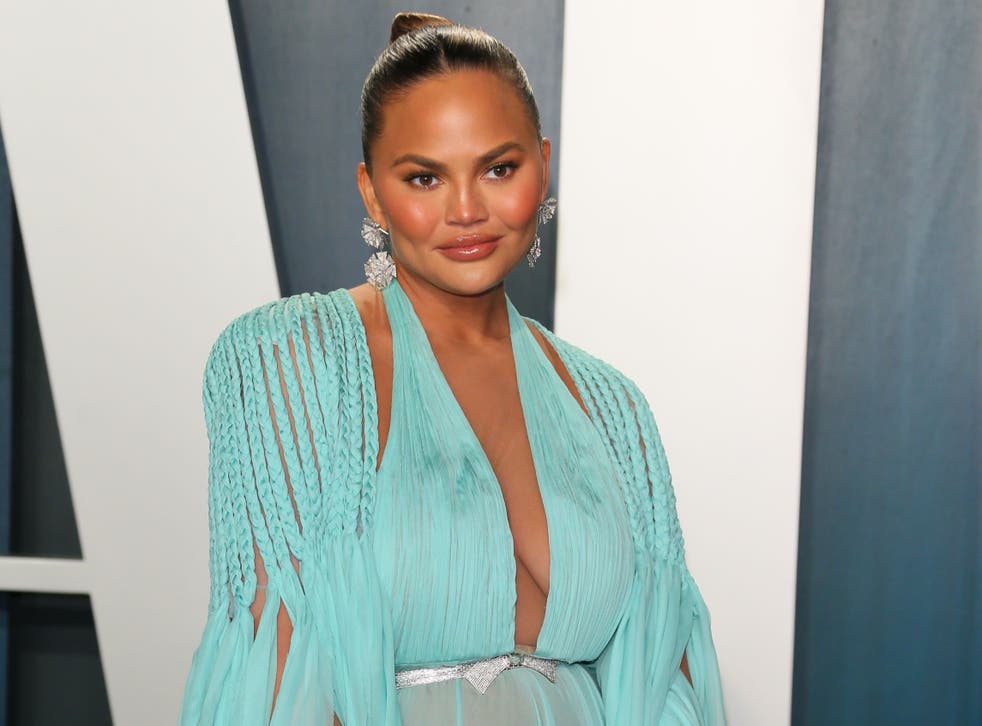 Chrissy Teigen says she is struggling to come to terms with never being pregnant again: 'Still really difficult'
Cookbook author says: 'I just think of it in terms of how blessed I am already'
Leer en Español
Chrissy Teigen has opened up about struggling to come to terms with the understanding that she will never get pregnant again after she and husband John Legend lost their son Jack during pregnancy.
The cookbook author, who is featured on the cover of People's Beautiful Issue, spoke candidly about parenthood and the loss of the couple's third child in an interview with the outlet.
"Coming to terms with not being able to carry again is still really difficult for me because I feel so healthy. I'm like, why?" Teigen said. "But then I think about it as my uterus is just not cooperating with me - and it's not a failure."
Teigen, who shares children Luna, four, and Miles, two, with Legend, shared that she had suffered a pregnancy loss in September 2020, before revealing in December that she'll "never" get pregnant again.
However, the Cravings author acknowledged that she is "lucky" that she and Legend were able to have their two children before expressing her gratitude that there are other ways of growing their family, such as through adoption or surrogacy.
Read more:
"I'm so lucky for that," she said of being able to give birth to her son and daughter, who were born via IVF. "I just think of it in terms of how blessed I am already, and also there are so many ways to have a child nowadays ... whether it's surrogacy or adoption."
In addition to considering the choices to grow her own family, Teigen said she also wants to make the options, which are typically expensive, more accessible to others who are in similar situations.
"For me what's really important is being able to make sure that everybody has access to those ways and making sure that people are able to make their dreams come true. It would just be a beautiful thing," she said. "It's so incredibly expensive to freeze your eggs and to harvest them. IVF isn't an option for a lot of people and it needs to be.
"It shouldn't be such an expensive endeavour for a woman trying to conceive a child."
Since losing Jack at 20 weeks of pregnancy, Teigen has frequently spoken of her ongoing grief over the loss of the couple's third child, with the 35-year-old revealing in an essay written in October 2020 that she was told an"experience like this creates a hole in your heart".
"A hole was certainly made, but it was filled with the love of something I loved so much. It doesn't feel empty, this space. It feels full," she wrote at the time, adding that "Jack will always be loved, explained to our kids as existing in the wind and trees and the butterflies they see."
In an Instagram post about her People interview, Teigen also expressed her gratitude towards Legend for "being the rock of our tribe".
Reflecting on the difficult year for "us all" but also for her "little family," Teigen said: "I am so appreciative of the people who helped us get through it all. And @johnlegend for being the rock of our tribe. I mean I'm the heart and the fun and quite frankly the brains but you are the rock.
"I love you and the babies toooooo much."
Join our new commenting forum
Join thought-provoking conversations, follow other Independent readers and see their replies