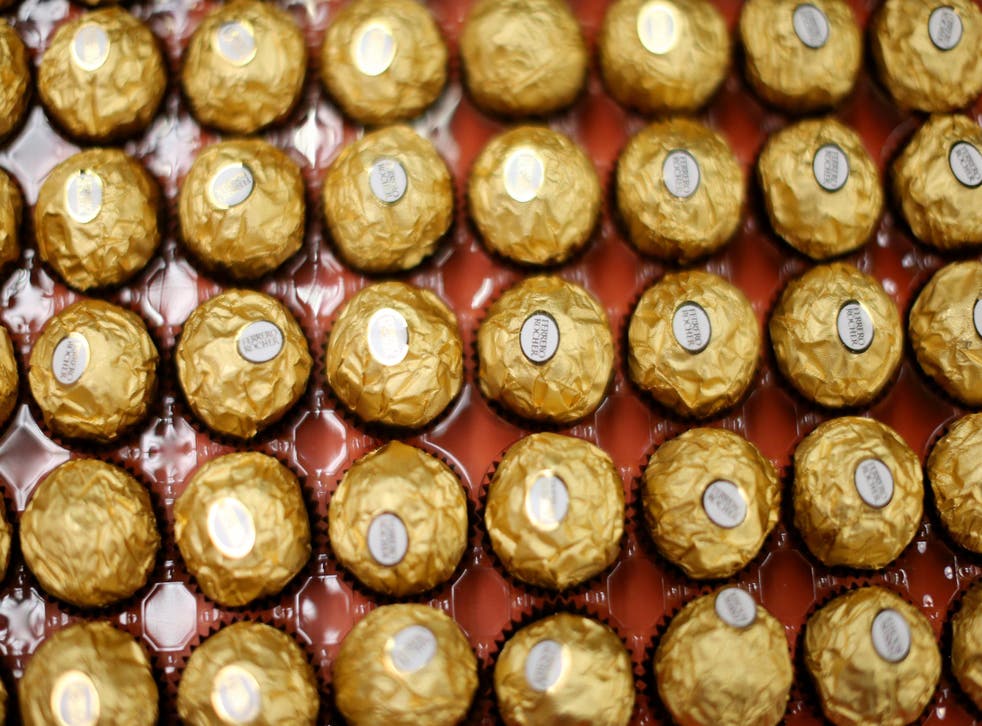 Ferrero Rocher named as Christmas chocolate with least recyclable wrapping
The hazelnut chocolate's signature gold wrapping is also particularly weighty
Sabrina Barr
Wednesday 12 December 2018 12:45 Comments
When gorging on mounds of festive chocolate in the lead up to Christmas, how much time do you spare thinking about recycling the plethora of plastic wrappers littering your home?
With the world becoming far more environmentally conscious as of late, the recyclability of food packaging has become a hot topic of conversation.
While many may be making stronger efforts to put their food wrappers in the designated recycling bin, a recent survey has uncovered which of the UK's most popular chocolates are actually capable of being recycled.
Out of 13 of the UK's best-selling chocolates, Ferrero Rocher was found to have the least recyclable packing of them all.
An investigation conducted by Which? found that only 11 per cent of the hazelnut confectionery's packaging can be recycled.
This percentage is far lower than the wrapping of the next chocolate on the list, the Marks & Spencer The Big One Selection, which is 71.4 per cent recyclable.
The most environmentally friendly chocolate packaging comes in the form of the Waitrose Christmas Chocolate Favourites, which is only 3.7 per cent short of being completely recyclable.
In addition to the percentage of chocolate packaging that could be recycled, the research also assessed how much of each chocolate's weight can be attributed to the packaging.
More than 40 per cent of a Ferrero Rocher's 642g weight comes down to its heavy, signature gold wrapping.
In contrast, the packaging for the Lindt Lindor Assorted Mix only takes up 11.5 per cent of its entire weight.
When conducting the research, Which? also questioned consumers over how knowledgeable they feel they are regards to recycling their Christmas chocolate wrappers.
According to the findings, almost half of people assume that the green dot that's often found on packaging indicates that it's recyclable.
However, the green dot actually signifies the fact that a manufacturer is part of a recycling scheme, and so doesn't necessarily mean that the product can be recycled.
Nikki Stopford, director of research and publishing at Which?, has spoken about the need for more people to take better care when discarding chocolate wrappers.
"For many of us the indulgent look of these festive chocolate boxes is synonymous with the Christmas season," she said.
"We are more aware than ever of the impact that we're having on the world around us - so we want our research to help people to make the right choices for them and to understand how to dispose of packaging in the most eco-friendly manner."
Support free-thinking journalism and attend Independent events
Here's the full list of the chocolate wrappers assessed by Which?, in order from least to most recyclable:
Ferrero Rocher Collection
Marks & Spencer The Big One Selection
Morrisons Mega Mix
Nestle Quality Street
Thorntons Continental Selection
Chocolate Treats by Sainsbury's
Mars Malteser Teasers
Cadbury's Heroes
Cadbury's Roses
Mars Celebrations
Lindt Lindor Assorted Mix
Cadbury's Milk Tray
Waitrose Christmas Chocolate Favourites
On Monday 10 December, Walkers Crisps officially launched a recycling scheme, which customers can use to have their crisp packets recycled.
People can either drop off their crisp packets at collection points that are situated across the UK, or have them picked up by a free courier service.
The crisp packets are then deposited at TerraCycle, where they're then used to manufacture other plastic products.
Register for free to continue reading
Registration is a free and easy way to support our truly independent journalism
By registering, you will also enjoy limited access to Premium articles, exclusive newsletters, commenting, and virtual events with our leading journalists
Already have an account? sign in
Join our new commenting forum
Join thought-provoking conversations, follow other Independent readers and see their replies