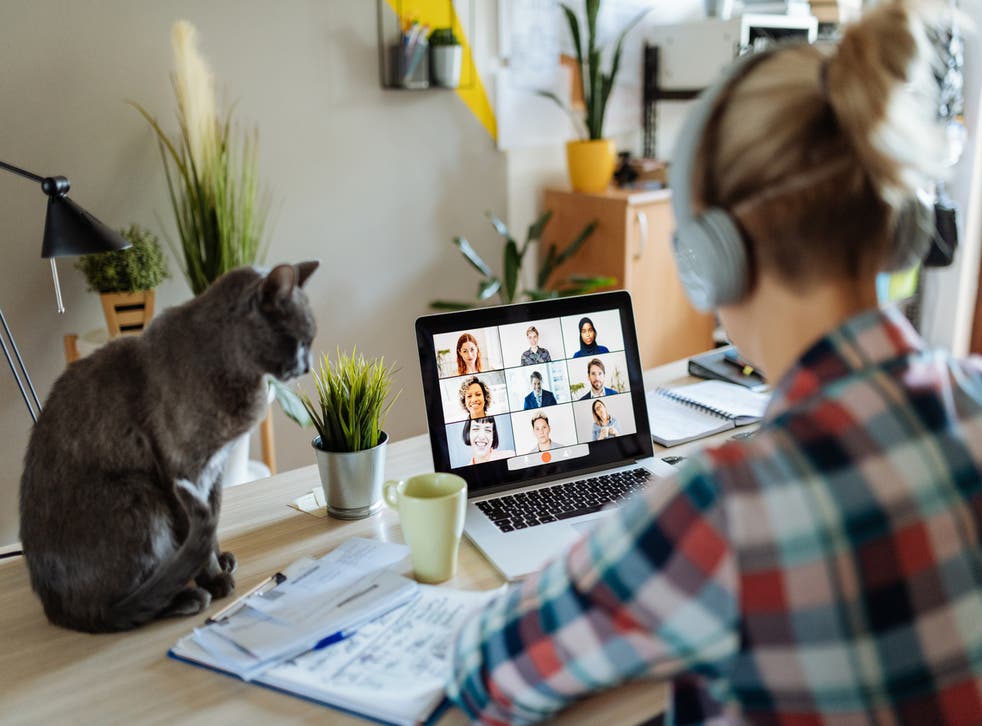 Is the five-day commute over? New data suggests people only want to work in the office 'two days a week'
A 'a step change' in working habits post-pandemic is predicted even once lockdown lifts
Jade Bremner
Tuesday 23 March 2021 15:16 Comments
Full-time work as we once knew it could look very different post-pandemic suggest experts and new data. A recent Deloitte poll shows that many of us would prefer to spilt our working time between the office and home.
Research conducted with 800 people from a range of backgrounds, found that those who can work from home would choose to continue to do so when restrictions ease, choosing to travel to an office only a couple of days of the week.
"On average they've said they'd like to work in the office two days a week," said Ian Stewart, chief economist for Deloitte on the people surveyed.
Speaking to the Treasury select committee, he said "very few people want to work entirely at home or entirely in the office. I think it's going to be a step change."
Rain Newton-Smith, chief economist for the Confederation of British Industry (CBI), explained that her members are expecting offices to be at around 70 per cent capacity post-pandemic.
CBI's survey, with 573 businesses, published in November, saw a major shift in attitudes towards home-working.
The research showed that in 2019, more than three-quarters of respondents (79 per cent) were working in an office or workplace away from home, into 2021 the businesses expected that figure to drop to around a quarter (28 per cent), with half splitting their time between the office and home working (47 per cent).
Experts also predict that flexible working could help widen the talent pool as geographical location become less important. 
"As remote work has become much more widely adopted, businesses have the opportunity to open up their talent pool to professionals who aren't close to an office location. For employers who are struggling to find the skills they need, this is particularly advantageous to help support talent attraction," said Mark Staniland, regional managing director at Hays.
Chinese company Ctrip has previously found productivity increased by an average of 13 per cent with its pre-pandemic home working scheme.
"Remote working has brought huge benefits. It has not led to a collapse in productivity," agreed a CBI spokesperson. "Often lost travel time has disappeared, together with the stress and carbon emissions of the morning commute. Many local communities have been rediscovered."
Meggie Palmer, founder of the PepTalkHer app, which works with Fortune 500 companies to help them recruit, retain and promote female talent, has seen staff increasingly demand flexibility.
"They want to choose life, rather than being a slave to their desk - and rightly so!" she said. Palmer claims some employers have already declared the 9-5 workday "dead". She's seen many adopt three tiers of employees: fully remote, office-based and a hybrid model.
It's clear the pandemic has pressured businesses to consider more permanent hybrid home working options. "Working from home will be very much a part of our post-Covid economy," stated Stanford Economics Nicholas Bloom in a 2020 report, "the sooner policymakers and business leaders think of the implications of a home-based workforce, the better our firms and communities will be positioned when the pandemic subsides." 
But there are concerns with the new changes to consider, what Bloom calls an inequality "time bomb" waiting to go off, as some employees do not have suitable home environments to work in, and many people don't have the technological capabilities.
There are also challenges for junior staff when working from home. The ability to lead, manage, and train staff has been diminished, CBI's data reveals. "Specifically, the ability of junior staff to learn from listening and observing senior colleagues is more challenging," CBI said in a statement.
Register for free to continue reading
Registration is a free and easy way to support our truly independent journalism
By registering, you will also enjoy limited access to Premium articles, exclusive newsletters, commenting, and virtual events with our leading journalists
Already have an account? sign in
Join our new commenting forum
Join thought-provoking conversations, follow other Independent readers and see their replies