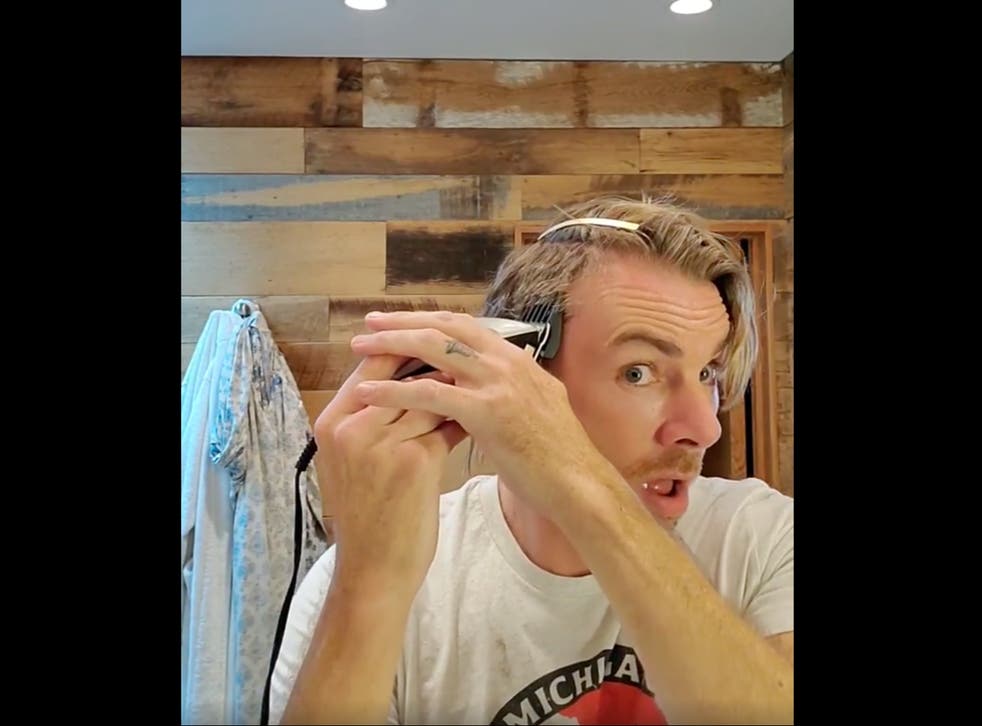 Dax Shepard shaves head to 'twin' with his daughter
'I want to match her,' says actor
Olivia Petter
Saturday 19 September 2020 13:39 Comments
Leer en Español
Dax Shepard has shaved the side of his head so that he can "match" his daughter's hairstyle.
Sharing a clip to Instagram TV on Friday, the 45-year-old actor shaved his head while Sara Bareilles' song, "Armour", played in the background.
Shepard hummed along with the song while he shaved the right side of his hair off.
It's not entirely clear why Shepard's daughter currently has half of her hair shaved off, nor did the actor specify which of his two daughters he wanted to match with.
His caption simply read: "Thank you @sarabareilles forgiving my daughters an anthem.
"She requested a specific haircut a few days ago, and now I want to match her :)"
 Shepard has two daughters with his wife, the actor Kristen Bell: Delta, five, and Lincoln, seven.
"I love this man so much," commented Bell, 40 as she shared Shepard's video on her own Instagram account. "He wanted to twin with our daughter," she added.
Bareilles also commented on the video, writing "This is the best best best.
"Thank you for being a kick ass dad for strong young women! #handmemyhaircut."
Shepard's video comes just a few weeks after. he revealed he had to undergo surgery after suffering multiple broken bones in a motorcycle accident.
In August, the 45-year-old discussed the crash and his resulting injuries, which included broken ribs and a broken clavicle.
According to the actor, the crash occurred while he was driving his motorcycle in Sonoma, California.
"I was passing six guys at Sonoma Raceway on a motorcycle and I was braking very, very hard – hard enough that the back wheel was off the ground for a good hundred yards and then someone turned in, as they have the right to," he said on his podcast "Armchair Expert", adding that he was "totally at blame".
Register for free to continue reading
Registration is a free and easy way to support our truly independent journalism
By registering, you will also enjoy limited access to Premium articles, exclusive newsletters, commenting, and virtual events with our leading journalists
Already have an account? sign in
Join our new commenting forum
Join thought-provoking conversations, follow other Independent readers and see their replies