Demi Lovato says ending engagement was 'huge sign' in recognising sexuality: 'Realising how queer I really am'
Singer says she likes being intimate with women 'a lot more'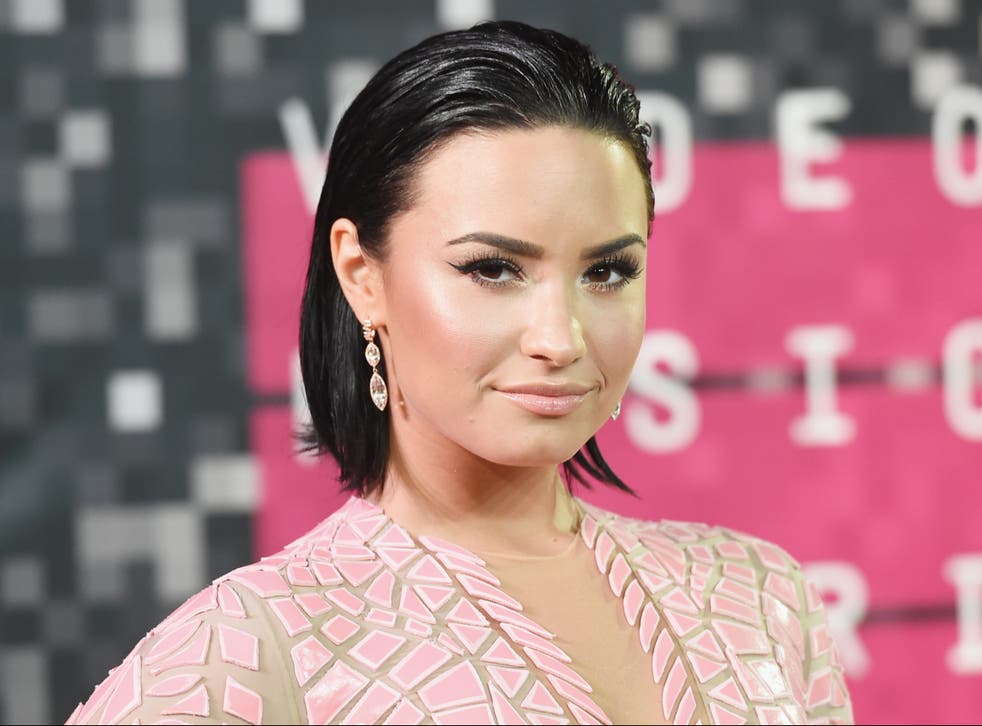 Demi Lovato has opened up about her sexuality and how her recent experiences, including the end of her engagement, helped her realise "how queer [she] really [is]".
The 28-year-old reflected on her journey towards recognising and embracing her sexuality in a new interview as the cover star of Glamour's March issue.
According to Lovato, she realised how "queer" she is as she started getting older, and after she called off her engagement to Max Ehrich in September after just two months, with the singer telling the outlet: "When I started getting older, I started realising how queer I really am.
"This past year, I was engaged to a man and when it didn't work, I was like: 'This is a huge sign.'"
"I thought I was going to spend my life with someone. Now that I wasn't going to, I felt this sense of relief that I could live my truth," Lovato continued.
Read more: Demi Lovato reveals she has brain damage from 2018 overdose
According to Lovato, while she knows "who I am and what I am," she is still waiting for the right time to "come out to the world as what I am," with the singer explaining that she is using this time to self-reflect and educate herself on her journey.
However, as of right now, Lovato said she feels "too queer" to be with a cisgender man, and that she has found she likes being intimate with women "a lot more".
The Sorry Not Sorry singer also spoke candidly of what "feels right," reflecting on her past relationships with men and the "visceral reactions" she experienced "when it would come time to be sexual or intimate".
"Some of the guys I was hanging out with - when it would come time to be sexual or intimate, I would have this kind of visceral reaction. Like: 'I just don't want to put my mouth there.' It wasn't even based on the person it was with. I just found myself really appreciating the friendships of those people more than the romance, and I didn't want the romance from anybody of the opposite sex," Lovato said.
This is not the first time the singer has spoken candidly about her sexuality. In January 2020, Lovato reflected on coming out to her parents as "sexually fluid" during an interview with Andy Cohen on the Radio Andy SiriusXM show, where she revealed that she informed her parents that she could see herself ending up with a woman in 2017.
According to Lovato, the moment was both "emotional" and "beautiful," with the 28-year-old telling Cohen: "It was actually emotional, but really beautiful. After everything was done, I was like shaking and crying. I just felt overwhelmed. I have such incredible parents. They were so supportive."
As for whether she is ready to date again following her separation from Ehrich, which saw her deny her "intuition of all the red flags that had popped up," Lovato told Glamour that her heart is "pretty open".
Register for free to continue reading
Registration is a free and easy way to support our truly independent journalism
By registering, you will also enjoy limited access to Premium articles, exclusive newsletters, commenting, and virtual events with our leading journalists
Already have an account? sign in
Register for free to continue reading
Registration is a free and easy way to support our truly independent journalism
By registering, you will also enjoy limited access to Premium articles, exclusive newsletters, commenting, and virtual events with our leading journalists
Already have an account? sign in
Join our new commenting forum
Join thought-provoking conversations, follow other Independent readers and see their replies