The Independent's journalism is supported by our readers. When you purchase through links on our site, we may earn commission.
Lunch hour lifts: quick home updates for a happy afternoon
What do you do in your lunch hour? Some have been taking the time for a quick home update session, painting or wallpapering to enjoy later on, writes Anya Cooklin-Lofting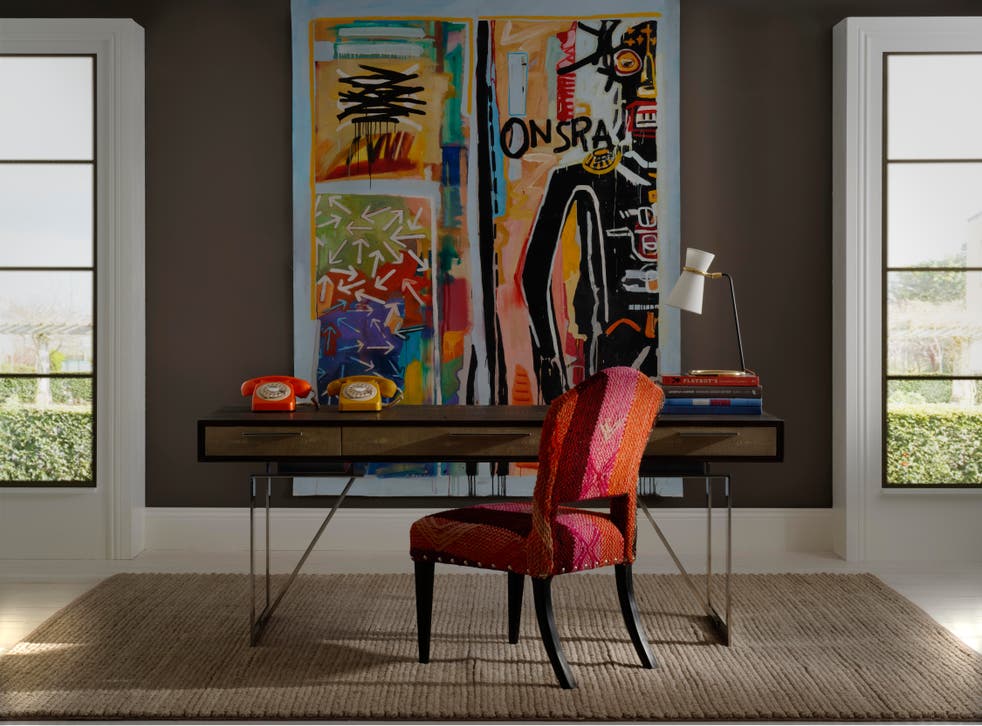 What does your lunch hour mean to you? Is it a walk around the block, a quick home workout or a bite to eat with a family-member-cum-colleague? Perhaps it's more of a lunch minute, back to the grindstone, still chewing. Maybe, though, it involves making some quick home updates to set you up for a productive, happy afternoon. Working from home has shifted our focus so considerably to the kind of productive environments our homes are able to provide, how they should make us feel, and how they can be improved to better serve our many needs. It turns out, there exists ample time during our lunch breaks to make impactful domestic improvements while we carry on at makeshift desks, kitchen islands and dining tables.
According to a recent study by paint and wallpaper company, Graham & Brown, more than a quarter of Brits working from home have owned up to a lunchtime painting or wallpapering session. According to the study, 38 per cent of these sleuth decorators have used their noon downtime to paint the bedroom, while 35 per cent have given furniture a fresh feel with a lick of paint. Not only is lunchtime decorating a matter of could – it's a matter of should. Graham & Brown also revealed that over half of those surveyed agreed that decorating their home cheered them up in 2020, helping to relieve anxiety and improve sleep.
Read More:
Painting, it seems, is the easiest, most popular, and most impactful way to make quick changes around the home to create new visual points of emphasis and dramatically change the dynamic of a space. "Never make the mistake of thinking your home is finished," says Martin Waller, the Founder of homewares company, Andrew Martin, which has recently launched a line of quick-drying, high-performance paints. He adds, "[your home] evolves as life unfolds." For Waller, paint serves the purpose of transforming a room quickly, and most importantly, easily, and in line with your ever-developing tastes and whims. "You're likely to be horrified," he continues, on the subject of painterly lunch break endeavours. "People find it difficult to cope with change. Leave it for a week and your feelings will alter. I suspect you won't hate it and if you do, repainting isn't that difficult. If you are still hesitant, start your transformation in a cloakroom or small bedroom, since richer colours work well in such spaces, despite the accepted wisdom that white paint makes a room seem larger."
Beyond painting a wall, industry experts have begun to think about new, interesting ways for work-from-homers to add colour and lift the mood, beginning with cloakrooms, utility rooms, and even the insides of cupboards. Will Thompson, the head of product marketing at paint company, Valspar, says, "Painting the inside of cupboards, wardrobes or drawers is a leading trend for 2021 that will raise your interior game to a whole new level in no time at all. Adding a bright colour pop to the interiors of drawers and cupboards adds vibrancy without committing you to too much colour or too much time before you're ready. If you're looking for a subtle yet stylish way to reinvigorate your everyday routine with a surprise pop of colour in surprising, unexpected places."
Helen Shaw, the UK director of Benjamin Moore, another paint company, agrees, tasking aesthetically unsatisfied homeowners and daring renters (with kindly landlords) to paint the tiles in their kitchens and bathrooms. She says, "painting tiles is an effective and low-cost solution to updating old tiles without needing to go through the process of removing and replacing old ones. Firstly, prep your tiles with an adhesion primer such as the Benjamin Moore Stix primer to help the application process, and then choose your colour of choice in an Eggshell or Satin finish, which are easy to maintain and clean, and are oil and stain-resistant."
Annie Sloan, the founder of her eponymous paint company renowned for its Chalk Paint, is a true pioneer of painting smaller items around the home for an instant lift. She says, "the best way to add excitement to any interior is to paint small pieces and layer throughout the room. Be intuitive and experimental. Using an abundance of brightly coloured hues can create a real sense of joy. Paint vases, bowls, lamp bases, even lampshades, in the colours and styles you'd never dared before."
Read More:
As I write this, lunchtime is on the horizon and there is a very tired-looking, dark brown, cane bookshelf against the wall on the far side of my living room that would look much better a deep scarlet. Anything to get out of another stroll around the block. Now, where did I put those paintbrushes...
Join our new commenting forum
Join thought-provoking conversations, follow other Independent readers and see their replies