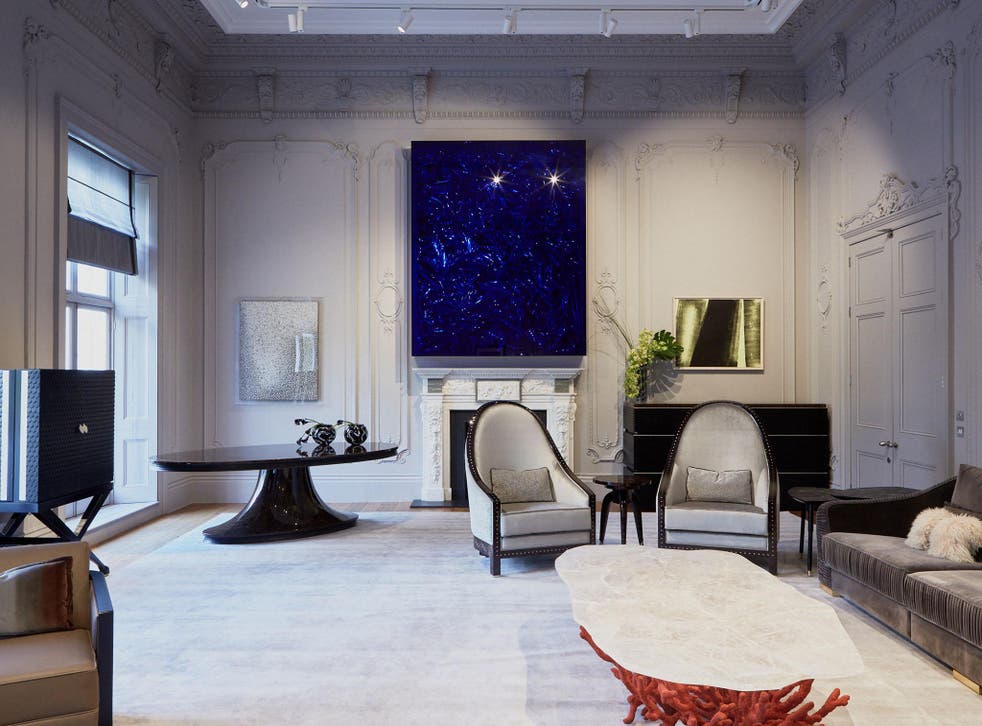 What does the modern collector look for?
The 21st-century design hunter is a younger and far more discerning beast, seeking exclusive pieces
Anya Cooklin-Lofting
Friday 15 March 2019 20:28 Comments
Beyond art and jewellery, the modern day collectable is far-removed from the market for Baroque console tables or Georgian grandfather clocks. A younger demographic of affluent buyers is looking to brands that focus on quality over quantity, create limited edition pieces and provide exclusivity.
The perfect item for the 21st-century collector will contribute to one's projected aesthetic vision. The object could be a limited edition item from a specific brand or designer – or a piece of statement-making furniture that elevates an interior scheme, ensuring its success on social media. This is a truth of the modern age: rarer pieces that demonstrate a certain style within a design subculture will undoubtedly be shared.
This week, I speak to three key players in the luxury collectables market about what their brands have to offer, from furniture to fun accessories.
Alexandra Llewellyn has been creating handcrafted, luxury board games and bespoke furniture since 2010 for a global clientele. I met Llewellyn herself in her east London studio to talk about exclusive design and the collectables market over a cup of coffee – rather worryingly within spilling distance of a series of gorgeous, limited edition backgammon sets.
I asked her what it is that makes collectable and limited edition items so appealing to her clients. She told me that it's all down to psychology: "If clients have an awareness that it's unlikely anyone they know will own the same piece, this strengthens their attachment and increases their feeling of ownership. It feels more special in a world where everything is available to everyone."
A common thread in collectable items is narrative, Llewellyn adds, saying: "My clients appreciate the unique and the rare. They want meaning in what they buy and want a product that doesn't just look good but also tells a story." Two of Llewellyn's most recent collections do just this. The 10 limited edition Monroe backgammon sets, for example, are printed with never before seen photos of Monroe by celebrated photographer Milton H Greene.
So too is Llewellyn's skull poker set laced with stories. It is made up of more than 1,000 pieces of individually cut wood and features chips made by the oldest clay poker chip maker in the US. Just 15 of the skull sets have been created and each is marked with its edition number on the skull's hand-cut gold tooth.
The global design house Andrew Martin has produced a collection of furniture with a similar emphasis on storytelling. Its new Tutti Frutti collection comprises 100 editions of pieces ranging from coffee tables resembling larger than life digestive biscuits to Kit Kat and Dairy Milk bar tables. The collectable range also features seating inspired by liquorice allsorts, sculptures in the form of Zoom ice lollies, and glowing jelly baby lamps in the colours of the typical British confectionery. The furniture is qualified by its exclusivity and sentimental worth as much as its style and novelty.
Martin Waller, the company's founder, says: "Liquorice allsorts, Kit Kats, jelly babies, digestives are part of all our national consciousness, rather like a Beatles song. There is a nostalgia aspect to it but it's bigger than that... they have become a fragment of our identity."
The tables resembling digestives, Kit Kats and Dairy Milk bars each sport a bronze plaque displaying their limited edition number and the signature of their designer, Waller himself. He adds: "Our representations sit on the cusp between furniture design and art. They walk in the footsteps of Warhol and echo his celebration of everyday things."
Finally, Raro is a bespoke furniture atelier founded by sisters Rolly and Rajeeta Gupta in Bombay in 1997. Raro creates unique, sculptural pieces using incredibly rare materials. Celebrating its one year of being in London next month, the design house is bringing the exoticism and drama of the east to the western palette through a series of collectable, high-design pieces.
The sisters have entered the UK market by creating unique pieces of furniture to be collected as one might with art. Instead of designing furniture suites, the Gupta sisters have curated a series of majestic, stand-alone pieces that they claim are "masterpieces in their own right". They wanted to encourage a sense of refined eclecticism in the luxury furniture market, giving clients a taste of the travel-inspired collectible.
The rise in prominence of younger collectors demonstrates a rebellion within the luxury market against the retail market of the noughties. This retail trend proves a welcome alternative to the mainstream matching culture; a refreshing insight into modern shopping habits that demonstrates individuality and an appreciation of rare and interesting design.
Register for free to continue reading
Registration is a free and easy way to support our truly independent journalism
By registering, you will also enjoy limited access to Premium articles, exclusive newsletters, commenting, and virtual events with our leading journalists
Already have an account? sign in
Join our new commenting forum
Join thought-provoking conversations, follow other Independent readers and see their replies