The Independent's journalism is supported by our readers. When you purchase through links on our site, we may earn commission.
'It is not Mexican Halloween': How to celebrate the Day of the Dead with cultural sensitivity
Dia de los Muertos is about celebrating the lives of those who have passed away, not death itself, writes Sabrina Barr
Saturday 02 November 2019 08:39 GMT
Comments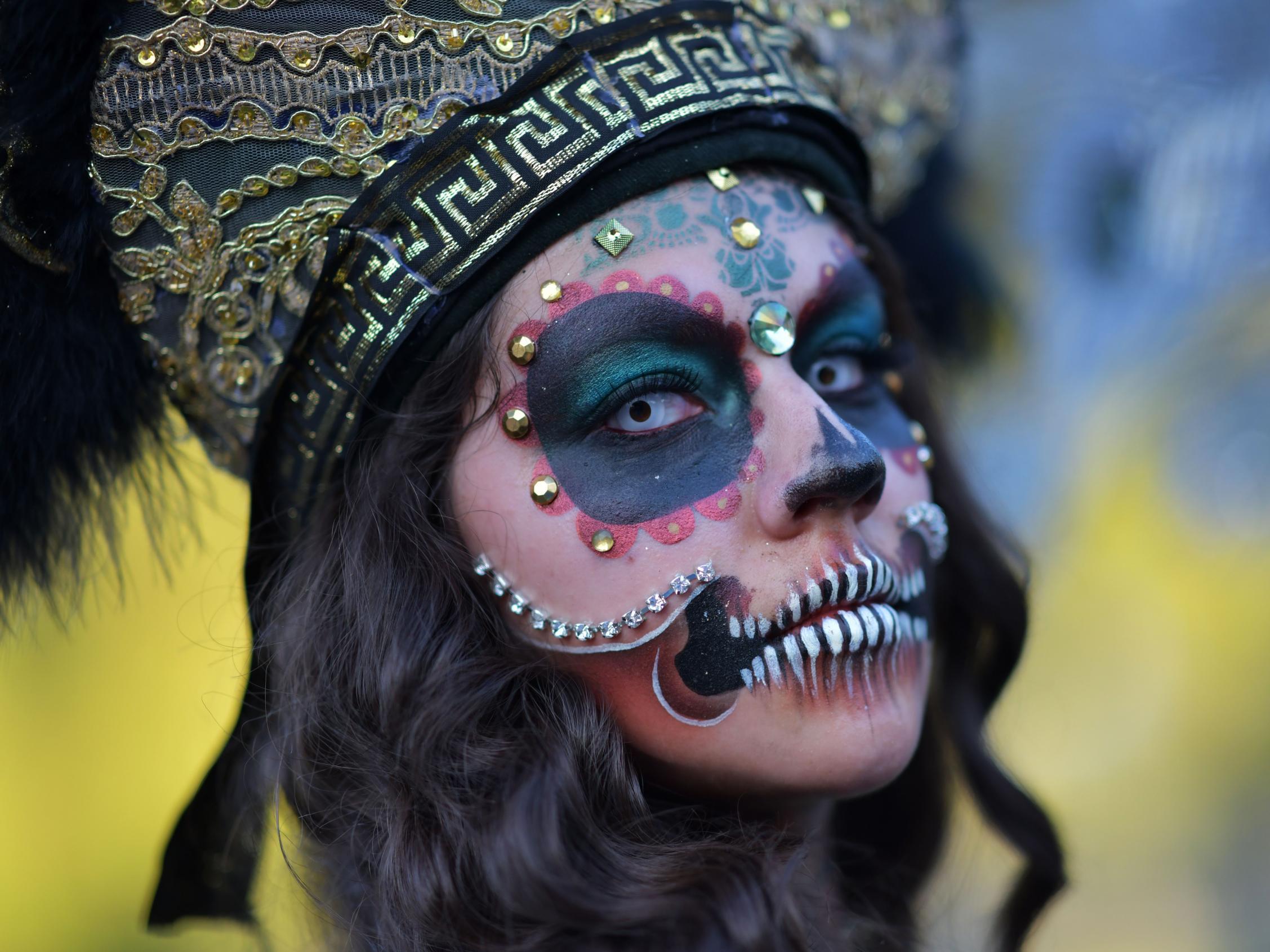 The celebration of Dia de los Muertos is a holiday that is deep-rooted in Mexican culture, observed predominantly in the central and southern regions of the country and across Latin America. During the Day of the Dead, those who observe it honour the lives of loved ones who have passed away, temporarily welcoming their spirits back to the land of the living.
It is a deeply personal, significant occasion, one during which families of Mexican heritage come together to rejoice in the belief that death is a natural part of life, and that relatives who have died are never truly gone. Ofrendas (altars) paying homage to the deceased are set up in homes, and offerings are made to them at graveyards.
Due to the dates and thematic elements of the events, some associate Dia de los Muertos with Halloween, despite the occasions having separate origins and meanings. At Halloween parties, one can expect to see at least a few people with make-up modelled after calaveras, decorative, floral skulls that are prevalent during Dia de los Muertos, while fancy dress shops often market Day of the Dead-themed costumes, accessories and decorations as Halloween paraphernalia.
So why are the two celebrations so frequently conflated with one another?
The best pictures from Mexico City's Day of the Dead Parade 2018
Show all 45
"Both celebrations have indigenous origins, one Mesoamerican and the other Celtic," Ranald Woodaman, director of the Smithsonian Latino Centre's exhibitions and public programmes, tells The Independent. "The sugar skulls and skeleton imagery remind people unfamiliar with Dia de los Muertos of Halloween, and the fact that they are both celebrated on practically the same date doesn't help."
However, the celebration is "definitely not Mexican Halloween", stresses Mexican-American cartoonist Lalo Alcaraz, despite the incorrect assumption that those less acquainted with the cultural festival sometimes make.
While death is a central theme of both Halloween and Dia de los Muertos, the way in which the two occasions address the subject is very distinct. In contrast to the macabre, ghoulish nature of Halloween, those who celebrate the Day of the Dead do so in a respectful manner to remember and honour those who have passed away.
"In both traditions, it is believed that there is a border between the spirit world and the real world and that during this date, this border is thinned. This is the central theme of the way Dia de los Muertos is celebrated today," says Hector Hernandez, a linguistics and culture expert at language learning platform Babbel who grew up in Mexico City.
"The main difference for me is that Dia de los Muertos is about celebrating the lives of those who have passed away. We don't celebrate death."
As a child, Hernandez would honour the life of his grandfather, who he never met, by setting up an ofrenda with his grandmother. Ofrendas are typically elaborate displays that feature photographs of the deceased and items such as their favourite foods, calaveras, candles and bright orange marigolds.
While a large portion of Dia de los Muertos takes place in private among family, the "commercialisation" has led to celebrations becoming "public and performative", Woodaman explains. This is further exemplified in the prevalence of Day of the Dead costumes worn by individuals taking part in the festivities of Halloween.
In recent years, the problematic nature of Halloween costumes has increasingly made headlines in the media, with many questioning and challenging the cultural insensitivity behind costumes that appropriate the traditions of historically oppressed cultures. From party-goers wearing Native American headdresses to dressing up as geishas, it seems that no Halloween celebration can run its course without someone courting with controversy.
But when it comes to the Day of the Dead, the question of whether related costumes could be deemed cultural appropriation is still a cause of debate.
Raphael Alexander Zoren, senior editor and founder of travel blog Journey Wonders, says that as a Mexican, he doesn't personally find it offensive when people associate Halloween and Dia de los Muertos with one another, as "it is more likely due to confusion and not because of any harmful intent". Nonetheless, when individuals who do not have Mexican heritage choose to take part in the celebrations, he advises that they do so with reverence.
The intent behind one's choice of dress can make a huge difference regarding whether or not they are perceived as acting in an offensive manner, argues novelist Aya de Leon, who grew up in Los Angeles and the San Francisco Bay Area surrounded by Dia de los Muertos celebrations.
De Leon, who is Puerto Rican and describes herself as an ally to the Chicanx community, states that if anyone who is of European descent "does nothing intentional to honour their dead or participate in community ritual or celebration", simply dressing up in Day of the Dead-themed outfits to go out partying, then they are "definitely participating in cultural appropriation and disrespecting tradition".
"Ditto to folks who host or run Dia de los Muertos celebrations without indigenous or Mexican participation. I do personally find all of that behaviour offensive," she affirms.
Nowhere was this lack of regard for the significance of the Mexican festival more heightened than when Disney attempted to trademark the phrase "Dia de los Muertos" in 2013, four years prior to the release of the highly-acclaimed Pixar animation Coco, which follows a Mexican boy called Miguel as he is transported to the land of the dead.
Cartoonist Alcaraz helped to successfully campaign for Disney to abandon its trademark bid, later being hired by Disney as part of a cultural consultant group for the film, alongside playwright Octavio Solis and former CEO of the Mexican Heritage Corporation Marcela Davison Aviles.
Alcaraz says that he is happy to see Mexican culture being shared, as long as it is being done so in a thoughtful way. "Mexican culture is one of the most beautiful in the world," he says. "People should respect other people's cultures though, and not be mindless about it."
So if someone who does not have Mexican heritage would like to participate in Dia de los Muertos festivities, how can they do so in a respectful manner?
One way is to ensure that they take an interest in the history and significance of the holiday, which they can do by learning about the festival, travelling to Mexico and making an effort to learn the language, Hernández says.
"We Mexicans do appreciate that people are interested and want to take part in Dia de los Muertos and learn what it's about," he states.
Attending Dia de los Muertos celebrations organised by members of the Mexican community is another way to publicly demonstrate support for their indigenous culture.
Last year, travel photographer Zoren spent Dia de los Muertos in Vancouver, Canada, where he attended an exhibition of ofrendas in a public park that was organised by the Mexican expat community. "I was happy to see the number of non-Mexicans that showed up to learn more about our culture and traditions," he says.
Join our commenting forum
Join thought-provoking conversations, follow other Independent readers and see their replies