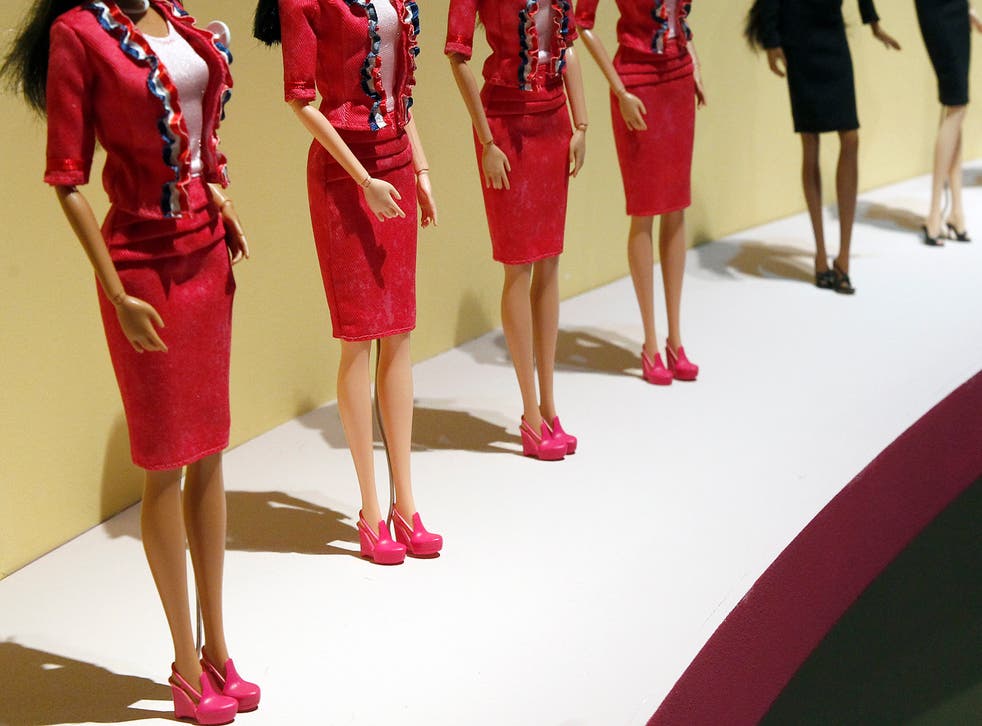 Playing with ultra-thin dolls could make girls want skinnier bodies, says study
'Body dissatisfaction is a huge problem, particularly amongst young girls,' say experts
Leer en Español
A new study has found that playing with skinny dolls could make girls want to be thinner.
Certain popular toys could "pose a potential risk to young girls developing body ideals", writes Lynda Boothroyd, professor of psychology at Durham University, in The Conversation.
Research conducted by Professor Boothroyd and her peers at Newcastle and Northumbria universities found that people start to understand what an ideal body size might look like at a very young age.
The study, due to be published in the journal Body Image, monitored the actions of 77 participants, with a group of 31 five to nine-year-old girls in one experiment and 46 five to 10 year-old-girls in a second experiment.
In the first experiment, the researchers looked at the effects of playing with "ultra-thin dolls". The girls were given a computer test, before and after their play session, that asked about their perceived own body size and ideal body size. 
In the second experiment, the study looked at whether the effects of playing with the skinny dolls could be reversed, if they played with more realistic shaped dolls, such as Dora the Explorer – a seven-year-old girl of Latin American descent from the American animated series – or the Lottie dolls, which promote Stem subjects for kids, Dora and became the first doll brand in space – Dora travelled to the International Space Station with astronaut Tim Peake in 2015.
"The girls' ideal self appeared to become significantly thinner after the first play session. But in the second play session there was no significant further change in the ideal self, no matter which toys they girls played with," commented Professor Boothroyd.
The girls in the experiment will have also been influenced by their parents and peers TV, films, social media, and other external factors before the experiment.
Exposure to images of thin women has previously been linked with decreased body satisfaction. "Body dissatisfaction is a huge problem, particularly amongst young girls. It can have serious consequences for girls' wellbeing and lead to eating disorders and depression," said Professor Boothroyd.
Style psychologist Kate Nightingale told The Independent that wider representations of beauty that actually reflect the reality of female bodies across all cultures, life stages and gender identities are necessary in toys, media and films to combat decreased body satisfaction.
"Children's identity, including body ideals, is formed based on observation and social comparison," she said. "It is crucial they are exposed to correct representation of body types, shapes and sizes. Such visual exposure combined with marketing full of accepting, respectful and kind language is necessary for forming healthy subconscious associations related to body image."
The hugely popular Barbie doll has previously come under fire for promoting unrealistic beauty standards. Early incarnations of the doll had disproportional measurements – at full-size the original white and blonde 1950s Barbie was estimated to be 5'9 tall, weigh around 7.8 stone, with stick-thin legs and arms, a miniature waist and F-cup breasts. 
In recent years, parent company Mattel has diversified its Barbie range, and toys are now available with different body shapes, hair textures and skin tones. Barbie has since been styled on inspirational women including world champion boxer Nicola Adams, painter Frida Kahlo, Nasa mathematician Katherine Johnson and pilot Amelia Earhart.
"This study isn't intended to make parents feel guilty about what's in their child's toy box, and it certainly isn't trying to suggest that ultra-thin dolls are 'bad'," said Dr Elizabeth Evans, from Newcastle University's School of Psychology.
"What our study provides is useful information that parents can take into account when making decisions about toys.
"Ultra-thin dolls are part of a bigger picture of body pressures that young children experience, and awareness of these pressures is really important to help support and encourage positive body image in our children."
Join our new commenting forum
Join thought-provoking conversations, follow other Independent readers and see their replies