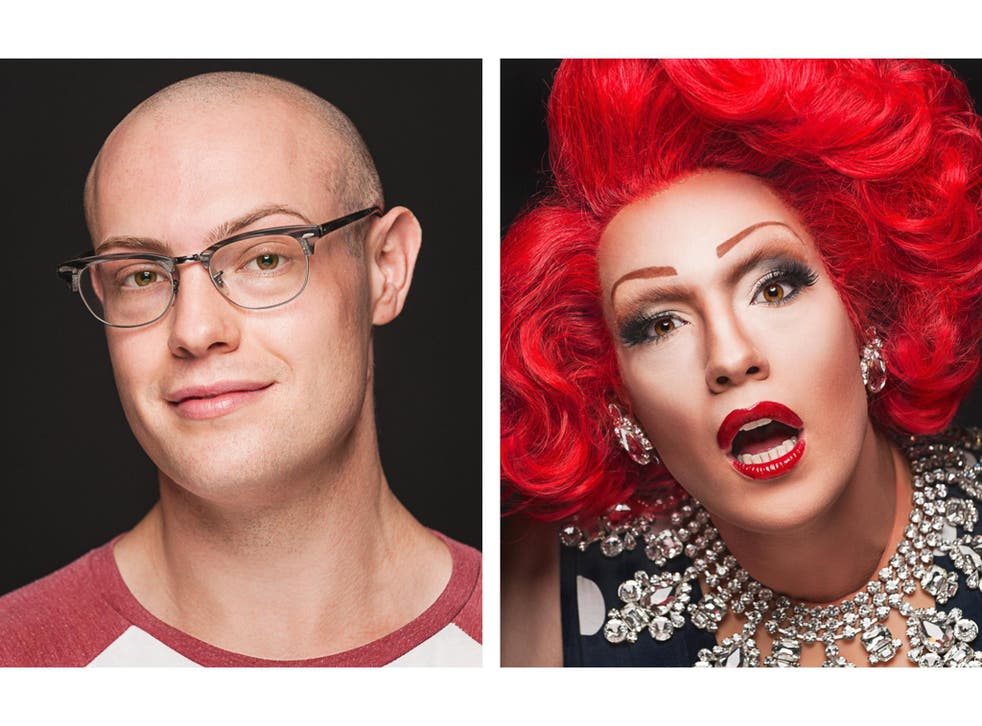 Dragformation: What drag queens look like before and after make up, moustaches and all
Photographer Aaron Walker has documented the varied stars of Australia's drag scene 
If a man in a glittering sequin gown, draped in a feather boa lip-syncing to 'I Will Survive' is what comes to mind when you imagine a drag queen, then think again.
"I think drag has an outdated general misconception of being performed by an old fashioned 80's era lip-synch artist," says photographer Aaron Walker, who has documented some of Australia's most vibrant drag characters in his project Dragformation.
The before and after shots show stars of drag in their daywear, beside their drag personas with their faces contoured and extravagant wigs glued down. But the shots of drag Kings – or women dressed in masculine clothing - and queens with colourful glitter prove that drag is a varied art form.
Dragformation by Aaron Walker

Show all 19
"We are living in a much more gender-fluid time. Drag does not have to mean that you work within the binary of male or female, it is not just about switching from one gender to another anymore, it can be a lot more about the act of transforming itself, into someone or something 'other'," Walker tells The Independent.
Walker shot his subjects in his studio in Melbourne. "The best moment behind the scenes during a shoot with four drag artists was when my assistant Jen referred to drag queen Dandrogyny very casually while completing his transformation in the dressing room, as looking like "An Indian God", while the other artists looked on much to their chagrin and responded with 'Oh, so what are we then darl' chopped liver?!' There was a pause then eye watering laughter followed," he says.
"Dan also had the idea of covering his tongue with glitter, it made a great shot with his sparkling tongue sticking out but that image didn't make it into the collection. We then all joked about how he would be shitting glitter for days after, thanks to his total commitment to the shoot," adds Walker.
The portraits, which reveal the painstaking work that goes into creating a drag person offer a glimpse into the talents of the queens and kings.
"The drag artists that I met and that I see out there thriving in the arts and entertainment industry are all professional hair and make-up artists, actors, dancers, singers, acrobats, aerialists, fashion designers, stylists, production managers, networkers, musicians, entertainers, MC hosts, the list goes on," says Walker. "They are all multi-skilled and full of many talents which they channel into their drag career."
In a turbulent political climate, the theatrics and subversion of drag – glittery tongues and all - are needed more than ever, argues Walker. The artistry of the queens prove how we can reimagine ourselves, and the world around us.
"We certainly live in darker times now considering the current political climate the LGBTQI community needs as much support and public awareness as possible."
"Drag is about pushing boundaries, defining and constructing yourself as an artist to see just how far you can take an idea, a skill, a persona or an identity. It's a way to re-imagine yourself without societies limitations. This in turn creates a wonderful amount of transformative, political, subversive artistic variety, a genre of artists who don't and won't conform to the tragically limited and traditional social distinction between men and women, especially when the majority of society takes core values such as acceptance, love, marriage and equality for granted.
Walker exhibited the project at Melbourne's Midsumma festival dedicated to queer culture, but he's not finished yet.
"I don't feel like I've covered a big enough range of drag artists. In my collection there are only two drag kings; three people of colour, and no trans people. I'd like to feel like the collection is reflective of everybody in the community, and I don't feel like I'm there yet."
Walker invites any queens he hasn't captured to get in touch.
Join our new commenting forum
Join thought-provoking conversations, follow other Independent readers and see their replies