The Independent's journalism is supported by our readers. When you purchase through links on our site, we may earn commission.
How to use facial scrubs without irritating your skin
Choose a facial scrub that's ideal for your skin type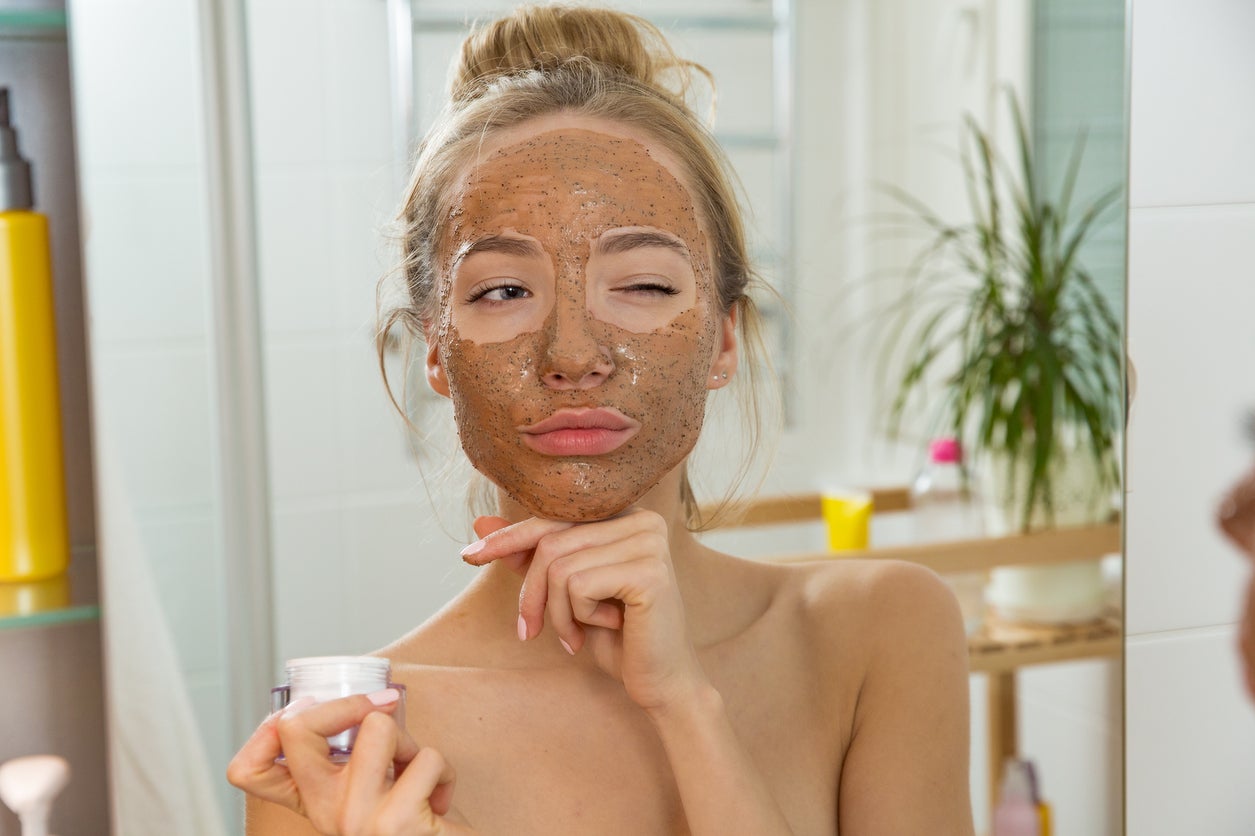 Your skin is very delicate, which is why you need to take extra care when cleansing your pores with a facial scrub.
Finding the right exfoliator can do wonders for your complexion by removing dead skin cells and reducing the appearance of pores.
However, opting for a scrub that doesn't suit your skin type could cause it to become irritated and lead to further damage.
So, how do facial scrubs really work and how can you make the most of them? Here's everything you need to know.
Why do you need to exfoliate?
Using a facial scrub to exfoliate is a great way to provide your skin with some much-needed revitalisation.
"In addition to revealing fresh skin cells, exfoliating removes dead cells from pores, making them appear smaller," Rachel Nazarian, a dermatologist from Manhattan, told Cosmopolitan.
"Removing the buildup enhances your skin's ability to absorb everything else, from acne medicine to anti-aging serum."
The two most common forms of exfoliation are physical and chemical.
Physical exfoliation, as the name suggests, involves a more hands-on approach using a tool such as a brush or a sponge.
It's important to ensure that you check the ingredients of a physical exfoliant, as opting for a grainy scrub with ingredients such as nutshells and fruit pits could irritate the skin, as stated by Dermstore.
For individuals with more sensitive skin, a chemical exfoliant would be a safer bet as it doesn't require any rubbing of the skin.
Chemical exfoliants often contain salicylic acid, which is particularly beneficial for people with oily or acne-prone skin.
"Generally for the face, chemical exfoliants are the best option for ridding the skin of dirt and grime and not causing irritation," Dr Dendy Engelman, a New York City-based dermatologist, told Fashionista.
How to use a facial scrub
When applying a facial scrub, you have to make sure that you treat your skin very diligently.
"For some reason, people think exfoliating means 'torture my skin like it has secret government'," dermatologist Ranella Hirsch told Allure.
In addition to exfoliating aggressively, using a facial scrub too often can also do some damage in long run.
"Overexfoliate and you're likely to create tiny cracks in the skin barrier that lead to more loss of hydration and inflammation," said Joshua Zeichner, director of cosmetic and clinical research in dermatology at Mount Sinai Hospital in New York.
According to Zeichner, you should aim to exfoliate your face no more than three times a week.
The American Academy of Dermatology advises applying moisturiser straight after exfoliating in order to hydrate and soothe your skin.
Exfoliating isn't a quick-fix solution for your skin troubles that you should invest in every day - you need to take the proper precautions to keep your skin in tip-top condition.
What to do if you have dry or sensitive skin
If you have dry or sensitive skin, using a facial scrub too forcefully or choosing a scrub that contains harmful ingredients could do you far more harm than good.
One of the things that you need to consider when exfoliating is your tool of choice.
"Those with dry, sensitive or acne-prone skin may prefer just a washcloth and a mild chemical exfoliator, as mechanical exfoliation may be too irritating for this skin type," the American Academy of Dermatology recommends.
"For some people, especially those with darker skin tones, more aggressive forms of exfoliation may result in dark spots on the skin."
Dr Engelman is also a major proponent for chemical exfoliation for people who have sensitive skin.
"If your skin is acne-prone, reusable devices like a brush or cloth can harbour bacteria, which can actually make your acne worse," he said.
"This type of skin reacts best to chemical exfoliants. Exfoliating helps with acne lesions and cleanses pores, and acids like salicylic, lactic and glycolic fight oil and remove pore-clogging dead skin cells."
Keep a close eye on the way your skin reacts to your chosen facial scrub, as this could indicate whether a physical or more gentle chemical exfoliant would be ideal for your skin type.
Join our commenting forum
Join thought-provoking conversations, follow other Independent readers and see their replies