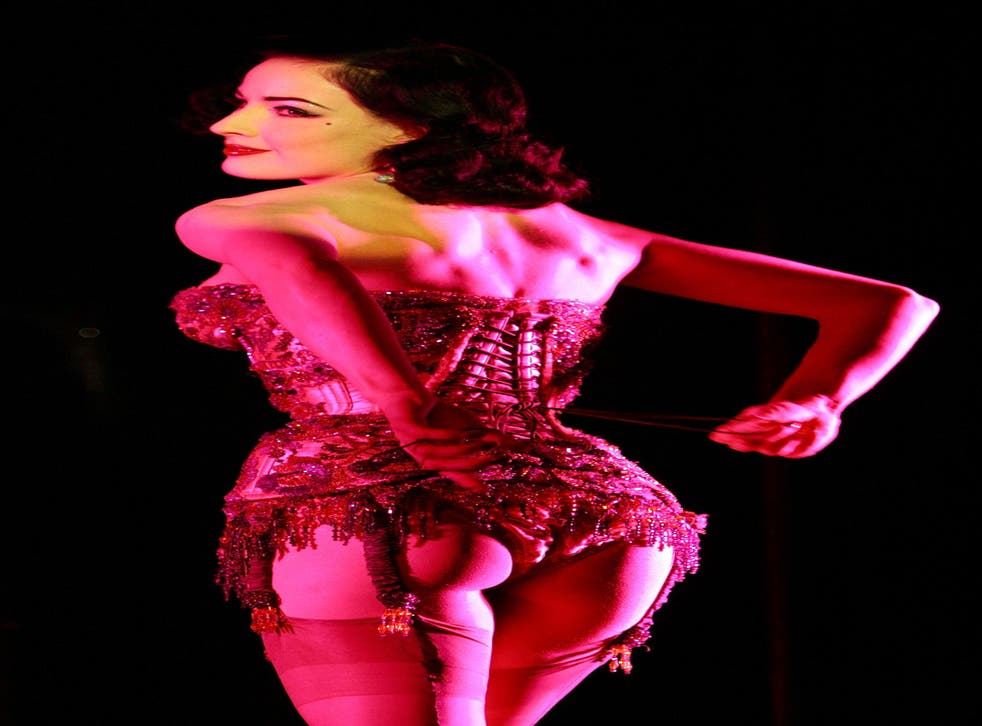 A waist Of Time - the contemporary revival of the corset
The Victoria and Albert museum's new exhibition is big on smalls. It comes at a prescient moment, when fashion is looking to lingerie for inspiration and when the contemporary silhouette is being reshaped by a postmodern corset revival. Alexander Fury looks at what lies beneath.
Corsetry is experiencing a revival. I don't mean the exposed sort, the kind of spangled lace-up get-ups sported by Dita von Teese, whittling her waist to 16.5 inches and made to be seen. Rigby and Peller, whose clientele runs the gamut from Queen Elizabeth to Lady Gaga, strictly admonished my misuse of knicker-nouns: a corset is outerwear there, a basque is the shaping garment underneath. And then there's shape wear, which is a whole other thing entirely.
The notion that women would be quite so willing to truss themselves up in whalebone, satin and cambric in 2016 seems archaic. Much of it can be traced back to another Rigby and Peller client, Kim Kardashian, who brought the notion of "waist training" to the fore roughly two years ago. In 2015, in response, the Victoria and Albert museum acquired one of the veritable slew of waist training cinchers that flooded the market. Its is currently on public display in the museums new exhibition, "Undressed: A Brief History of Underwear" - devoted to both underwear and the outerwear its influenced.
It feels like an interloper alongside picturesque brocade eighteenth century stays and ribboned Belle Epoque corsets: by contrast, the waist trainer seems quasi-surgical, simultaneously modern and quaintly old-fashioned.
Which is a good summary for the re-emergence of corsetry, at a time when the term "Feminist" is experiencing a media revival and when the first female president is seeming a distinct possibility. Corsetry and feminism aren't mutually exclusive: many saw the 1989 Blonde Ambition get-up of Madonna, conical breasts of her Jean Paul Gaultier quilted satin corset piercing through a double-breasted business suit, as an embodiment of a new ball-busting wave of feminists. Likewise, Vivienne Westwood's popularising of the basque in the 1980s - an outwear garment based on an underwear style from 200 years prior - as a powerful female call-to-arms, of women ironically re-embracing and celebrating the traditional trappings of femininity without feeling denigrated. The same is true of von Teese and her reclaimed showgirl garb, an exaggerated form of retrograde femininity, a parody, tongue very visibly in cheek.
The Kardashianised waist trainer, and its many spin-offs, seems part of a different world altogether. But the look has hit the mainstream: the mass retailer JML offers a product called "Miss Belt", which a representative firmly emphasised was not a waist-trainer, but rather an "aid for an instant hourglass figure - a shape wear product." The official jargon dubs it an "Instant Slimming Effect Dual-Compression Waist Shaper." The contraption consists of a stiff panel of fabric, boned with plastic stays, which fastens tight and is then cinched in further with a velcro band. The visual effect resembles a trussed ham; physically, it feels like being punched in the gut.
Yes, I tried it - shape wear isn't just for women, as the popularity of the mens range launched by the foundation garment company Spanx aptly illustrates, as well as the few men's corsets - or "body belts" in the V&A exhibition, worn until the 1950s.
"What we tend to think of as the history of foundation wear was that all women abandoned girdles in the sixties, and since then we've been happily liberated," states Edwina Ehrman, curator of the V&A show. "I don't think this is true - I don't think that ever really went away." Ehrman cites mainstream women's magazines as emphasising underwear to smooth the line and trim the figure from the sixties through to today. Then came the launch of Spanx in 2000 - a company valued in 2012 at north of $1 billion, based around hosiery and underwear with built-in compression, that brought the term "shape wear" to the modern wardrobe vernacular. Isabel Baert, Global Head of Buying at Rigby & Peller, cited the fancy, beribboned basques and corsets the lingerie purveyor sells as specialist and often restricted to wedding trousseaux. "However, where we have seen a marked increase in recent times in shape wear is within the sales of bodies - "all in one" pieces - both for ready-to-wear and made to measure," says she. "Within the business, a third of all made to measure requests are now for bodies." They don't come cheap: £715 is the outright cost, with repeat pieces at £650, but cheaper versions are offered by retailers as diverse as Marks & Spencer, Topshop, Asda and Sainsbury's.
Shapewear is a light-weight alternative to Kardashian-style waist training - which is itself referred to as "waist taming" in the corset industry. The Kardashian's corsets (no additional "k") are more akin to girdles or the aforementioned shape wear than traditional steel-boned corsets, which can affect extreme body transformation if worn for sufficient periods. Back in the 19th century, corsets were customary - but extreme tight-lacing, drastically reducing the waist to a fabled, Scarlet O'Hara esque 18 inches, was seen as extreme even then. It was denounced in the pulpit, condemned by medical professionals and caricatured, but still continued. "Waist training was popular with the nouveau riche - it enabled them to show their fashionability," says Ehrman. "If they had a very narrow waist, it was a sign of gentility, although they came from much humbler origins." How very Kardashian - although their waist trainers nip at their waists rather than crush their internal organs. The corset maker Mr Pearl - who creates custom corsets for von Teese, and for Gaultier - is himself tight-laced to an 18-inch waistline. He wears a variety of corsets throughout the day, and whilst sleeping, only removing the corset to bathe. Few today are so committed.
What the waist-trainer, the compression belt and shape wear share, is time. They all seem from a time bygone, but all offer a decidedly modern quick-fix. Rather than long hours in the gym or thousands of press-ups promoted in the seventies and eighties, a garment can do all the work for you, instantaneously. "But how many people did work on their bodies? Seriously!" asks Ehrman. "We use it [underwear] to mould our bodies to the currently fashionable silhouette."
The desired silhouette, however, is virtually Victorian in its exaggerated, bombastic curves - waist trained, butt lifted (another type of underwear on show at the V&A) - a trussing and hoiking and manipulation of the flesh. As plastic surgery soars in popularity and plummets in price - the UK market is worth an estimated £3.6 billion, with round 750,000 procedures performed annually - this is, possibly, fashion's reflection of the need to knead, squeeze and transform your silhouette. In 1876, the artist Edouard Manet declared that "the satin corset is perhaps the nude of our time." a hundred and forty years later, perhaps the nude of our time is a pair of Spanx. Probably sported by Kim Kardashian.
"Undressed: A Brief History of Underwear" is at the Victoria and Albert Museum until 12 March 2017. More information at vam.ac.uk
Join our new commenting forum
Join thought-provoking conversations, follow other Independent readers and see their replies