The Independent's journalism is supported by our readers. When you purchase through links on our site, we may earn commission.
ASOS is selling crotchless jeans and the internet is confused
'U ok hun?'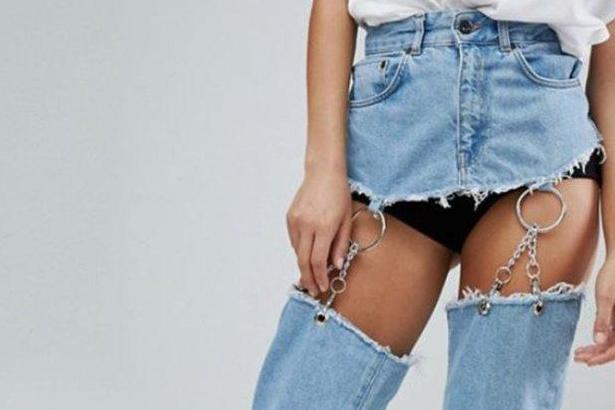 If 2017 was anything to go by, run-of-the-mill clothing is taking a sabbatical to make room for less conventional fashion items.
As if rubber skirts and denim jackets with sleeves down to the knee weren't avant-garde enough, now ASOS are selling crotchless jeans, held together by little more than an oversized chain.
The bizarre trousers are made by British brand The Ragged Priest and are being sold on ASOS for £75.
Images of the jeans have gone viral online, after one customer spotted them on Twitter while browsing the site - and they've caused quite the stir.
"ASOS are pure taking the piss now," wrote one user.
"Ragged Priest, u ok hun?" teased another.
While the jeans may look like little more than a few pieces of denim strapped together, they also feature a pale denim colour and frayed hemlines - presumably this is to add to the whole 'distressed' look that they seem to be going for.
The model pairs them with black boots and a pair of black briefs that are very clearly exposed.
Some shoppers took more of an issue with the price tag, given the jeans' distinct lack of material in an (ahem) rather crucial area.
"£75 to get your foof out on ASOS. Like. Wtf is this mess," wrote one person on Twitter.
"ASOS need to go back to the good old days... can pick up jeans for a tenner, smart shirt was like £5 and all the clothes were top top quality and fit well," added another.
Whether you're on board with crotchless jeans or not, one thing is certain: whoever chooses to wear them should carefully consider their choice of underwear too.
Join our commenting forum
Join thought-provoking conversations, follow other Independent readers and see their replies