Models protest Danish burqa ban by wearing niqabs and hijabs during Copenhagen fashion show
'I have a duty to support all women's freedom of speech and freedom of thought'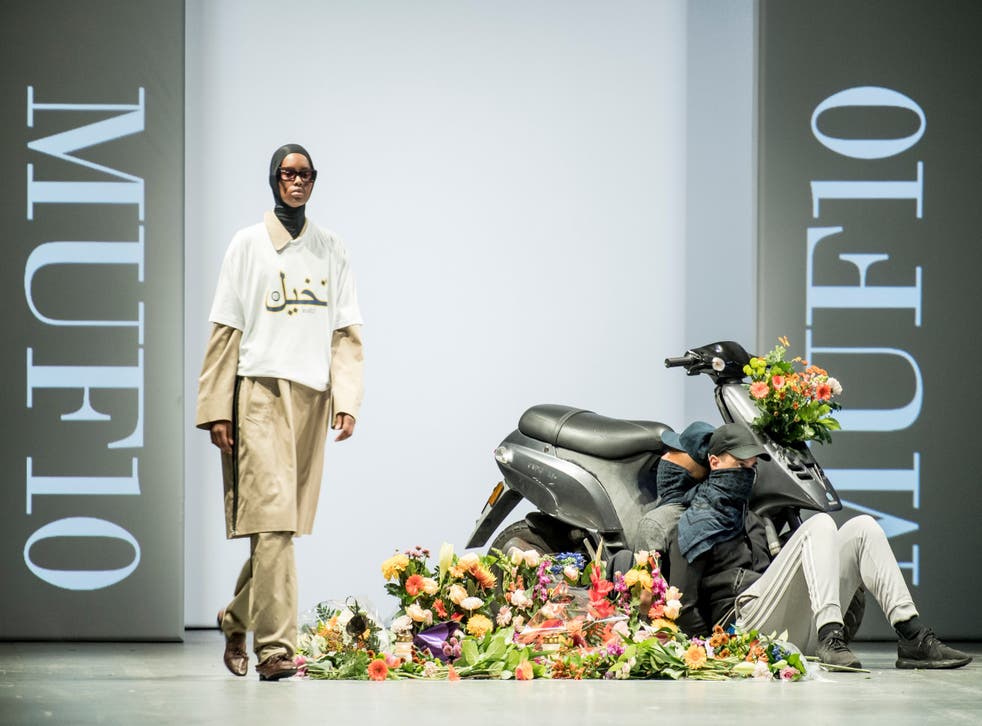 A Danish designer has made an emphatic statement against the burqa ban being enforced in Denmark by featuring models wearing traditional Muslim head and face coverings on the catwalk at Copenhagen Fashion Week.
Reza Etamadi, who was born in Iran, showcased models wearing niqabs and hijabs alongside police officers in order to show his support for women's right to wear the religious attire.
The fashion show for his streetwear brand MUF10 took place days after a law banning niqabs and burqas came into effect in Denmark.
Niqabs are the Muslim item of clothing that shows the eyes, while burqas are full-face coverings.
Etamadi has stated that he doesn't think the way in which women choose to dress shouldn't be dictated by the government.
"I have a duty to support all women's freedom of speech and freedom of thought," he said on Wednesday.
The designer believes that the new law is in violation of "the free choice we in the western world are known for and proud to have."
People in Denmark who are found wearing niqabs and burqas can now expect to be penalised for the illegal act.
Individuals may be fined more than £100 for a first offence. However, this figure can reach £1,200 with a potential jail sentence of up to six months.
Last week, women in Denmark wore the banned Muslim dress in protest of the new law.
A spokesperson for Kvinder I Dialog (Women in Dialogue) informed The Independent that a large demonstration is going to be taking place in protest of the ban, explaining that the group's aim is "to show that we do not accept this kind of unjust treatment regardless of who we are dealing with."
Fotis Filippou, Amnesty International's deputy Europe director, explained the negative impact that the ruling will have on the Muslim community in Denmark.
"Whilst some specific restrictions on the wearing of full-face veils for the purposes of public safety may be legitimate, this blanket ban is neither necessary nor proportionate and violates women's rights to freedom of expression and religion," he said.
In March this year, British Vogue made history by featuring a model wearing a hijab, Halima Aden, on the cover for the very first time in the publication's 102-year history.
Register for free to continue reading
Registration is a free and easy way to support our truly independent journalism
By registering, you will also enjoy limited access to Premium articles, exclusive newsletters, commenting, and virtual events with our leading journalists
Already have an account? sign in
Register for free to continue reading
Registration is a free and easy way to support our truly independent journalism
By registering, you will also enjoy limited access to Premium articles, exclusive newsletters, commenting, and virtual events with our leading journalists
Already have an account? sign in
Join our new commenting forum
Join thought-provoking conversations, follow other Independent readers and see their replies