How to correctly gift lingerie at Christmas
Worried you're heading for a delicates disaster? We've got you covered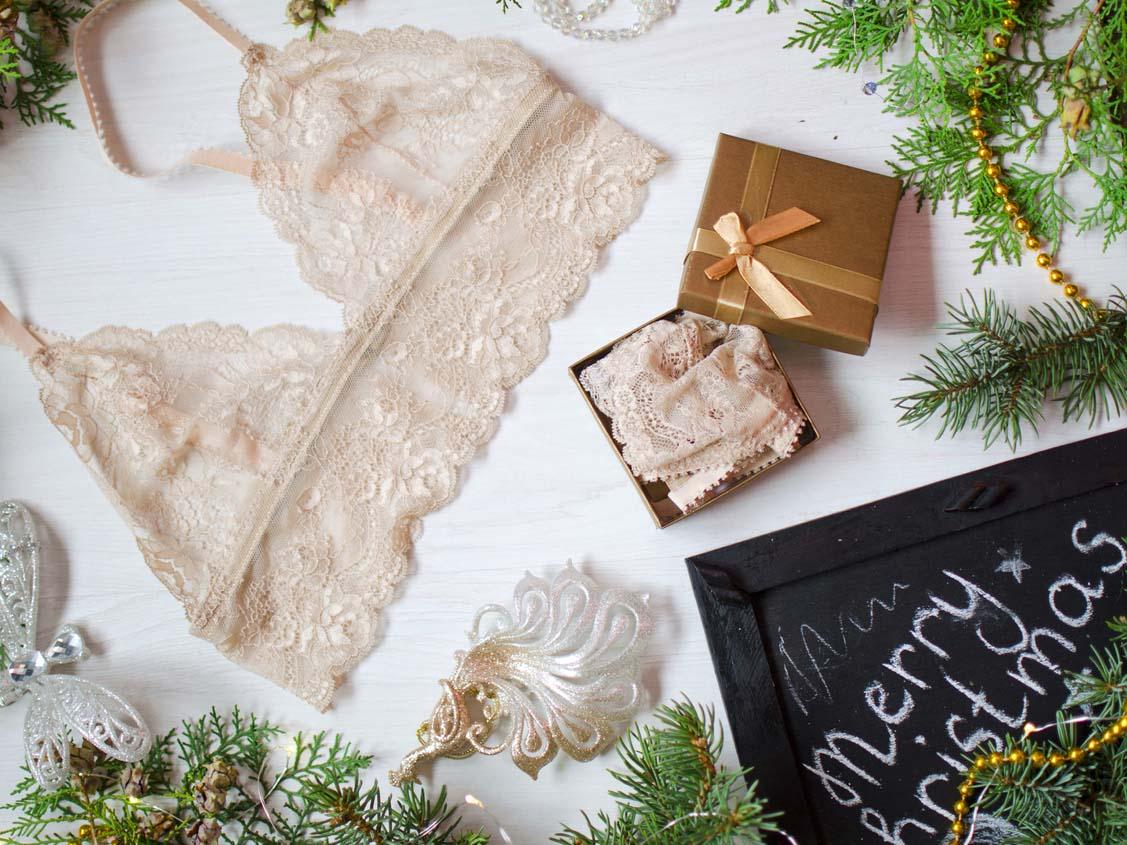 Buying the woman in your life lingerie for Christmas is as ripe with potential as it is fraught with risk.
You see, while some women would be delighted to open a delicate set of smalls on Christmas morning, others might feel as though there's something a bit presumptuous or even seedy about it.
So, for the purpose of this article, let's assume that you've either been asked to buy her underwear, or you're certain it's actually something she wants.
The backbone of any good wardrobe, the right set of underwear has the power to make a women feel great in, or out, of her clothes, but with so many options to choose from, how do you know what size or style to invest in?
Luckily, we're here to help and have put together this handy guide to make sure you get it right this Christmas.
Know her size
Before you even think about shopping, your first port of call should be to figure out her size.
While this might sound obvious, it is the cardinal rule of lingerie shopping and a key component that could save you from making a serious festive faux pas.
Here, your best bet is to take a look in her delicates drawer – ideally without getting caught – to give you an idea of the styles, colours and size that she takes.
While knowing what size she is in bottoms is fairly simple (eg 12), bra's require a bit more investigation as you'll notice the labels on many styles come with two separate measurements.
In this case, take note of both the back band – indicated by a number – and cup size – indicated by a letter, eg 38C.
Style matters
To make things even more confusing, a bra is never simply a bra: they come in an array of styles.
Again, having a snoop at what she already owns will give you some indication of the shape, colour and patterns that she prefers because, believe it or not, not all women like fancy pants.
As a general rule, lingerie retailer Figleaves, recommends "balconette style bras for fuller breasts that need support while plunge styles are better suited for women with narrower shoulders or convex ribcages.
"Fuller cup bras are best suited to larger busted women while non-wired styles are best for small breasted ladies."
If you'd like more information about the what the different styles have to offer, you can read more here.
Non-lingerie, lingerie options
Gifting your partner lingerie doesn't have to mean a bra and knickers, so if you're still stuck on what to buy, the good news is there are plenty of other options.
Nightwear is a great alternative and caters to all tastes. If she likes luxurious fabrics and slinky styles then opt for a silk chemise, dressing gown or girlish babydoll instead.
Or, if she's the kind of woman that changes into her PJs as soon as she gets home, a posh matching set or cosy dressing gown is sure to put a smile on her face.
Where to shop
Whether you're hitting the high street or shopping online, there are plenty of places where you'll find the perfect present this season.
From traditional outlets like Ann Summers and Agent Provocateur, to high street favourites such as Boux Avenue, Marks & Spencer and H&M, you will be armed to the teeth with choices.
For something different we also suggest taking a look at brands like Savage X Fenty, What Katie Did and For Love & Lemons.
Join our commenting forum
Join thought-provoking conversations, follow other Independent readers and see their replies