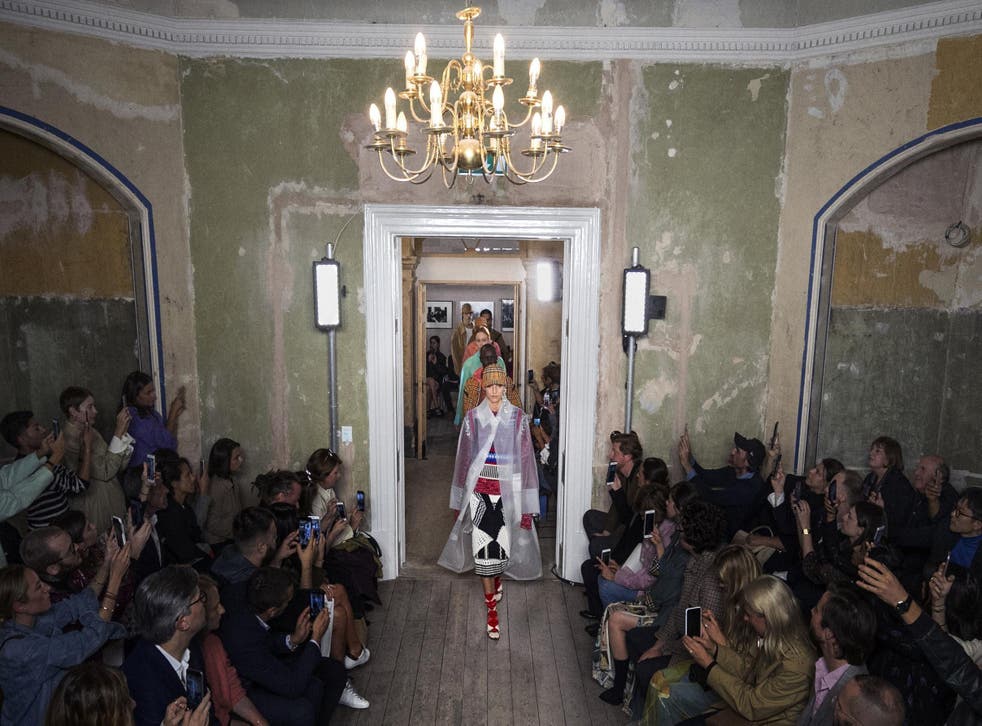 Why Christopher Bailey was great for British fashion but bad for business
Bailey will step down from his role as chief creative officer in 2018, after 17 years at the helm
Mourning bells resounded through the fashion industry on Tuesday morning as it was announced that Christopher Bailey would be stepping down from Burberry in 2018.
As the British brand's long-serving creative designer, the 46-year-old, who was awarded an MBE, was largely responsible for reviving the heritage label from aesthetic and financial purgatory. Bailey was promoted to chief creative officer and CEO in 2014, but recently passed the latter role onto Italian businessman Marco Gobbetti.
Since joining the luxury brand 17 years ago as design director, campaigns under Bailey's management have been fronted by the likes of Cara Delevingne, Sienna Miller and Eddie Redmayne.
Then there's the legion of celebrity fans who have stayed faithful to the label throughout Bailey's tenure. From Joan Collins and Madonna to Kate Moss and Harry Styles, the high-profile faces associated with the brand during Bailey's reign read like a who's who of Hollywood and undoubtedly played a huge part in raising the brand's prestigious profile.
However, Bailey didn't simply raise the bar for Burberry.
Christopher Bailey's Greatest Hits For Burberry

Show all 10
Founded in 1856, the label remains one of Britain's longest-running fashion houses. By invigorating Burberry; Bailey didn't just fortify a dying brand, he brought a new lease of life to the heart and soul of British fashion.
As part of Bailey's constant pursuit for innovation, Burberry was among the first fashion houses to bring seasonless collections to the catwalk, as manifested by the see-now, buy-now model. Every piece showcased at his September 2016 show was immediately available to purchase afterwards.
While this undoubtedly would have placed stressful deadlines on the company's production teams – who would normally have had six months to develop a full collection after being shown on the catwalk – Bailey bravely subverted tradition in a bid to appeal to today's on-demand consumer.
While the model might not have been the financial hit that Bailey had hoped for, it completely revolutionised the way we consume fashion.
Under his leadership, Burberry was also one of the first fashion labels to experiment with social media, striking up partnerships with Snapchat, Periscope and Instagram as soon as they rolled out advertising programs.
Whether you were engaging with the brand as a paying customer or simply as an aspirational follower, Bailey ensured that everyone received the same bespoke service.
Suddenly, an industry that had historically been veiled in exclusivity, orchestrated by foreboding Miranda Priestly stereotypes, felt inviting: fashion became more accessible than ever before. Thanks to Bailey, Burberry remains at the vanguard of fashion's ephemeral compass.
Let's hope his is a legacy that is everlasting.
What about Bailey as a businessman? By Josie Cox
When headlines hit screens on Tuesday morning that Christopher Bailey was calling time on his nearly 17-year career at Burberry, the fashion world appeared to let out a collective gasp.
To many, the affable Yorkshireman – a rarity for reportedly being wildly un-diva-like in a diva-dominated domain – embodied the British brand.
Unsurprisingly, he's achingly stylish, but at the same time he boasts endearing boyish charm. As a creative director with an arguably unparalleled flair for trends and modes, he transformed Burberry from just another luxury marque to a quintessential symbol of British culture – on par with red phone boxes, double-decker busses, Wimbledon, even the royals.
Famed for its traditional trench coats and chequered scarves, Burberry in the early noughties became the envy of rival brands by elegantly marrying old-world class with progressive elegance, largely thanks to Bailey's tastes and preferences.
And yet, when I read the news of his departure, I couldn't convincingly say I was surprised.
To me, his tenure was marred by one big misstep from which he seemingly never properly recovered: he became CEO and couldn't quite hack it.
After an already illustrious career at Donna Karan and Gucci, Bailey joined Burberry in 2001. He impressed immediately and senior colleagues reportedly always saw him as more than "just" a chief creative director. So to some, his appointment to CEO in 2014 might have seemed the most natural thing in the world. Later it proved to be anything but.
In fact, the Halifax-born gent reportedly told colleagues that he never really wanted the top job in the first place and it quickly became clear why.
He seemingly struggled to consolidate his role as a profit-focused businessman sporting a brain for balance sheets with an expectation to be one of the most creative, artistic and progressive minds in the industry.
How do you master the challenge of switching between left and right brain at the flick of a switch? How do you transition from investor meetings to casting call and back again in a minute? And can you ever balance wanting to grow the bottom line as much as possible against championing a brand known for its exclusiveness? Perhaps not.
Coupled with that predicament, Bailey's ascension to CEO coincided with a difficult time for the industry, which put his business acumen to the ultimate test.
A slowdown in luxury spending in the crucial markets of Hong Kong and mainland China dealt a punishing blow to the group's financial performance. A string of terror attacks kept shoppers off the streets of Paris for lengthy periods in 2016.
Despite recent signs of recovery, Burberry is still looking back on consecutive years of declining profits and some have said that – under Bailey's stewardship – it even started to lose focus.
In another bruising development, Bailey fell out of favour with investors when his pay was jacked up from £1.9m to £3.5m last year, at a time when shares in the company failed to impress.
Bailey did what any other conscientious person would do in his situation and stepped down. In July 2016, Burberry announced that Marco Gobbetti, former CEO of Celine, would be replacing him and Bailey would go back to doing what he joined Burberry to do: be creative.
But while it's easy to change your title and business card, your legacy is arguably different matter.
The company's performance under his leadership and his bumper pay packets probably left a bitter aftertaste in some colleagues' and shareholders' mouths.
Management experts likely have a thing or two to say about the psychology of working your way to the top, becoming a boss and then descending the hierarchy again on the other side.
Burberry undoubtedly owes Bailey a lot and he's clearly one of British fashion's great creative geniuses. But for the group to seriously rediscover its mojo, Bailey's departure might be the only thing en vogue right now.
Join our new commenting forum
Join thought-provoking conversations, follow other Independent readers and see their replies